When the makers of Jack Daniels whiskey bought Casa Herradura for $875-million two years ago, the company got a 136-year-old brand and one of Mexico's finest tequila makers at a time when prices were soaring as an agave plant shortage threatened supply. But Brown-Forman Corp. (NYSE:BF.A) is learning that farming is not as easy as distilling and shareholders of the Louisville, Kentucky alcohol may want a stiff drink.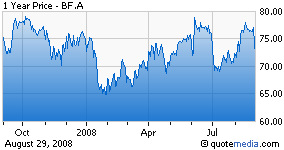 The stock declined more than 5% after the company's first quarter earnings fell short of expectations on Thursday. It took a $22-million pre-tax charge linked to an abnormal number of dead or dying agave plants used for its tequila.
In a statement, chief executive Paul Varga said:
The loss of agave plants has reduced our inventory, but we do not believe this will constrain our ability to build our tequila brands to their full potential.
The Herradura and el Jimador brands it purchased are both ranked in the world's top ten.
However, if Brown-Forman's agave problems persist or other producers see similar numbers of dead plants, the tequila market may start to look like 1997 when a fungus plague and soaring demand for the potent drink lead to a rapid price hike. The company blames farmers who neglected blue agave cacti as prices fell due to excess supply, leaving 25% of its plants unusable.
So when you're sipping that margarita or downing shots this weekend, remember that what you're drinking – white or gold – may be worth more than you think.