Okay, we don't want to get out over our skis, but MBIA (NYSE:MBI) has shown some strength recently (up over 100% in the last 13 weeks). Naturally, knowing the history here, one may not be jumping up and down for joy yet (review our comments from January on MBIA). But some recent developments have continued to make MBIA an interesting pick for the longer term. Not to mention that Goldman Sachs just dropped coverage of ratings and price targets on MBIA last week in light of the pending FGIC banking transaction. Goldman is advising on the transaction for FGIC in which MBIA will take control of insuring nearly $184 billion in municipal debt.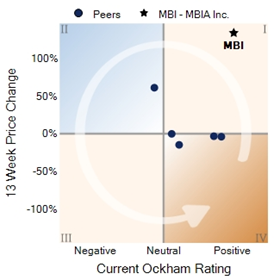 As we commented back in January, even with a positive rating in our value focused methodology, we continued to be very cautious with these monoline insurers.  Funny how a disciplined approach (even in the worst of times) can sometimes make one look as though they are in fact daring and risk prone in their investments. What's even better is when the management of these companies can really pull off improvement. But as we like to say, "management will manage" and investors must give them a chance to work out their issues (or they'll get fired).
If you review the scatter plot above, we like the movement along the Value Life Cycle from the bottom right quadrant to the top right quadrant over the last several weeks. Additionally, some of the peers of MBIA are showing resilience, and there may be a steadying effect to the whole insurance space in the coming months.  We have been writing about the potential fallacy of "recession blues" that has gripped our nation on the merry path to November elections. Not that the picture is rosy and glorious, but the media "doomsday" cult is in full swing, and firms like MBIA may really be turning despite the best efforts of the naysayers.
The Wall Street Journal also reported on Saturday that some players are hanging in there with MBIA and Ambac (ABK) who saw value over the last year. They named Third Avenue Value Fund run by Martin Whitman as one such player (hurting badly so far this year). He is apparently standing by his investment in MBIA over the past year.
One other item about a stock like MBIA. Take a look at the Ockham Research ratings chart to get a good glimpse of some short term ratings changes and updates on this stock. You will notice a red dot (Sell rating) just prior to the implosion in the stock price in mid-October of last year. We then quickly turned to liking the stock (green dot) in the following month.  We have been different shades of positive since then on MBIA. 
We want to be clear that at Ockham Research, we have a conservative view towards investing in quality companies and doing your homework. As our ratings show, we had a rapid change of heart from negative to positive on MBIA, and every investor needs to be aware of such activity. This is why we are staunchly against clients looking at a stock recommendation or rating in isolation and on a one-time basis. Remember, food in your fridge goes bad usually when you're not looking. So be sure to keep up to date with our ratings and metrics.