For most companies, a strong business model and secular growth prospects often invite speculation about whether or not they are a takeover target. But for Fusion-io (NYSE:FIO), the reverse is true. The company's solid long-term prospects are a result of more than just good products. They are a result of a business model that is becoming more and more rare in the technology sector. By striking deals with almost every major Tier 1 technology company, Fusion-io has been able to remain mostly neutral as competition intensifies in the technology sector. But, these OEM relationships are precisely what will make a takeover of Fusion-io very difficult, and it is an issue that we feel investors need to be aware of. Unless otherwise stated, financial data and managerial commentary used in this article will be sourced from one of 3 places: Fusion-io's Q4 2012 earnings release, its fiscal 2012 10-K, or its Q4 earnings conference call.
Fusion-io: Investing for the Future, and Diversifying the Customer Base
Fusion-io is, at its core, an enterprise storage company that, by selling software-defined storage systems, has been able to capture a growing portion of the storage market for itself. The fact that Steve Wozniak, co-founder of Apple (NASDAQ:AAPL), serves as the company's chief scientist only adds to the company's credibility with investors. However, Fusion-io does not need Steve Wozniak to show investors it can succeed. The company's results can do that for it.
Fusin-io's 2012 fiscal year ended on June 30, and the company continued to post impressive results. For the full year, revenues soared 82.27% to $359.439 million, and they grew 48.69% in Q4 to a record $106.596 million. Fusion-io is in a clear investment mode, as evidenced by its R&D spending both in Q4 and fiscal 2012 as a whole, and this increase is the reason that the company swung to an operating loss of $5.296 million for all of fiscal 2012. Q4 operating losses came in at $990,000, driven by a 117% surge in R&D spending. And this is on a GAAP basis. Fusion-io is solidly profitable on a non-GAAP basis, with pro forma EPS coming it at $0.35, 75% higher than fiscal 2011 pro forma EPS of $0.20. Fusion-io is investing aggressively to grow and expand its market presence, and in the long-term, we believe that this strategy will pay off. Over the last 5 fiscal years, Fusion-io has grown its revenue at a compounded annual growth rate of 253.82%, from $649,000 in fiscal 2008 to $359.949 million in fiscal 2012.
Fusion-io is entering fiscal 2013 with a strong array of product offerings. The company's new ION storage system was announced on August 1, and it is already gaining traction, with over a dozen customers signed up within the first week, the majority of which are members of the Fortune 500. ION differentiates itself by utilizing Fusion-io's ioMemory architecture, which allows the ION system to synchronously persist data, which ensures that it will not be lost, even in the event of a power outage.
Fusion-io has now completed the integration of ioTurbine, and now has over 200 customers using those solutions. ioTurbine allows customers to unlock the full potential of their VMware (NYSE:VMW) systems. ioTurbine helps control the I/O process in virtualized systems, thus delivering flash storage across all virtual systems. Furthermore, system administrators can dynamically allocate flash storage between virtual machines, with no downtime, so that capacity can be allocated to where it is needed most as quickly as possible. On its Q4 call, Fusion-io stated that a large domestic bank has chosen ioTurbine over a competing storage system because of the flexibility that ioTurbine offers.
We believe that fiscal 2013 (from July 1, 2012 to June 30, 2013) will be another record year for Fusion-io, as the company's product lines expand, and the company adds to its customer base. This will help reduce one of the chief risks for Fusion-io, the high concentration of its customer base.

Sources indicate that Customer A is Facebook (NASDAQ:FB), that Customer B is Apple, and that Customer C is HP (NYSE:HPQ). While it is good to have some of Silicon Valley's leaders as key customers, the fact that Fusion-io derived 72% from 3 customers is a risk, even if they rely on its products to maintain their networks and their competitive edge. However, Fusion-io is slowly but steadily diversifying. Those 3 customers accounted for 74% of revenues in fiscal 2011. While both Facebook and Apple rely on Fusion-io to accelerate the speed of their websites (and iCloud, in Apple's case), and there have been no indications that they are looking to abandon Fusion-io, it is a risk that we think investors need to be cognizant of, even if we believe it is not a material issue at this point in time.
Growth Rates and Valuations
Fusion-io's pro forma EPS grew by 75% in fiscal 2012 on the back of revenue growth of more than 82% in 2013. Fiscal 2013, however, is set to be a transition year for Fusion-io. Per consensus estimates from Reuters, pro forma EPS is set to rise by just 8.57% in fiscal 2013 to $0.38.

Fusion-io will not be slowing down its investments in this fiscal year, but they are set to pay off in the near future. For fiscal 2014, EPS is set to grow by 57.89% to $0.60, giving Fusion-io a P/E ratio of 45.463x fiscal 2014 EPS. While that is not what most people would call value, Fusion-io's long-term growth rates are leading the industry, and the company's revenues are set to grow by over 55% in fiscal 2013, and 40% in fiscal 2014.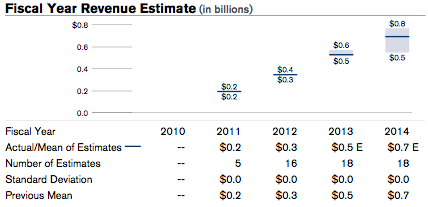 We do not expect "value" investors to be drawn to Fusion-io, but there is nothing wrong with that. Every investor has a different level of comfort when it comes to valuation and risk, and for some, Fusion-io may not fit their criteria. But for those investors who are willing to pay for solid growth, we believe that Fusion-io will be a profitable investment in the long run.
Financials: A Solid Balance Sheet
Fusion-io's balance sheet is clean, with $321.239 million in cash & equivalents, and no debt. That is up from $219.604 million as of the end of fiscal 2012. Fusion-io's operating cash flow increased to $34.768 million in fiscal 2012 (of that $30.571 million in operating cash flow was realized in Q4), an increase from $9.857 million in operating cash burn. The discrepancies between Fusion-io's operating cash flow and its GAAP losses are due to the company's use of stock-based compensation. Fusion-io is in a definitive growth phase, and as such, it is expanding its headcount aggressively. Fusion-io ended fiscal 2012 with 669 employees, a 51.7% increase from the 441 employees it had at the end of fiscal 2011. As Fusion-io's headcount growth begins to stabilize, we expect that the growth in its stock-based compensation expenses will begin to abate. In fiscal 2012, Fusion-io spent $43.438 million on stock-based compensation, a 402.93% increase from fiscal 2011, due primarily to growth in stock-based compensation for R&D (due to increased hiring for research and development), as well as SG&A (due to growth in the company's customer base, as well as its overall size).
Fusion-io has the resources it needs to continue to invest in the future, and we believe that the company's best days are ahead of it. But, an examination of Fusion-io's business model will show that the company's future is likely to be one where it remains a standalone company.
Fusion-io's Catch-22, and a Potential Way Out
Fusion-io's success comes from more than just innovative and quality products. It comes from a business model that is becoming rarer and rarer in the information technology industry. Most of today's technology companies are becoming more and more "horizontal." They are spreading themselves wider and wider, attempting to become IT supermarkets for their customers. But not Fusion-io. Fusion-io has carved a niche for itself, and is staying there. Fusion-io has made itself into the near equivalent of the Switzerland of the technology sector, something that is evidenced by the company's various OEM partnerships. Fusion-io currently has deals in place with IBM (NYSE:IBM), HP, Dell (NASDAQ:DELL), and Cisco (NASDAQ:CSCO), and it inked a deal with NetApp (NASDAQ:NTAP) at the end of August. Among the top tier of technology companies, EMC (EMC) is Fusion-io's only real competitor, and so far, Fusion-io is managing to hold EMC and its VFCache storage system at bay, making this segment one of the few that EMC competes in where it has been unable to claim the lead. That, alongside Fusion-io's growth rate, has fueled takeover speculation, with EMC being the company most often cited as a buyer. EMC has shown that it has no qualms about using its balance sheet to solve its competitive issues. And with $9.195812 billion in net cash & investments, EMC would have no trouble buying Fusion-io (the company has a market capitalization of around $2.64 billion as of this writing), even with a decent premium.
But a takeover of Fusion-io by EMC would expose the company's catch-22. A good deal of Fusion-io's success comes from its OEM partners buying its products, and then repackaging them into their own systems. But, when a server is sent to a customer with Fusion-io products, it is Fusion-io that delivers software upgrades and maintenance, thus enhancing the value of its customer relationships. Fusion-io's relative neutrality has allowed it to sell to all the major technology vendors. But if it was to be acquired by EMC or any other top tier company such as HP, what are the chances that the other OEMs would continue to utilize the technology of a competitor? We believe that they are slim. Competition is intensifying in the technology sector, and companies will do whatever they can to ensure that none of their competitors gain an advantage. Any company that buys Fusion-io will gain control of a company that will start to lose value as soon as it is no longer independent. Fusion-io's success comes not only from a series of innovative products, but from its business model as well. And therein lies the catch-22 that Fusion-io faces. Its present business model may be leading it to success, but it is precluding the ability of almost all technology companies to buy it. But, there is still one company that may be able to pull a deal off, and it is one that has only recently entered into the Fusion-io takeover speculation scene. And that company is Intel (NASDAQ:INTC).
Intel, like Fusion-io, is one of the few technology companies that still partner with most of the sector's major players. Intel sells its chips to almost every major technology company, and as such, there would be no potential conflicts of interest between Intel and its customer base. Intel has made no secret of its desire to expand its hardware relationships with partners, and a takeover of Fusion-io would fit nicely into those plans. Furthermore, Fusion-io would fit nicely into Intel as the company relies more and more on its server division for growth. In Q3 2012, servers accounted for 19.72% of Intel's revenue, up from 17.65% a year ago. On the profit side, the transition is even starker. In Q3 2012, servers accounted for 31.55% of Intel's operating income, up from 25.52% a year ago. A takeover of Fusion-io would strengthen Intel's serve business, and Intel's balance sheet is more than able to handle the costs of financing such a deal, with $7.702 billion in net cash & investments.
Conclusions
As of this writing, Fusion-io trades at $27.78, down over 13% from a recent high of $32.03, as speculation regarding a takeover deal cools. While we do believe that a takeover of Fusion-io would be difficult to execute, we think that this recent selloff should be viewed as a buying opportunity. Fusion-io's prospects as a standalone company are bright, and we fully believe that the company's best days are ahead of it. It has the products that its customers want and need, and it has the financial ability to invest in the future, with a clean balance sheet and an expanding customer base. In our view, Fusion-io's long-term fundamentals are bright, and investors who add to or initiate positions in Fusion-io at these levels will, in time, be rewarded for their conviction.
Disclosure: I am long AAPL, FB, EMC, IBM. I wrote this article myself, and it expresses my own opinions. I am not receiving compensation for it (other than from Seeking Alpha). I have no business relationship with any company whose stock is mentioned in this article.
Additional disclosure: We own shares of IBM via the Fidelity Growth Company Fund.