After reporting earnings on Wednesday night, eBay Inc. (NASDAQ:EBAY) initially jumped nearly 5%, as investors were impressed with mobile growth and international expansion opportunities. The company is a global commerce platform and payments leader.
Unlike Facebook (NASDAQ:FB) or Google (NASDAQ:GOOG), eBay sees mobile as a game changer. The shift towards smartphones and tablet usage provides consumers with more access to utilize the services of eBay.
Q3 2012 Highlights
The company reported the following highlights for Q3 2012:
Revenue for the third quarter ended September 30, 2012 increased 15% to $3.4 billion, compared to the same period of 2011.
Non-GAAP net income of $718 million, or $0.55 per diluted share. GAAP and non-GAAP net income were up 22% and 14%, respectively.
GAAP operating margin increased to 19.6% for the third quarter of 2012, compared to 18.1% for the same period last year. Non-GAAP operating margin increased to 26.3% in the third quarter, compared to 25.3% for the same period last year.
The company generated $1.2 billion of operating cash flow and $792 million of free cash flow during the third quarter of 2012.
The company reported earnings of $0.55 barely beating analyst expectations of $0.54.
Business Outlook
Fourth quarter 2012 - eBay expects net revenues in the range of $3,850-$4,000 million with GAAP earnings per diluted share in the range of $0.55-$0.58 and non-GAAP earnings per diluted share in the range of $0.66-$0.69.
Full year 2012 - eBay now expects net revenues in the range of $13,950-$14,100 million with GAAP earnings per diluted share in the range of $1.95-$1.99 and non-GAAP earnings per diluted share in the range of $2.32-$2.35.
Analysts expected earnings of $0.68, so the guidance of a mid-point of $0.675 was inline with expectations.
PayPal Q3 Highlights
Payments revenue increased 23% over last year to hit $1.37B. PayPal now accounts for over 40% of total revenue. Payments revenue though continues to decelerate now down to only 23% year-over-year growth. As recently as Q1, the division was reporting consistent 30% growth rates.
PayPal Mobile still expects over $10B of mobile payments volume in 2012. The payments division continues to make huge inroads to the offline retailer community now, with more than 10,000 locations allowing PayPal. The company expects to more than double the major retailers utilizing PayPal from 10 to 20 by the year-end.
Concerns
One of the biggest concerns for eBay is that revenue growth has flat lined since Q4 2011. In 2011, the company saw strong sequential growth throughout all of the quarters. This year, revenue remained virtually flat with Q4 2011. If this pattern continues, revenue growth in 2013 will be very low.
Another big concern had been the lack of free cash flow growth. The last two quarters had seen the lowest free cash flow totals in the last few years. The substantial increase to $792M in Q3 should help with those concerns. See chart below from the investor presentation:
Click to enlarge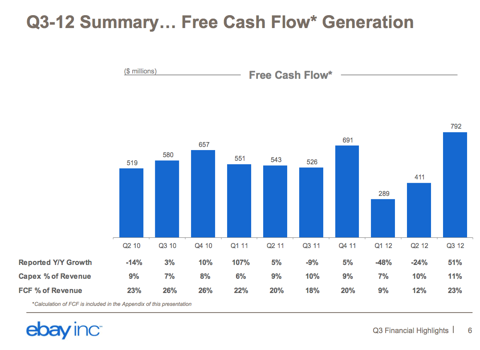 Stock Price
The price remains near 52-week highs at $50. At this level, the stock trades at more than 18x 2013 earnings.
1 Year Chart - eBay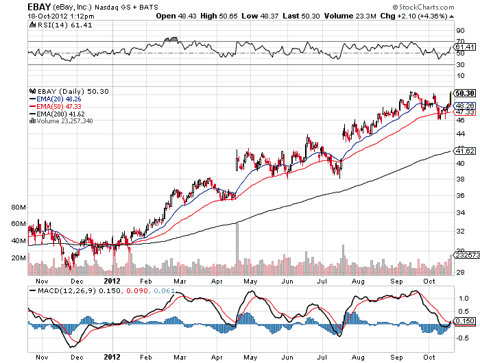 Conclusion
The company continues to provide solid growth with the expansion of PayPal and the mobile initiatives. Unfortunately, new investors will now have to pay up for those growth initiatives, with the stock up 60% in the last 12 months.
While Google accidently released disappointing earnings early on Thursday, eBay continues to show solid growth. The shift to mobile continues to harm users reliant on the desktop advertising model, while others such as eBay benefit from the incremental revenue opportunities.
Disclosure: I have no positions in any stocks mentioned, and no plans to initiate any positions within the next 72 hours. I wrote this article myself, and it expresses my own opinions. I am not receiving compensation for it (other than from Seeking Alpha). I have no business relationship with any company whose stock is mentioned in this article.
Additional disclosure: Please consult your financial advisor before making any investment decisions.