Today I read a Seeking Alpha article titled Is There a REIT Bubble? The first sentence was intriguing as the author wrote:
REITs today are a trap, plain and simple. They are trading well above historical valuations, probably because investors today are desperate for yield. Income investors may be shocked to find that their dividend yield is poor consolation for capital depreciation.
The author went on to argue his case by utilizing P/E ratios (p/e, p/b, and p/s) that have little (if any) meaning for REIT investors. Why?
P/E Has No Meaning to REIT Investors
It's important not to use P/E for REITs, or to compare P/E for REITs with P/E for non-REIT stocks. Funds from Operations, or FFO, is a standardized metric, though not GAAP; AFFO is not standardized, and equity analysts have different ways of constructing it. Both of them are better than earnings for valuing REITs.
By utilizing price to FFO valuation, analysts and investors can determine the trading history of each REIT by itself and relative to the entire REIT sector. Accordingly, payout ratios are based on AFFO (adjusted funds from operations) because it more accurately measures cash flow when compared to net income (due to depreciation), and given the contractual nature of lease payments today, earnings growth rates are higher than the S&P. Here is a snapshot of the FFO multiple compared with the S&P P/E multiple. Keep in mind that the FFO multiple has little impact to European/Chinese exposure (as compared with the S&P):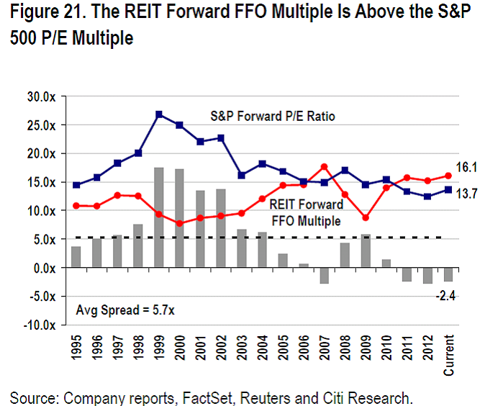 Click to enlarge
Also, I argue that REITs should not only be compared to non-REIT stocks, but also to other fixed-income instruments. This argument is based on the premise that REITs are UNDERvalued when you look at their historical relationship with investment-grade and high-yield bonds. In other words, REITs are just on the inexpensive side of the fairly valued range.
Consider Price to NAV
Another important valuation metric is Price to NAV - that is estimating based on current cap rates on the mix of properties and geographies owned by the REIT -- making sure to calculate total debt plus preferred stock plus common stock market capitalization as the total company capitalization supported by the property values. Currently the spread between cap rates and the 10-Year US Treasury Yield is around 430 basis points - well above the 14-year average spread of 360 basis points.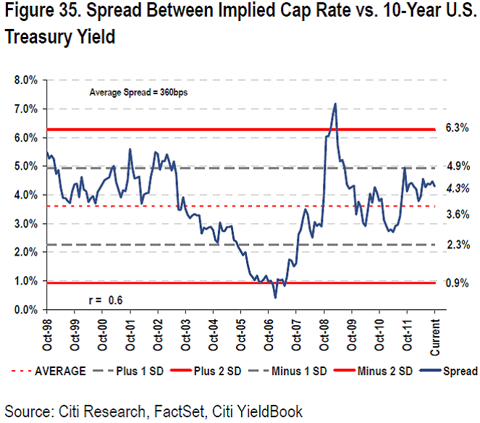 Click to enlarge
In addition, it is clear to see that REITs are valued below 15-year average levels and below current full valuation levels.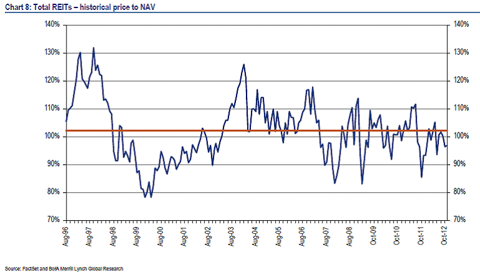 Click to enlarge
The Attraction to Sustainable Income
Also, REITs should be valued utilizing historical income trends metrics, including but not limited to rent increases, occupancies, or both. (i.e. is there a growth component that investors should be paying for). One of the most important income metrics is dividend sustainability and companies with a long history of dividend increases (and trading histories) generally show generally narrow dividend yields. After all, dividends are the most important ingredient for REIT investors (on average total return for REITs is comprised of 66 percent dividend and 34 percent capital appreciation).
Accordingly, REITs are income-disciplined (because they payout 90 percent of income in the form of dividends) and that makes the argument that "dividends are a poor consolation for capital depreciation" foolish. For there is no evidence to support the case that a dividend bubble is forming and, in fact, based upon historical averages, dividends are seemingly cheap. As explained by Matthew Werner, CFA with Chilton Capital Management, LLC:
The spreads between dividend yield and the ten year treasury rate has averaged about 100 bps since the start of the modern REIT Era. Today, that stands at 170 basis points, indicating that REITs are cheap when compared to historical averages. Additionally, with current payout ratios at 74 percent of AFFO compared to the historical average of 82 percent, the spread on an adjusted basis is actually closer to 200 basis points.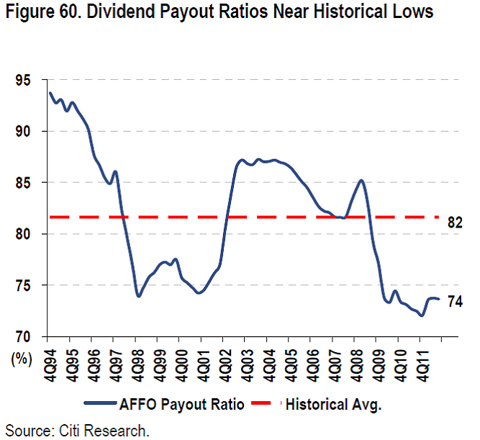 Click to enlarge
Remember, for REITs it is the dividend (not growth) that anchors the total return proposition and that is why the reliability of the dividend stream is the critical and essential component to valuing REITs. Recently, I wrote an article (Do Realty Income Shares Warrant A Valuation Premium Due To Exceptional Risk Management?) where I explained that:
REITs that possess superior management teams often warrant premium pricing. I find it interesting that companies that trade at premium levels and leave no cushion for error (or margin of safety) are often managed by experienced leadership teams with "blue chip" credentials.
I went on to explain that many of the so-called "dividend champions and contenders" like Realty Income (NYSE:O), Federal Realty (NYSE:FRT), National Retail Properties (NYSE:NNN), HCP, Inc. (NYSE:HCP), Tanger Factory Outlets (NYSE:SKT), Universal Health Trust (NYSE:UHT), Urstadt Biddle Properties (NYSE:UBA), National Health Investors (NYSE:NHI), Omega Healthcare Investors (NYSE:OHI), and Essex Property Trust (NYSE:ESS) are trading at or near full value ranges simply because investors are purchasing the stocks "much like an insurance policy in that you are purchasing risk premium coverage for the dividend's future performance. Remember, risk-control is invisible in good times, but essential."
REITs are Bubblicious, Especially the Dividends that are Repetitious
Plain and simple, I don't see a REIT bubble. I see no correlation to the fact REIT dividends are a "poor consolidation" to capital growth. Quite clearly, REITs are outperforming other sectors and, in fact, UNDERvalued when you compare historical relationships with investment-grade and high-yield bonds. The current year-to-date total return performance (for the FTSE NAREIT All Equity REITs) is 16.09 percent (as of September 28, 2012) and the average dividend yield is 3.35 percent.
As a fixed-income alternative, REITs have become more mainstream today as the benefits for investing in these high-quality alternatives include high yields (average 15-year dividend yield is around 8 percent), simple tax treatment (REITs send form 1099-DIV to their shareholders, containing a breakdown of dividend distributions), liquidity (shares are bought and sold on a stock exchange), and diversification (adding REITs to a diversified investment portfolio increases returns and reduces risk since REITs have little correlation with the S&P 500).
So clearly, the valuation metrics identified in this article are consistently in favor of the improved performance of the equity REIT sector. Furthermore, the notion that REITs are a "trap" is explicitly the opposite where instead REITs offer investors attractive risk-adjusted returns that are anchored by durable dividends. Perhaps the current attraction to the differentiated income alternative (we call REITs) can be best explained by Brad Case, Ph.D.,CFA, CAIA, Senior Vice President, Research & Industry Information with NAREIT:
REIT earnings suffered over the last few years as real estate operating fundamentals-rent growth and occupancy levels-declined dramatically. With the economy starting to recover, both rent growth and occupancies have started to improve, but REIT earnings are still low relative to a normal market environment. Investors like REITs not just because they have strong current dividend yields relative to other income assets, but also because investors expect their operating earnings to grow strongly as the economy improves.
Source: NAREIT, Chilton Capital Management, Citi Research, and The DRiP Investing Resource Center
Disclosure: I have no positions in any stocks mentioned, and no plans to initiate any positions within the next 72 hours. I wrote this article myself, and it expresses my own opinions. I am not receiving compensation for it (other than from Seeking Alpha). I have no business relationship with any company whose stock is mentioned in this article.