Microsoft's (NASDAQ:MSFT) launch of its new Windows 8 operating system and its Surface device should garner a lot of attention next week. But whether Microsoft has really wrung out Windows 8 at this point or whether the operating systems needs some more "tweaking" remains to be seen. Historically with Microsoft, it has typically been wise to forgo jumping into a new operating system until the first major revision is released - that way somebody else gets to suffer through all of the bugs and other annoyances.
The idea behind Microsoft's Surface is a device which can be used for recreational surfing and also be used to get some real work accomplished. The Surface is fabricated with molten magnesium allow which is three times lighter than aluminum. The device's magnetically attachable/detachable Touch Cover keyboard is pretty cool - measuring just 3mm thick. It will be interesting to see whether Microsoft's Surface can compete with Apple's (NASDAQ:AAPL) iPad over the next several months and years.
In Microsoft's Fiscal Year Q1 earnings call, the company noted it has certified over 1000 unique Windows 8 systems. On a negative note, Microsoft reported flat year-over-year revenue of $17.4 billion and attributed the flat growth to a challenging PC market, purchasing slowdowns in advance of the upcoming product launch and tough economic conditions - especially in Europe.
Microsofts's stock price is up for the year and has been in a trading range between $28 and $31 for the last four months or so as shown below: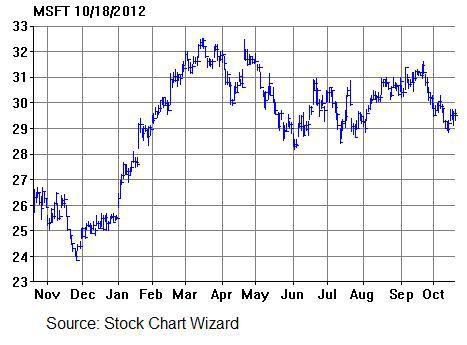 At this point, Microsoft looks primed for performance over the next few months, but if the company has problems manufacturing the Surface device or has a lot of bugs and compatibility problems with Windows 8, its stock could take a little breather for a while. In this situation, a married put strategy looks promising, as the strategy positions for unlimited upside while protecting against a large downside. The married put position can be entered by selling a put option against a long stock. The married put position is typically selected for option expiration far out-in-time in order to reduce the per day cost of the put insurance.
Using PowerOptions, a variety of married put positions for Microsoft for April 2013 are shown below: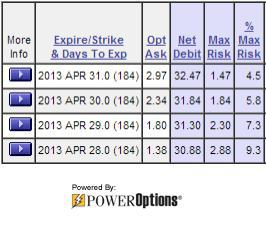 The top married put position in the table above looks attractive with a maximum potential loss of 4.5%. Better yet, the positions in the table above do not include expected dividend payments received during the holding time -- and by including expected dividend payments, the maximum potential loss is reduced to 3.3%. The top position can be entered by purchasing the 2013 Apr 31 put option for $2.97 against a long position in the stock.
Microsoft Married Put Trade
MSFT Stock (purchased or existing)
Buy MSFT 2013 Apr 31 put at $2.97
A profit/loss graph for one contract of the position, including expected dividend payments is shown below: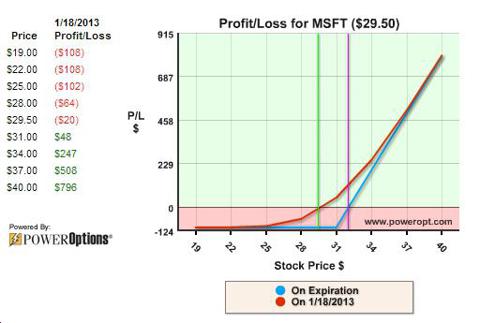 Click to enlarge
For a stock price below the $31 strike price of the put option, the value of the married put remains unchanged. And, if the price of the stock increases above the $31 strike price of the put option, income generating strategies as taught by RadioActiveTrading.com may be applied in order to receive income and reduce risk.
Look forward to your comments below!
Disclosure: I have no positions in any stocks mentioned, and no plans to initiate any positions within the next 72 hours. I wrote this article myself, and it expresses my own opinions. I am not receiving compensation for it (other than from Seeking Alpha). I have no business relationship with any company whose stock is mentioned in this article.