By Kimberly Chan
Polo Ralph Lauren Corporation (NYSE:RL) is to release its second quarter fiscal year 2013 results at the end of October. Recent events seem to indicate that Ralph Lauren will see little change, if not a slight upgrade in the immediate future. For now, it might be best for investors to hold on to Ralph Lauren, particularly to see how it will act in response to the Amazon (NASDAQ:AMZN) website's call for brands for a new high-end fashion retailing section.
Slowdown in luxury sales?
The current economic issues have led the demand for luxury goods to be "lackluster" in the Western markets and in Japan. After the United States, China is the next biggest consumer market for these goods. China, along with Brazil, Russia, and India, is responsible for 11% of total luxury sales, and the number is growing.
Burberry recently issued a warning that its end of year profits might be low, and it cited the cause as a decrease in demand from the British and Chinese markets. The brand experienced slow growth this year, but it still performed better than expected overall. China's demand growth for luxury goods may be starting to slow, but there isn't a concrete or overwhelming indication for the other countries to ease up as well.
The premise of a luxury sales slowdown might, however, not even affect Ralph Lauren anytime soon. Michael Kors (NYSE:KORS) is an example. The company had strong earnings growth in the last quarter, and its stock is doing well. Such an outcome is a possibility for Ralph Lauren too.
There is not overwhelming evidence that Ralph Lauren will be in immediate trouble, and circumstances within the company seem stable. The company has been rising overall since 2009, it has a relatively small amount of long-term debt, and the founder, Ralph Lauren extended his employment as CEO and chairman until 2017.
Click to enlarge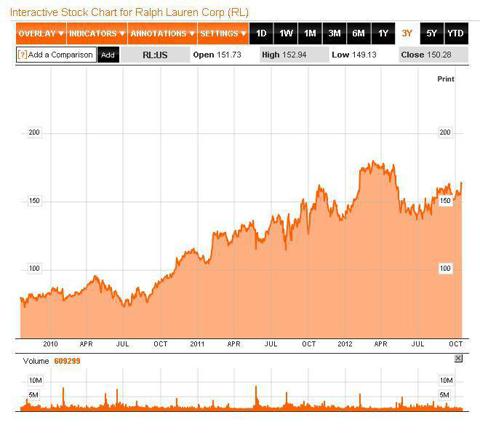 Source: New York Stock Chart - Ralph Lauren Corp.
However, an investor might hesitate from buying or selling stock in Ralph Lauren. Instead, it might be best to wait and see what, if anything, Ralph Lauren will do in response to the changes in economy.
Opportunity to join Amazon
One direction Ralph Lauren might take is to join Amazon, allowing its goods to be sold under Amazon's high-end section of its website. It could be a lucrative opportunity for Ralph Lauren, perhaps to piggyback off the popularity and convenience of Amazon to regain some strength in the US market.
Unlike Louis Vuitton, who refuses to sell on Amazon in order to preserve its exclusive luxury image, Ralph Lauren is not as exclusive of a brand. It is sold in mainstream department stores, and the goods trickle down to bargain stores like Marshalls.
Ralph Lauren products are actually already on Amazon, sold by third parties who do not even have the brand's authorization. Ralph Lauren is not officially on Amazon yet, but the threat of a slowing growth in sales might push Ralph Lauren in the direction of the super popular website. It is up to Ralph Lauren whether it wants to sign on with Amazon as a preemptive strike against the economy, or if it will wait to see if it can handle it on its own.
Sources:
1. http://www.nzherald.co.nz/business/news/article.cfm?c_id=3&objectid=10839780
2. http://finance.yahoo.com/news/burberry-sales-growth-slows-demand-084632198.html;_ylt=A2KJ3CZcEXdQcUIAgJqTmYlQ
3. http://news.investors.com/investing-international-leaders/101012-628853-michael-kors-expected-to-post-strong-profit-despite-weak-economy.htm?ven=yahoocp,yahoo
4. http://seekingalpha.com/article/900481-ann-taylor-vs-ralph-lauren-preppy-vs-preppy
Disclosure: I have no positions in any stocks mentioned, and no plans to initiate any positions within the next 72 hours. I wrote this article myself, and it expresses my own opinions. I am not receiving compensation for it (other than from Seeking Alpha). I have no business relationship with any company whose stock is mentioned in this article.