On October 8 I published an article entitled "Earnings Season Preview: Worst Outlook In Three Years." So far, the results have been mixed with 65% of companies beating profit estimates but only 42% beating on the topline. That said things are starting to take a turn for the worst.
Earlier this week, IBM reported revenue that missed analysts' expectations as sales slid 4% in the Americas and 9% in Europe, Africa, and the Middle East. Similarly, Intel (NASDAQ:INTC) reported a 5% year-over-year drop in revenue and a 14% year-over-year decline in profit as PC demand crumbled.
Google missed everything when it (accidentally) reported midday Thursday, and Thursday evening after markets closed, Microsoft (NASDAQ:MSFT) missed on both the top and bottom line blaming the 22% slide in revenue on consumers who are waiting on the roll out of Windows 8 and the Surface tablet to make new purchases. Here's a particularly amusing quote from Cross Research's Richard Williams regarding Microsoft's weak quarter:
If you eliminate [revenue deferrals] from the numbers, they had a surprisingly strong quarter.
In other words, if you imagine that people spent money they didn't spend, the quarter was actually very strong.
As I noted earlier in the week, bank earnings were as opaque as ever as JPMorgan (NYSE:JPM) beat with the help of a reduction in loan loss reserves even as non performing assets rose sequentially and Citi (NYSE:C) beat if you forget about the $4.7 billion loss on the Smith Barney sale and if you believe loan loss reserves count as 'earnings'.
Even everyone's favorite growth stock, Chipotle Mexican Grill (NYSE:CMG) wasn't immune as it missed on the bottom line and also reported same store sales that were a bit shy of analysts' estimates. The shares plummeted after hours and are now down some 44% since April, validating hedge fund manager David Einhorn's warning that the stock presented an attractive short.
I have noted for some time now that stocks rising purely on P/E multiple expansion is a recipe for disaster as eventually investors will begin to demand earnings in exchange for their money. Consider the following chart which compares P/E multiple expansion after QE2, the first LTRO, and QE3: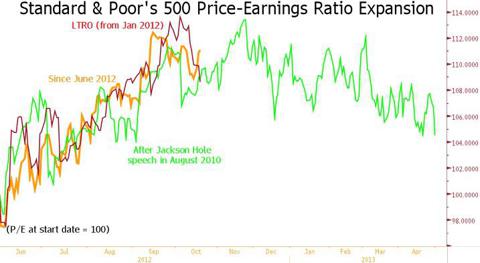 Source: Bloomberg via ZeroHedge
It would appear based on the past that P/E multiples have expanded as far as they are going to expand. What the market will need going forward is earnings growth.
This could prove a tall order given the prospects for the U.S. economy. For its part, JPMorgan recently slashed its estimates for 2013 GDP growth citing "fiscal cliff related issues":

Source: JPMorgan
Consider also the following graphic from David Rosenberg and Gluskin Sheff which shows that the overwhelming trend in both S&P 500 revenue and corporate profits is negative: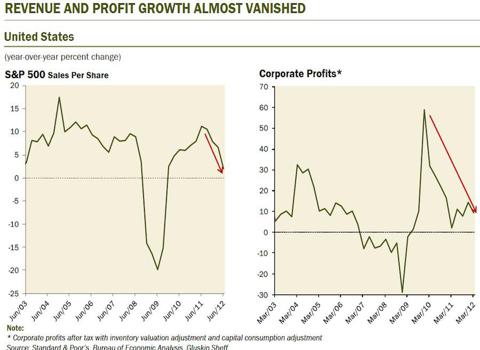 Source: S&P, Bureau of Economic Analysis, Gluskin Sheff
From the above, it would appear that the rally may be officially at an end. The S&P 500 is now well below its post-FOMC levels and corporate earnings are beginning to reflect economic realities. With Europe still in the doldrums and plenty more earnings reports on the horizon, now may be the opportune time to get short U.S. equities (NYSEARCA:SPY) (NASDAQ:QQQ) (NYSEARCA:DIA).
Disclosure: I have no positions in any stocks mentioned, and no plans to initiate any positions within the next 72 hours. I wrote this article myself, and it expresses my own opinions. I am not receiving compensation for it (other than from Seeking Alpha). I have no business relationship with any company whose stock is mentioned in this article.