Labor day is over and the same should be true for the summer doldrums.  The big boys should work their way back into this market this week and definitely next.  Volume should expand over the weak levels that we have been witnessing off the bottom in July.  The markets have become very volatile and it would be a great time for the bigger players to capitalize off of this rally and jam this market down fast to load up for the final bottom that should be put in within the next 4 to 6 weeks. 
The last few weeks have been like watching paint dry.  The choppiness has taken the market nowhere.  No leadership has been taken by any large amount of money and this needs to happen before we see a sustainable rally. 
Let's take a look at the Dow Jones, which we have been tracking pretty closely for the last few months. 
There are a few things going on here:
We have noted on the chart below how the Dow Jones continues to fail at the 38.2% retracement level from the July bottom.  In fact, it has failed at that level seven times, if you include the false breakout that occurred above that level for a day. 
A potential head and shoulders top is forming on the DOW for the shorter term, as noted on the chart in Blue.  A break below that yellow neckline could indicate a move back down to the lows.
Volume has been extremely light over the past few weeks.  Let's keep a close eye on trading activity over the next few weeks.  I still see a small possibility for a quick knee-jerk move up to the 12,000 area.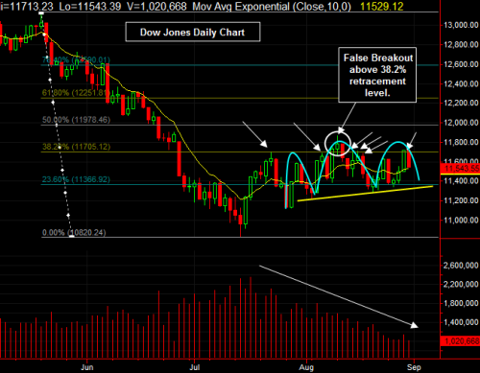 The next chart we want to review is of the Banking sector.  Many of the large cap bank stocks still look very weak but there is strength in the smaller cap stocks within the BKX banking index.  Again, notice how this sector failed through a double top at the 61.8% retracement level.  So far, the BKX has been consolidating within a 12 point range over the past 6 weeks.  We need to see a break in either direction before we can make any further conclusions about this sector; however, I believe a break DOWN will be the most likely scenario.  A banking sector failure looms here going into the weakest seasonal period of the year.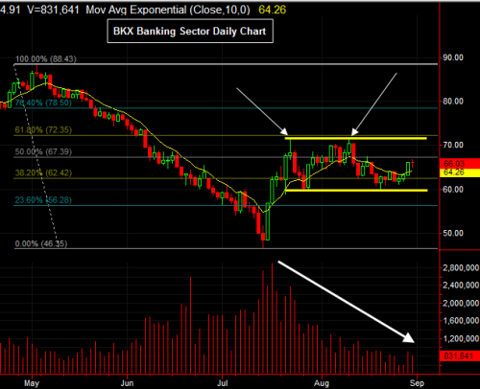 Let's look for clues over the next two weeks.  Until then, I continue to remain on the sidelines waiting for a good entry into this market.  I believe we will see a low volume move down that will feel like the world is falling apart. 
Stock position: None.