I get a lot of questions about bank stocks- have we seen a bottom? Is it safe to start nibbling? What bank is the cheapest? And while the financials are not my favorite sector right now, I think that if you have a longer term investment horizon, JPMorgan Chase (NYSE:JPM) is the bank stock that should take a look at.
Just an aside – There seems to be a lot of confusion about what it means for a stock to be "cheap." People often say things to me like – "but WaMu (NYSE:WM) is trading at 4 dollars, don't you think it is really cheap right now?" First of all, the nominal value of an individual stock has nothing to do with how cheap or expensive a stock is. This argument cannot even be made from a market cap perspective, as a lower share price does not mean a "smaller" company because the number of share outstanding varies greatly from stock to stock. If you are going to talk about how cheap a stock is, you need to base that argument on a comparable metric -such as P/E, fP/E, P/S, P/BV, ROE, etc. - and then look at that metric with regards to how risky the stock is. So the per share price has nothing to do with how "cheap" a stock is. I know why so many people think this; in the real world it is perfectly logical for someone to consider a pen that costs 4 dollars to be cheaper than one that costs 200 dollars. But that is the type if thinking that will get you in a lot of trouble in the investing world.
Now back to JPMorgan Chase. The company operates in over 50 countries worldwide and has assets of 1.3 trillion dollars. JPMorgan's operations are divided into the following six divisions: Investment Banking, Retail Financial Services [RFS], Card Services [CS] (155 million cards in circulation, 157 billion in loans), Commercial Banking [CB], Treasury & Securities Services [TSS] (15.9 trillion dollars in custody in 2007), and Asset Management [AM] (1.5 trillion dollars under management).The stock yields about 4% and trades for about 11x next year's earnings. In July, the company wrote down 1.5 billion dollars of mortgage backed assets.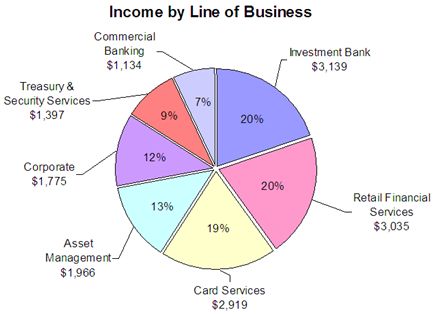 Source: 2007 Annual Report
Lower Risk in a Risky Sector
In my opinion JPMorgan is a lot less risky than most other stocks in the financial sector. Firstly, JPM has a Tier 1 capital ratio of 9.1%, and a reserve ratio which is 2.47% of loans. Moreover, the company is expanding into emerging markets and already has a strong international presence. International diversification is one of the key factors that separate those "cheap" regional banks like WM and Sovereign Bancorp (SOV) from the big guys like JPM that are worth investing in.
JP Morgan in a Good Place to Take Advantage of Subprime Crisis
Although the financial institution will undoubtedly be affected by the deteriorating credit situation, I believe JPM is in a good position to buy underpriced assets as the downturn continues. In late March, the company bought Bear Sterns for the fire sale price of $10 per share. This deal gives JPM the lead in the in the prime brokerage business – which could be a very good business to be in as the financial markets eventually rebound.
I think that JPM got Bear really cheap and can continue to do such deals in the future because it has a stronger balance sheet than many of its peers. In addition to that, JPM should be able to gain market share in many of the businesses it operates in as weaker companies lose ground.
Finally, JPM's CEO Jamie Dimon just seems like the more level-headed than the CEOs of the other major banks. He put aside more money for bad loans than many competitors and he is not overly optimistic about the future. When he saw that prime sucked, he said it – I like that. I believe that the banks will remain very volatile over the next 6 months, but if you have a long term investment horizon and want to buy a bank stock, I would recommend you look at JPM and start dollar cost averaging.
Disclosures: None, potentially long JPM soon