We were not surprised that CYS Investments, Inc. (NYSE:CYS) cut its dividend by 10% last month. CYS and other mREITs are seeing net interest income spreads compress due to the monetary stimulation efforts of the world's central banks. Even though we pared back a portion of our CYS position, it is still one of our favorite mREITs because it did not have the pricing premium to book value that American Capital Agency Corp. (NASDAQ:AGNC) had.
We also liked CYS Investments because it was smaller and more flexible than Annaly Capital Management, Inc. (NYSE:NLY); it had slightly lower CPR rates than Annaly and its premium to book is comparable to Annaly's. A third reason why we like CYS is because it is a local company for us.
Click to enlarge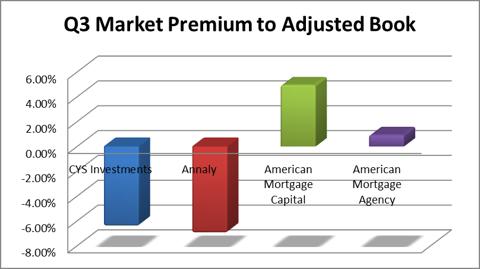 Source: CYS Investments's Q3 report and Our Estimates
A fourth reason why we like CYS is because it uses forward settling transactions for the majority of its purchases. This enables CYS to purchase assets with specified stipulations, such as average loan size and/or age, and/or percentage of loans in a particular state. This customization enables CYS to more effectively manage prepayments.
In addition, forward settling purchases allow CYS to obtain an asset at a discount (also referred to as "drop") to its current market value; however, the company does not receive interest income on the asset until the forward transaction settles. Obtaining assets at a discount to market value reduces the prepayment impact and is accretive to net asset value. Thanks to the mREIT massacre that took place from October 5th-15th coupled with the increase in book value that we saw in CYS's most recent earnings report, we are pleased to see that CYS is trading at a discount to its book value of 6.4%.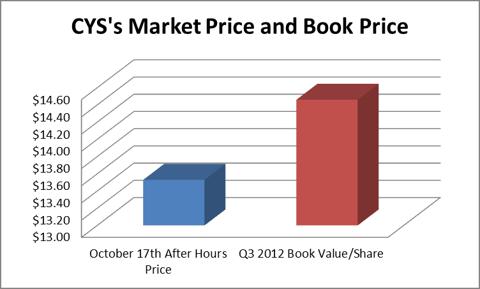 Source: Morningstar Direct and CYS's Q3 2012 report
CYS and other mREITs are seeing net interest income spreads compress due to the monetary stimulation efforts of the world's central banks. We have to slightly "disagree with the new co-CEO of Annaly Capital Management (NLY) Wellington when he said that you have an incredible mispricing of risk that's being delivered at the hands of academics at the central banks of the world."
In our opinion, we believe that the egghead academic technocrats at the central banks know exactly what they are doing. In their warped little mindset, they believe that they are creating a "wealth effect" in order to "stimulate demand." We believe that rational macroeconomic reforms such as tax reform, spending/budgetary reform and regulatory reform will be more likely to increase demand than debauch the dollar.
At first glance, we were concerned that the company's core earnings were deteriorating because of the narrowing spreads on MBS securities. Our concern was based on the fact that CYS's Core Earnings per Share as defined by management was only $.25 for Q3 2012, which was a sharp decline from the $.38 in Q2 2012.
However, we were assuaged when we found that its "drop income per share" (appreciation on forward settling purchases that was accounted for as net gain from investments on its statement of operations and therefore excluded from its Core Earnings) for the quarter was $.23, up from $.13 in the linked-quarter. CYS's Core EPS in Q3 2011 was $.42 and its drop income per share was $.09. CYS's recurring EPS for Q3 2012 was $.48, which is only 6% less than its Q3 2011 recurring EPS of $.51.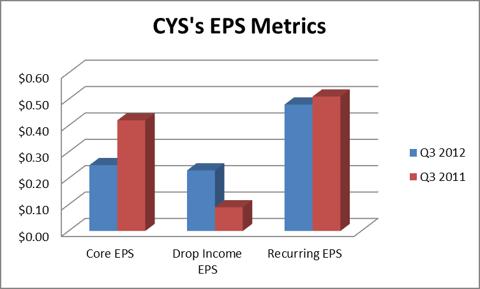 Source: CYS's Q3 2012 and Q3 2011 Earnings Releases
Based on the mREIT massacre that took place from October 5th to October 15th, we believe that it is important to remind investors of our proper perspective of principles for mREIT investing.
The first principle to consider is CYS and other mREITs are akin to highly leveraged bond funds, especially because mREITs are pass-through entities like mutual funds and ETFs, in that both entities must distribute 90-98% of pro forma taxable income to shareholders in order to avoid entity-related excise taxes.
The second principle is that we treat this in a similar manner to if we were to invest in a mutual fund, separate account or ETF managed by a highly regarded money manager as opposed to investing in the stock of a traditional corporate business.
The third principle is that when investing in any kind of bond instruments, high current income is the primary consideration and capital gains are a secondary consideration.
The fourth principle is keeping a sharp eye out on prepayments. Prepayments work against mREIT investors because while CYS's Constant Prepayment Rates on its MBSs are a bit higher than that of American Capital Agency and American Capital Mortgage (NASDAQ:MTGE), the company works to mitigate this through its forward settling transactions when purchasing MBS holdings.
The fifth principle is keep a sharp eye out on market price premiums and discounts relative to book value. The highest mREIT premium we have ever paid was a 5% premium on American Capital Mortgage. If a company has too high a market price premium, it can be dashed in part or in whole by secondary offerings by the company. For assertive mREIT investors, they can estimate the book values of the mREIT during the quarter in order to determine its estimated book value to determine its adjusted premium or discount.
The sixth principle is to ensure adequate per share dividend coverage in order to mitigate dividend cuts.
The seventh principle is that although spreads are narrowing and the 15% yields are not likely to return, a well-managed mREIT should generate a 7-12% average dividend yield throughout the cycle.
In conclusion, we believe that the sell-off in CYS was overdone. We were pleased that CYS's share price has stabilized since its lows achieved on October 15th. We could see that the market was relieved that CYS was able to generate strong book value growth in its MBS holdings due to the Fed's open-ended monetary easing as CYS's share price has been bid up by nearly 2% on October 17th. We're not expecting much in the way of future book value growth due to appreciation of MBS assets and we're most certainly not expecting any dividend growth.
Disclosure: I am long CYS, MTGE. I wrote this article myself, and it expresses my own opinions. I am not receiving compensation for it (other than from Seeking Alpha). I have no business relationship with any company whose stock is mentioned in this article.
Additional disclosure: This article was written by an analyst at Saibus Research. Saibus Research has not received compensation directly or indirectly for expressing the recommendation in this article. We have no business relationship with any company whose stock is mentioned in this article. Under no circumstances must this report be considered an offer to buy, sell, subscribe for or trade securities or other instruments.