On Thursday, Orient-Express Hotels (OEH), a Bermuda-headquartered hotel chain trading on NYSE, saw its stock surge 41% on the news of a hostile takeover bid from Ratan Tata-owned Indian Hotels Company. Indian Hotels Company, valued at $1.07 billion, offered to pay $1.9 billion, a 40% premium at $12.63 to OEH's stock price, for a total buyout of 100% OEH shares.
Orient-Express owns a global portfolio of properties. Here is a detailed list:
Country

Property

Venice, Italy

Hotel Cipriani

Rio de Janeiro, Brazil

Copacabana Palace

Cusco, Peru

Hotel Monasterio, Miraflores Park Hotel and the Machu Picchu Sanctuary Lodge, Palacio Nazarenas

Iguazu Falls, bordering Brazil and Argentina

Hotel das Cataratas

New York City, USA

The 21 Club

Capetown, South Africa

Mount Nelson Hotel

St Petersburg, Russia

Grand Hotel Europe

Madrid, Spain

The Ritz

Riviera Maya, Mexico

Maroma Resort and Spa

Santa Barbara, USA

El Encanto

Taormina, Sicily

Grand Hotel Timeo and the Villa Sant'Andrea

Railways, Burges and others: Venice Simplon-Orient-Express in Europe, the Eastern & Oriental Express in South East Asia and The Royal Scotsman, part owner of PeruRail in Peru.

Afloat in France operates luxury péniche-hôtels (barges) on the inland waterways of France.
Source: Shareholders' page, OEH website
The company began in 1976 with a single acquisition, the Hotel Cipriani in Venice, and has grown to owning 45 hotel, cruise and luxury rail businesses in 22 countries.
In a recent press release dated October 18, Orient-Express confirmed that
It has received an unsolicited letter from The Indian Hotels Company Limited (IHCL) and certain other members of the Tata group of companies dated October 18, 2012 , and included in IHCL's SEC Schedule 13D/A filing of the same date, with an unsolicited proposal by those parties and a fund controlled by Montezemolo & Partners to acquire all outstanding shares of Orient-Express Hotels Ltd.

The Board of Directors of Orient-Express Hotels Ltd. expects to evaluate the proposal carefully and respond in due course in accordance with the best interests of the Orient-Express Hotels Ltd. and its shareholders.
Note: Montezemolo and Partners SpA is an Italian company which manages Charme II Fund, the fund associating with Tata on this offer.
According to a Reuters report, OEH has a "dual share structure" that will make it hard to carry out a hostile takeover. This is a structure, related to the poison pill provision, as I discussed in another article, designed to let original management retain voting power in excess of their stake in the company. However, the interesting thing is that Paul White, the former CEO of OEH, and a person who once rejected a previous bid for a significant stake in OEH by Tata's Taj Hotels because of its "Indianness," is currently working with the Tatas to close the deal.
Financials
The following chart from OEH 2011 Annual Report gives a financial summary of the hotel group.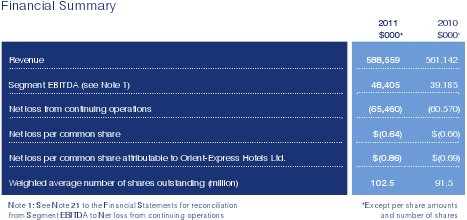 The hotel chain has performed consistently in the last 5 years, as is seen from the following performance chart.
Earnings 2007-2011 unadjusted for inflation

2011

2010

2009

2008

2007

588559

561142

440602

483177

505180
The effects of the downturn in 2008 can be clearly seen on the earnings results; however, the company has managed to maintain more or less steady earnings and has begun to show better results since 2010. OEH has consistently beaten analyst estimates, giving a 1400% surprise EPS last year.
About the Bidders, the Tata Group
The Tata Group, which owns the Indian Hotels Company that made the unsolicited bid, is the largest group of companies in India, operating in steel, automotive, telecom, retail, services, IT and other segments. It has operations in 80 countries, a total market cap of $76 billion, and receives 58% of its revenues outside India. Its subsidiary Tata Motors Limited (NYSE:TTM) has an ADR in NYSE. According to the Reputation Institute's survey in 2009, Tata was the 11th most reputed company in the world (see chart below)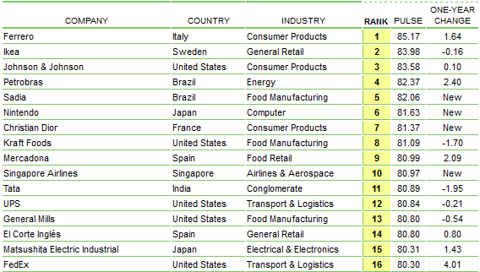 Below is a list of Tata acquisitions both in India and outside:
February 2000 - Tetley Tea Company, $407 million

March 2004 - Daewoo Commercial Vehicle Company, $102 million

August 2004 - NatSteel's Steel business, $292 million

November 2004 - Tyco Global Network, $130 million

July 2005 - Teleglobe International Holdings, $239 million

October 2005 - Good Earth Corporation

December 2005 - Millennium Steel, Thailand, $167 million

December 2005 - Brunner Mond Chemicals, $120 million

June 2006 - Eight O'Clock Coffee, $220 million

November 2006 - Ritz Carlton Boston, $170 million

January 2007 - Corus Group, $12 billion

March 2007 - PT Kaltim Prima Coal (KPC) (Bumi Resources), $1.1 billion

April 2007 - Campton Place Hotel, San Francisco, $60 million

January 2008 - Imacid Chemical Company, Morocco[6]

February 2008 - General Chemical Industrial Products, $1 billion

March 2008 - Jaguar Cars and Land Rover, $2.3 billion

March 2008 - Serviplem SA, Spain

April 2008 - Comoplesa Lebrero SA, Spain

May 2008 - Piaggio Aero Industries S.p.A., Italy

June 2008 - China Enterprise Communications, China

June 2008 - Neotel, South Africa

October 2008 - Miljo Grenland / Innovasjon, Norway
Source: Wikipedia article on Tata Group
The January 2007 acquisition of the Corus Group for $12 billion was the largest acquisition by an Indian company. This acquisition made Tata Steel one of the largest steelmakers in the world. Also in March 2008, Tata acquired the legendary Jaguar Cars and Land Rover company of Britain for $2.3 billion, which has been a top performer for the group.
Tata Group has considerable depth in the hotels vertical. It operates the India Hotels Company as well as the Ginger Hotels Group in India. Taj Hotels, the brand name of its luxury chain, operates in United States of America, England, Africa, the United Arab Emirates, Maldives, Malaysia, Bhutan, Sri Lanka and Australia, including the famous Ritz Carlton of Boston, which the group purchased in November 2006 for $170 million, and the hotel Pierre in New York. Therefore, it seems to me that while buying the Orient-Express chain will be its largest investment in the hotel segment, the group does have considerable international expertise in running major hotels around the world.
Disclosure: I have no positions in any stocks mentioned, and no plans to initiate any positions within the next 72 hours. I wrote this article myself, and it expresses my own opinions. I am not receiving compensation for it (other than from Seeking Alpha). I have no business relationship with any company whose stock is mentioned in this article.