Market Beating Stocks looks for stocks that are poised for a breakout, meaning a 30% price gain target within 6 months. How do we find these stocks? We search over 8,000 stocks daily using our proprietary stock screen called "MARP": Momentum At Reasonable Prices. The MARP screen searches for stocks that have shown strong price momentum over the past three- and six- month periods reflecting strong investor demand. From that starting point, we narrow our selections down to only those stocks that remain reasonably priced. We use a number of criteria to evaluate "reasonableness" including PE multiples, price to sales ratios, relative industry comparisons, and growth rates. Finally, we review each stock chart to ensure recent price movements represent good "buying" opportunities.
What stocks does our MARP strategy currently show? Sun Healthcare (NASDAQ:SUNH) and Comfort Systems (NYSE:FIX) are both currently on our buy list. Let's review each one briefly.
Sun Healthcare Group (SUNH) is a provider of long-term, sub-acute and related specialty healthcare services principally to the senior population in the United States.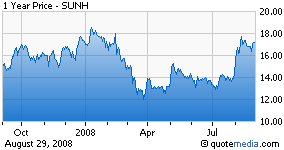 The company operates in three principal business segments: inpatient services, rehabilitation therapy services and medical staffing services. Inpatient services are offered primarily through 190 skilled nursing centers, 15 assisted and independent living centers and eight mental health centers. Rehabilitation therapy services are extended to non-affiliated and affiliated centers while medical staffing and other ancillary services are offered primarily to non-affiliated centers and other third parties.
SUNH ranks very high on our list which is not surprising since their PE ratio currently stands at just over 12. This is very low for a company with sales and earnings growth over the past twelve months of 49% and 149% respectively. In addition, Sun Healthcare has shown much better consistency and growth in reported earnings over the past 7 quarters and has operating margins that are better than the majority in the industry. Long term, aging demographics will clearly benefit this industry, and we think SUNH is positioned well for a very healthy ride.
Comfort Systems (FIX) provides heating, ventilation and air conditioning [HVAC] installation, maintenance, repair and replacement services within the mechanical services industry. Comfort Systems operates primarily in the commercial, industrial and institutional HVAC markets, and perform most of its services within office buildings, retail centers, apartment complexes, manufacturing plants, and healthcare, education and government facilities.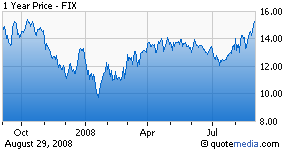 In addition, the Company provides specialized applications, such as building automation control systems, fire protection, process cooling, electronic monitoring and process piping.
It has been rocky for investors that held FIX at the beginning of the year, but we think Comfort Systems has now heated up and is poised for a breakout. The stock price is just about to hit price highs last reached in October 2007 and April 2006, yet the PE has fallen to a lowly 14 in light of their strong earnings over the past year.
We would point out that their PE ratio has trended down over the past couple of years, presumably with the struggling economic slowdown and the impact on the overall construction industry. However, Comfort has weathered the storm better than most, and may see an expansion of their multiple over the near term which would further propel the stock price.
We think their maintenance and replacement services business will hold up well despite the struggling economy. The stock also enjoys very favorable analyst support.Market Beating Stocks does not currently own these stocks, but may choose to take a position in the near future.
Disclosure: None