Shionogi & Co. (OTC:SGIOF), a major Japanese drug manufacturer and US-based specialty pharmaceutical company Sciele Pharma, Inc. (SCRX), announced on Monday a definitive agreement under which Shionogi will acquire Atlanta-based Sciele Pharma Inc. shares, in an all-cash deal valued at $1.42 billion.
The acquisition on the part of Shionogi will be made through a wholly-owned US subsidiary for all the outstanding shares of Sciele's common stock at a price of $31 per share.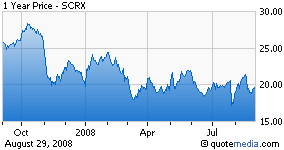 Shionogi will spend $1.1 billion and $325 million of capital required for the redemption of senior convertible notes.
With this move the Japanese drug maker aims to expand its marketing channel base in the U.S. and at the same time, accelerate the overseas marketing strategy for its pipeline of drug candidates which it hopes will lead it to a maximization of profits.
Upon completion of the acquisition, Sciele will become an indirect wholly-owned subsidiary of Shionogi and will continue operations in Atlanta as a standalone business unit.
Founded in 1992, Sciele is a pharmaceutical company specializing in products focused on cardiovascular disease and diabetes, as well as women's health and pediatrics. It offers products, such as a Nitrolingual pump spray to provide acute relief of an attack or prophylaxis of angina pectoris, Sular to treat hypertension, Altoprev to treat hypercholesterolemia and coronary heart diseases, and Fortamet, an adjunct to diet and exercise in lowering blood glucose in type 2 diabetes patients. The company has achieved steady sales expansion. In fiscal '07, it posted sales of $382 million from $293 in the previous year. Net Income was $45 million with overall assets worth more than $800 million, up from $590 million in fiscal '06.
Mr. Patrick Fourteau, Chief Executive Officer and a Director of Sciele, said of the deal, "Sciele will be a stronger company as part of Shionogi, which is one of the leading pharmaceutical companies in Japan due to its extensive product pipeline".
On Friday, Sciele shares closed the trading session down 2.0% at $19.27.
Shionogi plans to consolidate Sciele's earnings for the three months ending December 2008 from the second half of fiscal year ending March 2009, and EPS is expected to become accretive from the fiscal year ending March 2010.
The Board of Directors of Shionogi and Sciele have each approved the transaction.