For the most part, banks have not been very good investments over the last ten years. Of course, the financial crisis of 2008 did not help.
Bank stocks have made up a lot of lost ground since their lows set in March of 2009, however. Citigroup (NYSE:C) has gone from a low of $9.00 per share back then to a current price of just over $37. Take away the one for ten split however, and the stock has really gone from $0.90 to $3.70. While this sounds like a huge move, the fact of the matter is that Citigroup has been a terrible performer over the years.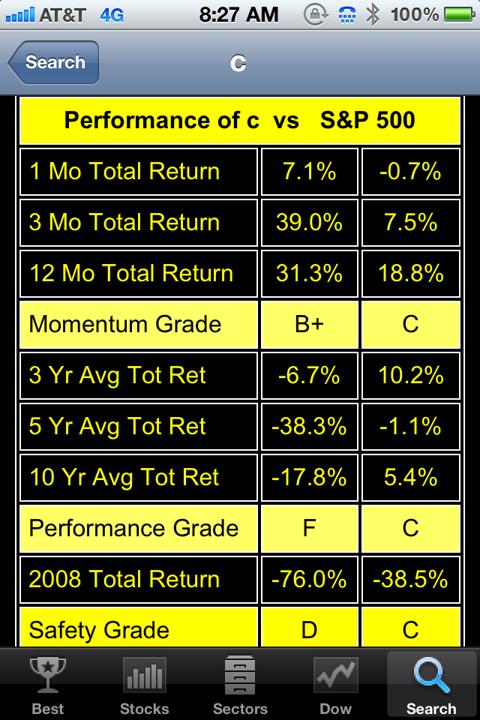 Data from Best Stocks Now App
As you can see from the above screenshot, the stock of Citigroup has gone backwards by 17.8% per year over the last ten years. Put another way, an investment of $10,000 turned into $1,157.68 - ouch! If I delivered performance like that as a professional money manager, I would not have too many clients. The stock was down 76% in 2008. So much for that widows and orphans argument.
Even with more favorable circumstances over the past three years, the stock has still gone the wrong way by 6.7% per year. Yes, the last twelve months have been good for the stock as it is up 31.3% since this time last year. That is little consolation, however.
Now we have CEO Vikrim Pandit leaving the company, I am surprised that shareholders did not help him pack his bags! Mr. Pandit also served on President Obama's jobs commission. I wonder how many jobs he created while at Citigroup?
Will the new boss be the same as the old boss? Only time will tell. Again, you could make the case that this has been a horrible decade for the banks. With the real estate bubble and crash, and the mess it left behind, how could any bank have performed well during those troubled times?
Let's take a look at a bank that has navigated just fine though the troubled waters of the last decade.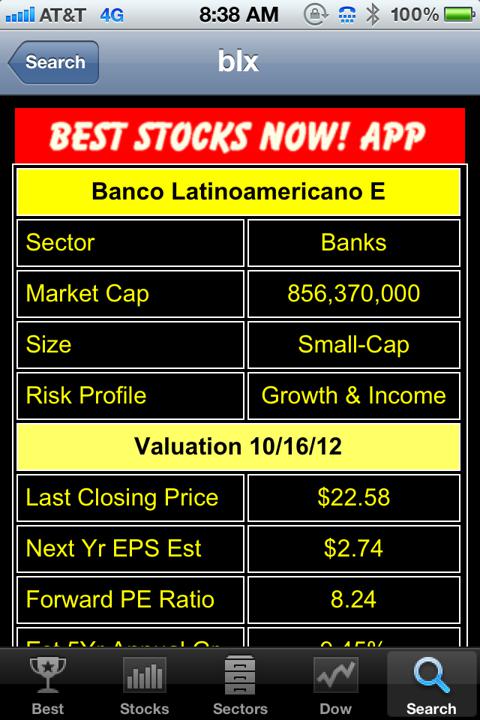 Data from Best Stocks Now App
Banco Latinoamericano de Comercio Exterior, S.A. (NYSE:BLX) (try saying that to your discount broker) provides trade financing to commercial banks, middle-market companies, and corporations primarily in Latin America and the Caribbean.
Let's compare the performance of this stock against the performance of Citigroup: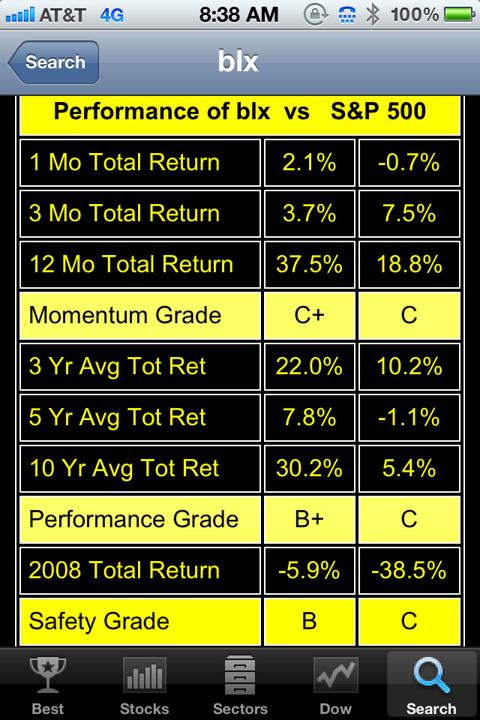 Data from Best Stocks Now App
Banco Latinoamericano, which has its headquarters in Panama, has delivered its investors a total average return of 33% per year over the last ten years. That same $10,000 that went down to $1,157 in Citigroup would have turned into $139,994.14. I think I will take what's behind door number two.
Over the last five years, this bank stock has delivered 8.9% of alpha per year to its happy investors. Over the last three years, investors have received an average of 11.8% points of alpha over the S&P 500.
Check out the last twelve months. The stock is up 37.5%, while the S&P 500 is up 18.8%. Now those are some serious performance numbers.
Anyone been to their shareholder meetings? I know it's a long drive, but I'll bet it is a lot happier crowd than that Citigroup crowd.
I also like the fact that the bank has branches in Argentina, Mexico, Brazil, Peru and the United States. Mexico is the third best performing market in the world so far this year, with a 21.6% gain. Peru is number four with a 15.5% gain and the United States is number five with a 14.6% gain.
Now if the bank could just open a branch in Thailand and India. They are up 26.2% and 25.9% respectively so far this year. I doubt there are many Spanish speakers there, however.
What about value? I have found that just buying stocks on their performance numbers is a very dangerous game. Buyers of red-hot tech stocks back in the year 2000 found out the hard way that valuation does matter. Buyers camping out in order to buy a single family home in 2006 learned the same lesson - the hard way.
With that in mind, let's take a look at the current valuation of Banco Latinoamericano: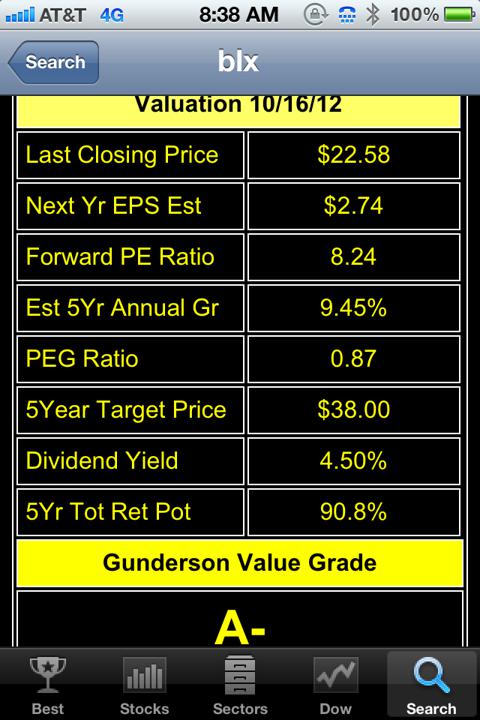 This small-cap bank stock is trading at just 8.24X forward earnings. By contrast the aforementioned Citigroup is trading at 8.19X forward earnings.
Banco Latinoamericano is also expected to grow at a pretty good clip over the next five years. I have a five-year price target of $38. The stock is currently trading at $22.58. Did I mention that the stock also offers a current dividend yield of 4.5%?
It is currently my highest rated bank stock: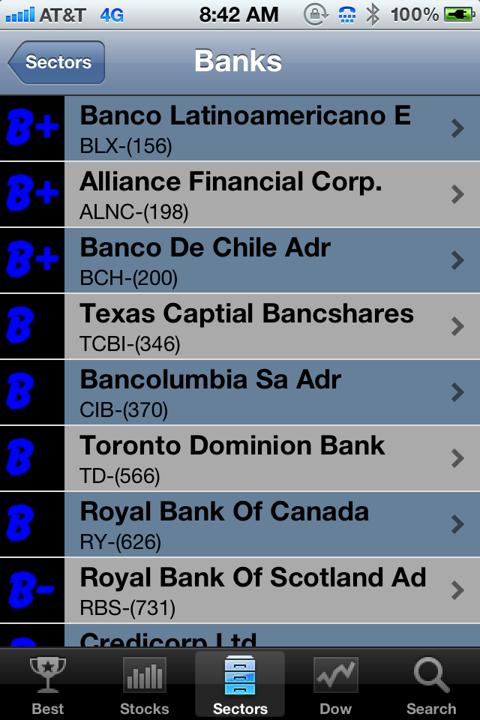 Out of the 3,072 stocks that I follow and rank on a daily basis with my app, Banco Latinoamericano comes in at number 156.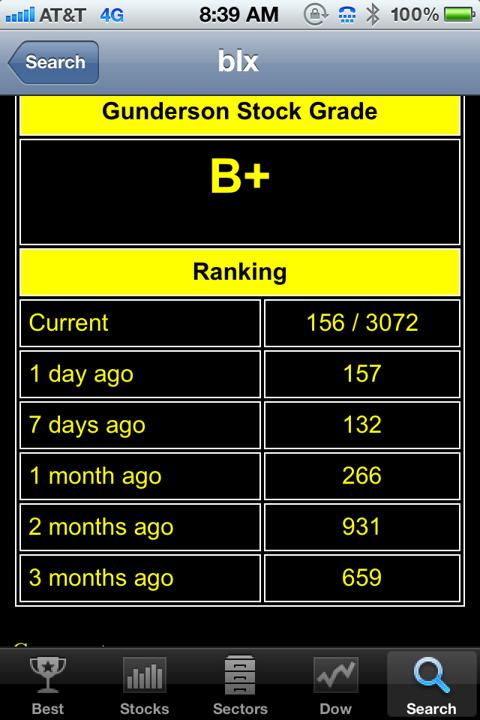 Most of my income seeking clients are long Banco Latinoamerica. I personally have no position in the stock at the current time. BLX is also one of the stocks in my Income and Growth Model Portfolio that is published every week in my newsletter.
Disclosure: I am long BLX. I wrote this article myself, and it expresses my own opinions. I am not receiving compensation for it. I have no business relationship with any company whose stock is mentioned in this article.