Natural gas (NYSEARCA:UNG) has been on a strong rally ever since it bottomed back in April, around the time I wrote my article "Natural Gas In 2012: Electric Generation Switch Implications", in which I turned bullish on its prospects for 2012, on account of dispatch switching from coal to natural gas. At his point natural gas is trading at $3.60/MMBtu (November) and $3.91/MMBtu (December)
Dispatch switching, in which natural gas electricity generators get dispatched ahead of coal-fired generators, was a powerful factor in increased natural gas consumption during 2012. This, along with a scorching summer, helped pare down inventories which entered the injection season at record highs. At this point inventories are almost back to normal, and that, along with hopes for a normal winter, has driven natural gas up even above the first of two barriers I named back in May.
Why I Expect Some Weakness
In blowing past the first of the two barriers - the one that more or less establishes the threshold at which you get switching back to coal - lies the problem. Natural gas is still seeing a level of production which is incompatible with great rallies if consumption doesn't follow suit. And at this point, with switching back to coal, consumption will actually drop (seasonally). Since inventories are still high historically and close to observed storage capacity, natural gas pricing should be especially vulnerable to any consumption slowdown.
This makes it likely that in the weeks ahead we'll see weakness as the market realizes that the pricing natural gas attained is enough to prompt quick switching back to coal and thus resumed pressure on inventories. I expect this in the very short term, for as EIA shows, electricity generation demand quickly lost its mojo as natural gas prices shoot up over $3. Below I reproduce the last 3 weeks of demand dynamics (source: EIA):
This week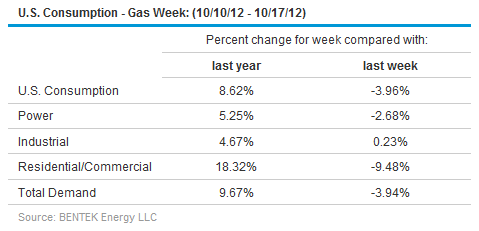 The week before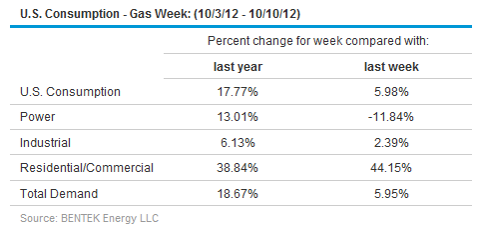 Click to enlarge
Three weeks ago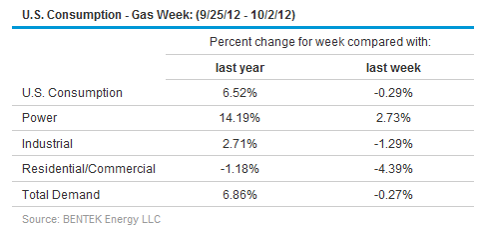 Click to enlarge
Conclusion
Although there are reasons to expect somewhat diminished natural gas production during 2013, on account of depletion and lower drilling activity, such lowered production is not really a factor in the short term.
In the short term, beyond weather, the factor which can change consumption the most is dispatch switching. Dispatching of power plants is a daily process (subject to some constraints) so it provides a quick reaction to changing relative pricing, especially between coal and natural gas. As it stands, natural gas' recent powerful rally sows the seeds of its own demise. With still high inventory levels, natural gas should be very vulnerable to any drops in demand, and the dispatch switching process is providing exactly such a drop, as can already be seen in the most recent EIA demand statistics.
As such, I expect this natural gas rally to face weakness in the days and weeks ahead.
Disclosure: I have no positions in any stocks mentioned, and no plans to initiate any positions within the next 72 hours. I wrote this article myself, and it expresses my own opinions. I am not receiving compensation for it (other than from Seeking Alpha). I have no business relationship with any company whose stock is mentioned in this article.
Additional disclosure: I am short Dec natural gas as of today.