Yesterday Google experienced an overwhelming drop in share price due to a pre-release of earnings that was launched in error. This caused a significant drop in share pricing. Price dropped from $759 to a low of $676 and resulted in shares being halted.

The conference call held later in the day detailed quarterly performance and didn't call out any (in my opinion) serious threats to the core business. Situations such as this can be leveraged to your advantage by referring back to your trading strategy. My trading strategy outlined situations like yesterday's Google price action. I have been able to capitalize on quarterly drops in prices due primarily to the predefined strategy. When a company that I view as a solid investment experiences a significant price decline on bad news that I consider transitory I view it as a buying opportunity.
Rather than buy shares I target Deep in the Money Calls. The rational for using longer dated Deep in the Money Calls is that the Call provides the ability to ride out short term price declines and at a much lower cost of entry. In the case of Google purchasing shares would have required $67,600 for 100 shares. The March 16,2013 Call with a strike price of $600 was purchased for $106.99 yielding a break even price of $707. Buying a Call gives you the right to purchase shares at the strike price or sell the Call at any time prior to the expiration date.
The payoff for me is that if the Google Call trades above today's price of $106.99 I can sell the call and keep the proceeds minus trading fees. If Google continues to drop but stays above my breakeven price I can execute the option and purchase shares of Google for $600. The risk to this trade is that if Google continues to fall and is priced under $707 by my expiration date in March 2013, I lose the difference between $707 and what Google is trading at. If I am in this position I would be forced to hold Google shares long. All of these alternatives are acceptable risks given Google's performance probability given the trading range of a low of $600 to a high of $795 yielded results that present as an acceptable risk reward profile. The probability of Google trading down to $600 by March is 3.83%. With so many variables and pressures to Google and the technology sector in general there is always a threat of pricing decline, which requires consideration. This coupled with macro economic status could keep Google from revisiting its 52-week high but I don't see anything that demonstrates a visit to under $600.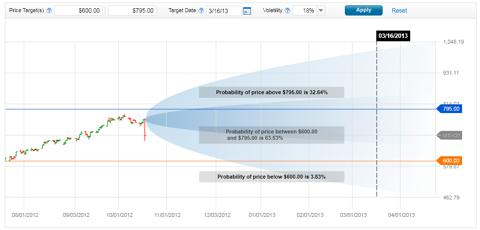 Although it is impossible to predict where Google will be able to take the business, and what the financial results will be, referencing a pre determined trading strategy allowed for a quick entry into the Google trade using Call options. The March Call with a strike of $600 dropped 33.23% during the trading day. Google share pricing fluctuated 8.01% to the downside. If Google share pricing rebounds between today and March 2013 elevated volatility of the Call verses share price should provide adequate compensation for taking the risk of trading Google on a bad news day. Today was a day that managing a portfolio utilizing an investment thesis and strategy facilitated an opportunistic trade.
Disclosure: I have no positions in any stocks mentioned, and no plans to initiate any positions within the next 72 hours. I wrote this article myself, and it expresses my own opinions. I am not receiving compensation for it (other than from Seeking Alpha). I have no business relationship with any company whose stock is mentioned in this article.