Everyone targets gaining ownership in aggressive, fast-growing industries; however, oftentimes the risk is simply too high. This article focuses on an investment product that has a vested interest in both the home building and construction industries, and intends to provides investors with a quick pick for a low-risk investment.
Overview
iShares Dow Jones U.S. Home Construction Index Fund (NYSEARCA:ITB) is an ETF that enables investors to gain exposure to both the construction and home building industries, while providing them with a diversified investment set that carries a favorable yield, yet adheres to their level of risk. ITB has existed since May 1, 2006, and is currently managed by Diane Hsiung, who has been manager of the fund since Jan. 1, 2008. Here are a few current highlights:
Annual dividend yield of $0.07/0.35%
Current expense ratio of 0.47%
Institutional ownership low, at only 29%
ITB currently trading at roughly $20 per share
Average alpha value of +0.18
Figure 1: ITB Price Graph
Click to enlarge image.

The Fund's Objective and Asset Composition
ITB strives to achieve investment results that correspond to the price and yield performance of the Dow Jones U.S. Select Home Construction Index. Approximately 90% of the fund's assets in securities in the underlying index, which measures the performance of the home construction sector of the U.S. equity markets. ITB's total assets equate to roughly $1 billion. Figure 2 below illustrates ITB's asset composition broken down by sector.
Figure 2: Asset Allocation by Sector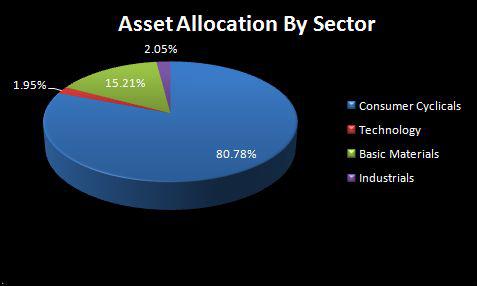 Figure 2 above illustrates ITB's asset composition broken down by sector. As you can tell, ITB is primarily dominated by equities in the consumer cyclicals sector. To further exemplify how ITB diversified efficiently, Figure 3 below shows the top 10 holdings that yield the highest return for YTD. Every company listed in figure 3 is in the consumer cyclicals sector.
Figure 3: ITB's Top 10 Holdings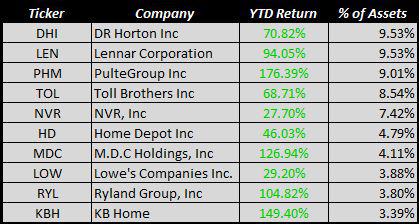 Year to date, PulteGroup (NYSE:PHM), KB Home (NYSE:KBH), M.D.C Holdings, Inc (NYSE:MDC), and Ryland Group, Inc (NYSE:RYL) yielded the highest returns so far this year out of the group. However, ITB's allocation decision -- referring to the percentage of its total assets that was allocated toward PHM, Lennar Corporation (NYSE:LEN), and Toll Brothers (NYSE:TOL) -- proved to be the most advantageous for ITB.
Conclusion
The fund-weighted beta for ITB is 1.53, which is relatively low for the asset classes ITB is invested in and indicates the fund has been diversified efficiently among the sector of choice. Growth ratings for this fund remain strong, as for the construction and homebuilding industry as a whole. Analyst recommendations are indicating ITB is a buy with a median potential upside of approximately 35%. Overall, ITB is an excellent idea for an investor who is risk averse, but does not want to wait a decade for an above-average return.
Data sources: FinViz, Google Finance, and TD Ameritrade.
Disclosure: I have no positions in any stocks mentioned, and no plans to initiate any positions within the next 72 hours. I wrote this article myself, and it expresses my own opinions. I am not receiving compensation for it (other than from Seeking Alpha). I have no business relationship with any company whose stock is mentioned in this article.