It may not take much to send the markets down these days. A profit miss by Google. A weak revenue showing by McDonalds. Or perhaps the most detrimental data point of the week: Existing home sales fell 1.7% on a year-over-year basis.
With interest rates this low, properties have become increasingly affordable. Yet existing homeowners who are marginally underwater may actually become more entrenched. That is, they are less likely to put their homes up for sale when they anticipate additional price gains that could soon make a home-seller's decision profitable.
In essence, existing owners will wait until they can exit the "distressed" seller category and enter the normal home-seller segment. Unfortunately, the housing sector cannot fully recover unless the sellers become as active as the buyers. In other words, the latter may be excited by rock-bottom rates, but the former are hoping for additional price appreciation that may or may not occur.
With its mid-September commitment to purchasing mortgage-backed securities indefinitely ($40 billion per month), the U.S. Federal Reserve made it abundantly clear that it ties job growth and economic recovery to a real estate revival. Any hitch in the real estate recovery story seems to severely shake investor faith.
In fact, in spite of continued month-over-month momentum in the homebuilder sector, investors have been backing away from the idea that the added Fed stimulus will be a net positive for corporate profitability, sales and/or new hires. Woes at Apple and Goggle have sent shares of Vanguard Information Technology (NYSEARCA:VGT) down sharply over the last month. The producers that pull materials from the earth and send it to big industrial players are not receiving much love, either. State Street SPDR Select Sector Industrials (NYSEARCA:XLI), as well as iShares DJ Materials (NYSEARCA:IYM), have posted negative numbers for the previous 30 days as well.
Did The Fed's Mortgage-Backed Bond Initiative Hurt Cyclical Stock ETFs?
MOM %
State Street SPDR Select Industrials (XLI)
-0.7%
iShares DJ Materials (IYM)
-1.8%
PowerShares S&P 500 High Beta (NYSEARCA:SPHB)
-2.1%
iShares Russell 2000 Growth (NYSEARCA:IWO)
-4.1%
Vanguard Information Technology (VGT)
-7.1%
PowerShares S&P Low Volatility (NYSEARCA:SPLV)
0.8%
State Street S&P Sector Select Health Care (NYSEARCA:XLV)
1.9%
State Street S&P Sector Select Utilities (NYSEARCA:XLU)
3.4%
And it's not just a number of Sector ETFs that are having a hard time since Fed Chairman Bernanke shocked and awed the financial world. In reality, growth-oriented small companies are feeling the sting, as evidenced by the poor showing for iShares Russell 2000 Growth (IWO). Similarly, corporations tied to the well-being of the economic cycle have also been sputtering, as evidenced by weakness in PowerShares S&P 500 High Beta (SPHB).
Need a nail in the proverbial coffin? On a month-over-month basis -- since the Fed went beyond confirming QE3 rumors to announce open-ended mortgage purchasing with money it will print electronically -- investors appear to be rotating back into safer, less volatile segments. Leadership is coming from Utilities (XLU), Health Care (XLV) and the ever-so-tame S&P 500 Low Volatility Fund (SPLV).
Does this mean that the Fed's initiative to revive a stagnant economy will fail? I don't think anyone can predict the future. That said, investors have, for the most part, already bought the central bank reflation rumors in July and have been selling the news in September and October.
In my estimation, the best risk-reward ETFs reside in the middle of the spectrum. Assets that have relatively wide historical yield spreads with comparable treasuries are still attractive. This includes vehicles like iShares Intermediate Corporate Credit (NYSEARCA:CIU), iShares Emerging Market Corporate (NYSEARCA:EMB), PowerShares Emerging Market Sovereign (NYSEARCA:PCY) and PowerShares Preferred (NYSEARCA:PGX).
Additionally, Asia Pacific ETFs are still in a "buy the rumor" stage. In essence, China has plenty of wiggle room on both fiscal and monetary policy, while investors expect that China will take action to stimulate its economy. Not surprisingly, some of the best month-over-month performers are Asia Pacific ETFs, including iShares MSCI Philippines (NYSEARCA:EPHE), iShares MSCI New Zealand (NYSEARCA:ENZL) and iShares MSCI Malaysia (NYSEARCA:EWM). Consider getting ahead of the curve with China's neighbors.
(click image to enlarge)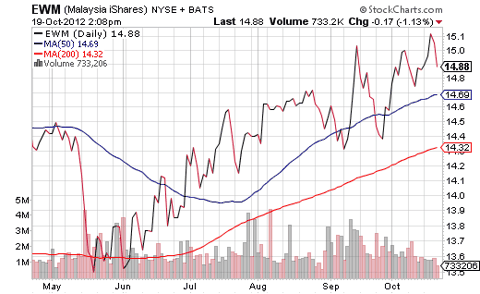 Click here for Gary's latest podcast.
Disclosure: Gary Gordon, MS, CFP is the president of Pacific Park Financial, Inc., a Registered Investment Adviser with the SEC. Gary Gordon, Pacific Park Financial, Inc, and/or its clients may hold positions in the ETFs, mutual funds, and/or any investment asset mentioned above. The commentary does not constitute individualized investment advice. The opinions offered herein are not personalized recommendations to buy, sell or hold securities. At times, issuers of exchange-traded products compensate Pacific Park Financial, Inc. or its subsidiaries for advertising at the ETF Expert web site. ETF Expert content is created independently of any advertising relationships.