Amazon (NASDAQ:AMZN) reports Q3 results on October 25.
The Street expects:
Revenue: $13.92 billion
EPS: $0.08 loss per share
Q4 revenue guide: $22.84 billion
In Q2, Amazon saw revenue up 32% year/year driven by electronic and general merchandise sales and gross margin improved by 198bps y/y due to larger contribution from 3P units.
Heading into the earnings, investors can expect continued investment in fulfillment centers that will put a downward pressure on operating margins for another quarter or two before any visible margin improvements materialize.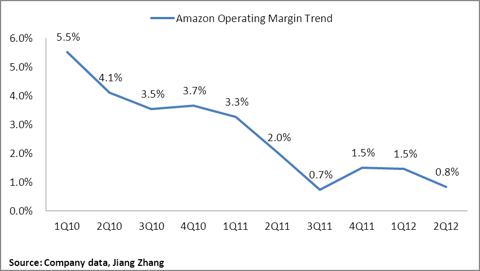 Click to enlarge
However, current investment in fulfillment will be a long-term positive for Amazon in that it will eventually reduce airfreight cost as more items are fulfilled by ground transportation, paving the way for margin expansion. I note that Amazon's net shipping cost has declined from $935 million (5.4% of net revenue) in 4Q11 to $585 million (4.6% of net revenue) in 2Q12.
Guidance will be another key area to focus on as Apple (NASDAQ:AAPL) will likely introduce an iPad Mini that will compete against Amazon's Kindle lineups.
Based on various sources on the internet, the new iPad Mini could feature a 7"-7.9" screen and be priced at around $300. Given Apple's robust ecosystem and brand equity, Apple's entrance into the smaller tablet market could severely affect Kindle and Amazon's media sales.
Aside from Apple, Amazon may also face competition from Google (NASDAQ:GOOG), whose $200 Nexus tablet that features a 7" screen and latest Android OS is gaining wide popularity among users. In addition, Microsoft (NASDAQ:MSFT) plans to release Windows 8-based tablets for the holiday season.
Disclosure: I have no positions in any stocks mentioned, and no plans to initiate any positions within the next 72 hours. I wrote this article myself, and it expresses my own opinions. I am not receiving compensation for it (other than from Seeking Alpha). I have no business relationship with any company whose stock is mentioned in this article.