We believe Freeport-McMoran Copper & Gold Inc. (NYSE:FCX) in an attractive play on copper for long-term investors. In the near term, there are risks associated with the stock in the form of rising inventories, negative arbitrage in copper prices in Shanghai Futures Exchange (SHFE) vs. the London Metal Exchange (LME) and lower full-year production guidance. We believe FCX is still well-positioned in comparison to other miners due to a strong balance sheet, high dividend yield, increased volumes and earnings from expansion projects, and gold exposure.
Freeport-McMoRan Copper & Gold Inc.:
Freeport-McMoRan Copper & Gold Inc. is one of the largest international mining companies, with geographically diversified assets in North and South America, Indonesia, and the Democratic Republic of the Congo (DRC). The company's main products are copper, molybdenum, and gold. In fact, it is the world's largest publicly traded copper and molybdenum producer, with significant gold and cobalt production as well.
(click images to enlarge)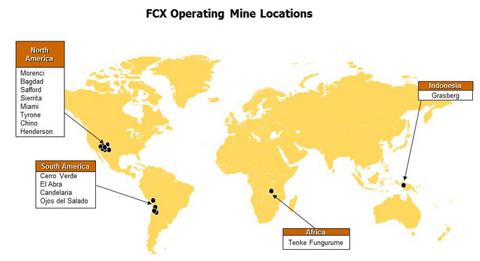 Click to enlarge
Source: Company documents
Freeport has five operating divisions: Indonesia mining, South American copper mines, North American copper mines, Africa mining, and Molybdenum operations. The company's Grasberg mine complex in Indonesia has the largest single recoverable reserve of both copper and gold in the world.
Freeport shares are up by 25 per cent since July and have outperformed copper, which increased by 8 per cent (See graphs below):

Click to enlarge
Source: Yahoo Finance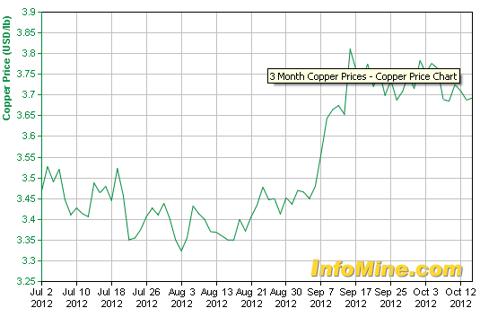 Click to enlarge
Source: Infomine
Recent Results:
Freeport reported Q2 12 operating EPS of $0.80 (excluding a onetime charge of $0.06 for environmental obligations and litigation reserves) against consensus EPS of $0.75. The company's better than expected results were largely driven by higher than expected copper sales volume, and higher than expected realized prices ($3.53/lb vs. estimates of $3.50/lb). Copper sales were 927 million pounds (mlbs) against company guidance of 895 mlbs. However, the company decreased its Q3 and total 2012 production and sales targets due to changes in mining sequences. There were no changes in the company's 2013-14 production outlook.
FCX has beaten analyst expectations for four straight quarters in a row (see chart below):
| | | | | |
| --- | --- | --- | --- | --- |
| Earnings History | Q3'11 | Q4'11 | Q1'12 | Q2'12 |
| EPS Estimate | $1.02 | $0.60 | $0.86 | $0.75 |
| EPS Actual | $1.10 | $0.67 | $0.96 | $0.80 |
Bullish factors:
Housing Rebound: According to a recent Bloomberg article, John Williams, the president of the Federal Reserve Bank of San Francisco, said the housing industry is showing signs of improvement, and it will be one the key catalysts of economic recovery in the coming years. According to the same article, RBC Capital recently revised upwards its housing starts estimates for 2013. These are good signs for copper, as a significant amount of the metal is used in the construction of a typical family home. According to the International Copper Study Group based in Lisbon, global consumption of copper will exceed supply of the metal for the third year running, the Bloomberg article said.
Strong Balance Sheet: FCX has $4.5 billion in cash and a total debt of $3.5 billion. The company has $4 billion in leverage free cash, and it is trading at a forward P/E of 8.76x, compared to 14.79x for Southern Copper Corp. (NYSE:SCCO) and 11x for Newmont Mining Corp (NYSE:NEM).
Dividend Yield: FCX offers a very attractive dividend yield of 3 per cent, compared to 2.7 per cent for SCCO and 2.5 per cent for NEM.
Gold Exposure: FCX is also expected to benefit from its exposure in gold, as gold prices are expected to increase in an accommodative monetary policy environment around the world.
Costs: Full-year production volumes have been revised down by the company, however, future expansion projects at Tenke and Cerro Verde should help volumes grow and reduce the overall cost of operations.
| | | | |
| --- | --- | --- | --- |
| Comp Sheet | Freeport | Southern Copper Corp. | Newmont Mining Corp. |
| Forward P/E (1 year) | 8.76 | 14.79 | 11.01 |
| PEG ratio (5 year expected) | 1.58 | 1.38 | 0.12 |
| EV/EBITDA (NYSE:TTM) | 5.59 | 8.21 | 6.39 |
| Dividend yield | 3.00% | 2.70% | 2.50% |
| Share price Performance (YTD) | 7.11% | 17.79% | -9.70% |
Bearish Factors:
A recent rally in copper prices in LME, since the announcement of QE3, has turned the usually positive SHME vs. LME arbitrage negative. A positive arbitrage increases Chinese imports, however, in the present conditions, Chinese buyers are resisting higher prices, resulting in decreased imports. On the other hand, inventories at Shanghai's bonded warehouses have increased to record levels, as suggested by data compiled by Bloomberg. According to Simon Hunt Strategic Services, copper consumption is expected to drop in China -- the biggest consumer of copper -- for the first time since 2008, as demand declines and inventories swell.
As mentioned in the introduction, FCX is still well-positioned despite these challenges, due to a strong balance sheet, high dividend yield, gold exposure and earnings rebound from volume expansions.
Risks:
The main risks to our analysis of Freeport include macroeconomic factors and foreign exchange risk.
Macro Factors:
The strength of the global economy largely drives demand for copper. If weak economic conditions continue, Freeport's sales volumes and realized pricing could be restricted, and this would weaken the company's earnings. On the other hand, better-than-expected demand could cause Freeport's shares to exceed expectations.
Foreign Currency:
Although most of Freeport's revenues are in U.S. Dollars (USD), a considerable amount of the company's costs are in foreign currencies, including Chilean pesos and Indonesian rupiah, among others. A sharp decline in the USD, relative to one of the currencies in which FCX has exposure, could damage the company's profitability.
Disclosure: I have no positions in any stocks mentioned, and no plans to initiate any positions within the next 72 hours.
Business relationship disclosure: The article has been written by Qineqt's Basic Material Analyst. Qineqt is not receiving compensation for it (other than from Seeking Alpha). Qineqt has no business relationship with any company whose stock is mentioned in this article.