We reiterate our bullish stance on the largest hydraulic fracturing service provider Halliburton (NYSE:HAL), based upon its attractive valuation and a significant upside of 62%. It is trading at a forward price to earnings of 10.3x, at discount when compared to the industry average of 13x. The stock has strong future prospects with an expected increase in natural gas consumption and its recent key business developments. In our opinion, the company will sustain its high profitability position with a sharp increase in consumption and production of natural gas in the coming years, as estimated by the United States Information Administration. Moreover, the company has shown impressive revenue growth of 20% over the last year. With a strong market position, wide variety of product lines, excellent performance in Mexico and Brazil and expected increase in drilling activities, HAL shows considerable promise with regards to future performance.
Natural Gas Expected Demand and Supply:
The United States Information Administration estimates that natural gas drilling activities are going to increase substantially, as shown in the graph below. Primarily, the structural shift towards natural gas and the cost efficiencies of the hydraulic fracturing process will boost its production and consumption in the coming period.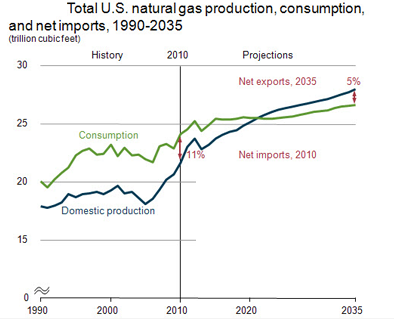 Source: EIA
Halliburton's Acquisition of Petris:
The company's bright future prospects are justified in its recent developments. HAL recently acquired Petris Technology, which develops data-integration and is involved in management in the oil and gas industry. This acquisition would enable the company to bring more customers into its network, to aid customers in accessing their reservoir through superior technology, to manage the technical information regarding their well data and mission-critical data, and to bring more efficiency, effectiveness and competitiveness in their business.
Up-Gradation of Pressure Control System:
The company's Boots and Coots business product line has improved its pressure control system through the acquisition of Old School Services Company. This acquisition enables the company to aid its customers to resolve the problems encountered during horizontal and unconventional drilling. We believe this up-gradation is required by the company to sustain its high profits, as high energy demand is expected in the coming period.
Advanced Perforating flow lab:
HAL has developed a state-of-the-art perforating lab to expand its global perforating testing, research and development capabilities. In our opinion, this expansion will help its customers optimize their reservoir performance through high technology perforating solutions and enable Halliburton to improve its profitability situation.
KnoesisSM:
The company has launched a new service, named "KnoesisSM" to provide timely information to oil and gas companies about their reservoir and stimulation characteristics. This will help its customers optimize their drilling projects and become more efficient in terms of completion of the projects.
Financials:
The company's net income for this quarter decreased to $602 million, from $683 million in the same quarter of last year. This decrease was witnessed mainly due to the 53% decrease in the natural gas rig count in the United States. HAL's earnings per share have also declined to 65 cents, a 14% drop over the course of last one year. Customer bargaining power has suddenly increased due to less production activities. Halliburton's revenue from all geographical regions has increased considerably in the last one year, as depicted in the graph below. Its revenue from the North America region has increased considerably, from $10 billion in Q3 2011 to $12 billion in Q3 2012. The company is generating around 61% of its revenue from its completion and production business, which increased 20% over the course of last one year. On the other hand, revenue from its drilling and evaluation business also went up 17%.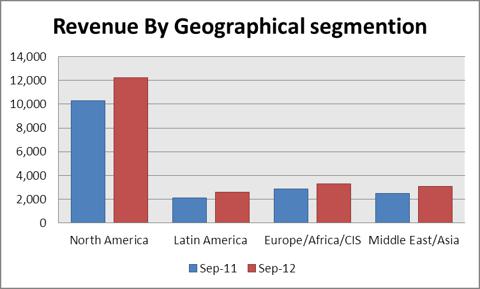 The company's third quarter earnings decreased due to lower fracturing prices, but we believe the expected increase in rig count (as it is increased by 9% in the last one week) will enable the company to restore its high profit margins.
Valuation:
Direct Competitor Comparison

Halliburton

Baker Hughes (NYSE:BHI)

Schlumberger (NYSE:SLB)

Technip (OTCQX:TKPPY)

PEG (5 yr expected):

0.7

0.78

0.96

1.5

Forward P/E (Dec 2013)

10.33

11.3

14.6

16.1

EV/ EBITDA

5.34

5.59

9.62

2.3
We have revised our 2013 target price from $52 to $55 using the EV/EBITDA multiple, with a considerable upside of 62%. The company has outperformed our expectation on the stock. The stock is currently trading at 10.3x to its forward earnings, at discount when compared to its peers Baker Hughes, Schlumberger and Technip with forward price to earnings of 11.3x, 14.6x and 16.1x, respectively. The company's cheap valuations are reflected in its EV/EBITDA of 5.34x, which is lower than the industry average of 6.9x.
Following are the details of HAL's valuation and target price of $55.
| | |
| --- | --- |
| Average. EV/EBITDA (Last five years) | 7.38 |
| Estimated EBITDA of 2013 ($ millions) | $6,883 |
| EV | $50,797 |
| | |
| EV | $50,797 |
| Less: (Debt) ($ millions) | $2,032 |
| Add: Cash ($ millions) | $2,172 |
| | |
| Equity ($ millions) | $50,937 |
| No. of shares (millions) | 927 |
| | |
| Target Price of 2013 | $55 |
Disclosure: I have no positions in any stocks mentioned, and no plans to initiate any positions within the next 72 hours.
Business relationship disclosure: The article has been written by Qineqt's Energy Analyst. Qineqt is not receiving compensation for it (other than from Seeking Alpha). Qineqt has no business relationship with any company whose stock is mentioned in this article.