Introduction
Fellow Author Wim Lewi recently wrote an interesting article on Apple (NASDAQ:AAPL). His main point is that the "cheap" P/E-ratio is misleading as margins have topped, and he goes on to make a DCF valuation which values Apple at $500.
In terms of fair of the fair value of Apple (based on DCF), I obtain a similar value, but my thesis is different, as I do not think Apple will have trouble increasing earnings over the next couple of years. Instead, I think Apple will have difficulties maintaining the current level of income 10-20 years from now on. But that obviously also measn that I don't see any short-term catalysts which could put a downward pressure on the stock, as the DCF model takes a long-term perspective, rather than a 1-3 year view.
Lewi, however, believes that the cheap iPad Mini will be a short-term catalyst which will put downward pressure on Apple's gross margins.
There are some great points in his article, but as I will argue in this article, I think his overall thesis is wrong.
The gross margin on the iPad
First of all I think Wim Lewi is using a slightly different definition of "gross margin" than the official one.
He defines gross margin as "retail price - manufacturing costs - bills of material." But in estimation of gross margins one should also take into account licensing fees, royalties, software costs and other costs related to goods sold.
Some will argue that we have no idea of the size of these costs. But that is not entirely true: From the court filings between Samsung and Apple we were informed that the gross margin of the iPad historically ranged from 32% to 23%.
By combining the knowledge of bills of materials form iSupply with the announced gross margins and the average revenue per iPad (ARPU), which can be found from the SEC-filings, I have designed a model which is capable of doing two things:
Informs us how many 16GB vs. 32 GB vs. 64 GB iPads were sold over the last two years.
Estimates the gross margin of each iPad.
Below you can see that my model matches the actual reported figures pretty well.

According to my estimates, the iPad 3 16GB has a margin of just 16%, and the non-3G iPad 2 has a margin of just 18%. Unfortunately for Apple, more than 50% of all iPads sold in the most recent quarter was the cheap version of the iPad 2 or an iPad 3 16GB.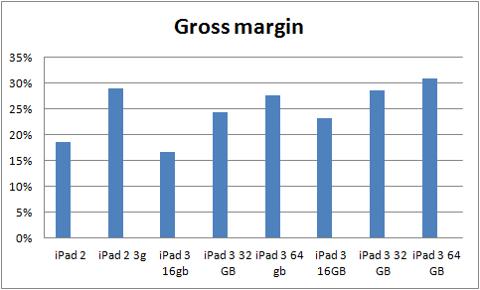 The question which now needs to be answered is: Will the introduction of the iPad Mini decrease margins further?
Why iPad margins will increase with the release of the iPad Mini.
Wimi Lewi argues that the iPad Mini will have relatively low margins as it competes against Amazon's low margin Kindle. While it's true that Amazon don't make a lot of money on the Kindle, this doesn't apply to Apple as they have a much more efficient supply chain than Amazon. According to Tech-thoughts the BOM + manufacturing costs of the iPad is $189.32 (compared to $201 of the Kindle Fire), and the most likely retail price is $299.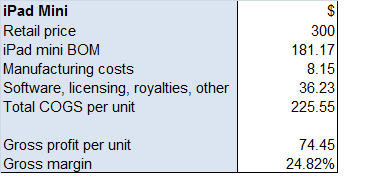 According to my estimates, the gross margin of the iPad Mini is 25%. This is way higher than my estimates for the iPad 3 16GB and the iPad 2.
So what effect will the iPad Mini have on Apple's overall tablet gross margins and future expected income? I have read a lot of different theories from analysts and tech-readers and their opinion differs somewhat. But since this is my article, I'll like to introduce the readers to my own theory, which is explained in six steps:
The iPad mini won't increase the total size of the tablet market in terms of consumers owning a tablet.
Total tablet sales, however, will increase slightly as some iPad owners will purchase both a 10-inch and an iPad Mini
But the majority will buy only one tablet and will have to choose between a 10-inch and a 7-inch tablet.
The introduction of the iPad Mini will cannibalize 10-inch iPad sales, as some consumers will choose an iPad Mini over a 10-inch tablet.
Those consumers

who

purchase the iPad Mini over a 10-inch

tablet

would most likely have bought a 16GB iPad or the cheap iPad 2 if the iPad Mini had not been launched.
iPad gross-margin increases (ceteris paribus)

as

sales of the low-margin 10-inch tablets decreases relatively.
Conclusion
As an investor I think it is important to be "correct" for the right reasons, and while I agree with Wim Lewi that Apple is fundamentally overvalued, I think he is wrong on his reasoning. The iPad Mini is a great addition to the product line, as it will increase Apple's market share in the tablet market while having a positive effect on gross margins.
I think the iPad Mini could have a positive effect on Apple's share price over the next 6-12 months, and in that time span it's not unlikely that Apple could return to its previous all-time high of $700. However, I wouldn't "buy-and-hold" Apple, as I think it won't give investors a sufficient risk-adjusted return over the long haul.
Disclosure: I have no positions in any stocks mentioned, and no plans to initiate any positions within the next 72 hours. I wrote this article myself, and it expresses my own opinions. I am not receiving compensation for it (other than from Seeking Alpha). I have no business relationship with any company whose stock is mentioned in this article.