With today's disappointing release of third quarter numbers, I decided to reevaluate my bullish thesis on McDonald's (NYSE:MCD). In a previous article, I made the case that weak European sales could lead to an attractive entry point in the shares. In this article I will evaluate the regional sales number breakdown to examine if Europe is indeed the culprit behind the weak sales numbers. The article will include a review of the value proposition that MCD offers along with an examination of its dividend policy and concluding with my review on its outlook going forward.
| | | | | | |
| --- | --- | --- | --- | --- | --- |
| Calendar Year | United States | Europe | APMEA | Other | Total (Millions) |
| 2011 | 8,529 (31.58%) | 10,886 (40.31% | 6,019 (22.87) | 1,572 (5.82%) | 27,006 |
| 2010 | 8,112 | 9,569 | 5,066 | 4,328 | 2,4075 |
| 2009 | 7,994 | 9,274 | 4,337 | 1,190 | 22,745 |
Financial info courtesy of McDonald's
MCD reported global sales of $7.15 billion which was up 1.9% along with earnings per share of $1.43 per share. As we can see from the table above with Europe making up over 40% of sales, one would expect the slow to contracting growth in Europe to negatively impact sales. This was not the case as the European division reported a sales increase of 1.8%, while income grew 3%. The European growth shows in my opinion the power of the brand, as they were successful in navigating very difficult economic conditions. MCD manages to tailor their offering in individual countries to local tastes while making strides in promoting their value menu to drive traffic. I am impressed they were able to show any growth in this division.
The most disappointing aspect of the report was the weak sales in the US. Sales were up 1.2% while profits were down 1%. The company offered two reasons for the weak performance which centers around more aggressive competitor promotional activity and higher commodity costs. I was disappointed that rivals such as Burger King (BKW) were able to make inroads against them in the low end while higher value companies such as Chipotle Mexican Grill (NYSE:CMG) were able to grow sales.
The company offered two responses to combat this problem. The first will be an increase in advertising centering on their value menu. The value menu is viewed as a traffic driver that draws customers in. The hope is they will trade up for higher value items on the menu. The strategy worked well in Europe and I have no reason to doubt it would work here as well. An example of some of the value menu items that will be used revolves around $1 soft drinks and coffee. The margins on these items are quite substantial even at a reduced price of $1. I believe at that price point it would be an attractive driver of foot traffic while still maintaining a profit margin. To combat the migration of customers to more expensive quick service establishments, MCD is rolling out the "Cheddar Bacon Onion sandwich, which is made with hickory-smoked bacon white cheddar cheese, caramelized grilled onions and creamy mustard sauce on top of a grilled or crispy chicken patty, or our Angus beef patty." Description taken from most recent conference call courtesy of Seeking Alpha. The company recognized the need to offer healthier alternatives which in my opinion led to the rollout of this combination in a burger and chicken option. This should allow customers (think moms with young children) an appealing alternative to other venues. My wife who abhors MCD mentioned that she would be interested in the grilled chicken option of the Cheddar Bacon Onion sandwich. Granted, it may sound like an incremental change but it's the small changes spread over thousands of restaurants that lead to significant sales and earnings increases.
The third major area of sales the APMEA region (Asia Pacific, Middle East and Africa) registered a sales gain of 1.4% coupled with an increase in income of 4%. China was the brightest spot in this region registering a sales increase of 3.6%. The company mentioned on their recent conference call. They expect to add additional 225-250 restaurants this year, with a goal of 2,000 locations in China by the end of 2013. China offers the best opportunity for growth in the region which has roughly doubled sales from 2009 to 2011. I expect the growth to continue for the next few years.
| | | | |
| --- | --- | --- | --- |
| Calendar Year | First 3 quarters earnings | 4th quarter earnings | Yearly dividend. |
| 2011 | 3.95 | 1.33 | 2.53 |
| 2012 | 3.98 | ???? | 2.87 |
For the second part of the article I will cover the value proposition that MCD offers along with a discussion about its dividend and policy towards it. As we can see from the table above, earnings growth has been rather anemic for the company. The largest yearly component for the lack of earnings growth has been the large increase in commodity prices (3.5% to 4.5%) which have negatively impacted margins. The company expects commodity increases next year to be less than this year which should help margins firm up. If we use last year's fourth quarter number of $1.33 we get total earnings of $5.31 for this trying year. From a strict P/E ratio the shares are currently trading at $88.72 which equates to a ratio of 16.7 times which is at the low end its ten year range of 15.2-20.9.
The dividend along with its fabulous growth adds to the compelling value that MCD currently offers. From a total of $1 per share in 2006 the shares will pay out $2.71 per share this year for a yield of 3.5%. The company currently pays out roughly 50% of earnings in the form of dividends leaving ample room for further future increases. MCD has managed to increase its annual dividend on a yearly basis since 1976. With a 50% payout ratio and low capital requirements I see no reason for this trend to end anytime soon.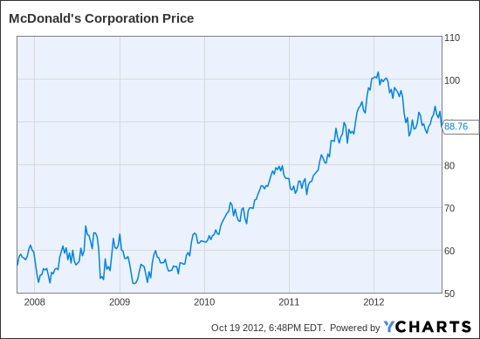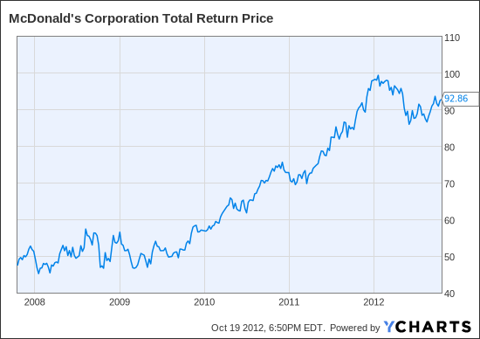 MCD Total Return Price data by YCharts
My outlook on the shares remains bullish in light of this week earnings report. I am impressed with how the company managed their European operation even though in my opinion they underperformed in the US. I believe management's remedies for what ails their sales will be effective similar to what we saw this quarter in Europe. With a strong well recognized global brand name along with a high dividend payout, I am comfortable owning shares at its present level. Thank you for reading and I look forward to your comments.
Disclosure: I am long MCD. I wrote this article myself, and it expresses my own opinions. I am not receiving compensation for it (other than from Seeking Alpha). I have no business relationship with any company whose stock is mentioned in this article.
Additional disclosure: Thanks for reading the article. This article is for informational purposes only and not actual investment advise.