China Mobile (NYSE:CHL), the world's biggest telecommunication company in terms of number of subscribers, doesn't currently have a license to sell Apple's (NASDAQ:AAPL) new iPhone 5, whereas its rivals China Unicom (NYSE:CHU) and China Telecom Corp. (NYSE:CHA) already hold licensing agreements with Apple Inc., which obviously puts CHL at a competitive disadvantage. However, CHL will soon have a deal with Apple to provide iPhone 5. This along with low smart phone penetration in China, CHL's focus on a 4G network and a sustainable dividend yield makes us bullish on the stock.
Lower Smartphone penetration and Apple Inc.:
However, it seems like the Chinese wireless market could be taking a turn for the better. The Smartphone penetration rate in China, which is currently very low, is expected to rise as customer demand for high speed services increases, and this presents a tremendous growth opportunity for companies like Apple and China Mobile, which is currently serving close to 700 million subscribers. China Mobile is the largest telecom player in the country. However, it has suffered from a lack of variety in its smartphone portfolio; it is highly likely that China Mobile will be able to get the iPhone 5 early next year. With the iPhone 5 being 4G LTE capable and China Mobile aggressively building its 4G network, the company is well positioned for a staggering growth in revenues.
As mentioned previously, smartphone penetration in the region in still very low, and that is a huge growth potential, especially for China Mobile, which is the only company in China not selling iPhones. With an increase in disposable income in China and the rising trend towards smartphone use, China Mobile stands to gain the most with its significantly higher market share compared to its rivals. Moreover, smartphones are known for their ability to bring in an increased level of revenues for telecom operators, and also serve to result in lower churn. Absence of variety in smartphones for China Mobile has led to customers leaving its network for other carriers, like China Telecom and China Unicom in the past. However, with Qualcomm recently introducing its new chipsets that support the company's 3G network, smartphone manufacturers will be able to make phones that would be compatible with its network to take advantage of its huge 700 million customer base.
Greater bargaining power:
The company recently announced that it has raised the level of subsidies to 26 billion Yuan from the previous 21 billion Yuan. Telecom operators incur these subsidy costs to lure the customers to their networks. However, they are able to recover these costs from their subscribers through the various data plans offered. If China Mobile does get the iPhone early next year as expected, the company's 700 million customer base will put it in a position of great bargaining power with Apple, who would dearly want to get on board with the world's biggest telecom carrier to tap into the high growth Chinese market.
The only company with 4G:
Another catalyst for China Mobile is that it is the only telecom company in China to be building the next generation high speed network, while others are still operating on 3G. The launch of the company's 4G network, which is expected next year, will certainly help in providing growth to the subscriber base, as more subscribers will switch to the faster service. The company plans to invest another 180 billion Yuan in rolling out its 4G network, covering over 100 cities by the end of next year. With that much market coverage, CHL is well positioned to take advantage of the low smartphone penetration in the region.
Growth story:
China Mobile is a growth story, which is clearly reflected in its financials. Revenues have grown at a 4-year CAGR of over 10% with similar growth in its bottom line. It also has the highest gross margins in the industry. In the financial year ended 2011, the company posted gross margin of 90%, which is significantly higher than its peer China Telecom's 64%. A similar trend can be seen with the inclining operating margins for China Mobile, with the company posting operating margins of almost 30% as compared to CHU's 2.5% in FY2011.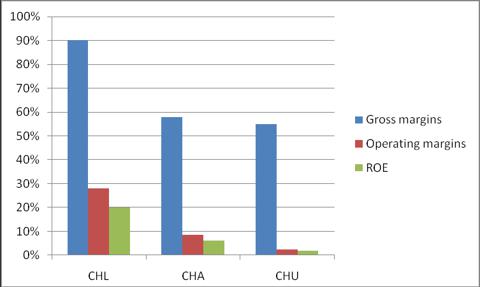 Dividends:
The stock is attractive from a dividend standpoint, currently yielding 3.5%. Last year, the company paid out $8 billion in dividends, while generating operating cash flows of $36 billion, indicating its ability to sustain its modest payout. Moreover, its free cash flow yield of 16% compares well to its 3.5% dividend yield.
Valuations:
The stock looks cheap based on its multiples. CHL is trading at 11 times its earnings, which is a significant discount to the historical levels it has traded at. Compared to its rivals, China Telecom Corp and China Unicom Ltd , its current P/E represents a 46% and 78% discount, respectively. Future growth potential due to rising smartphone penetration in China and a possible deal with Apple are catalysts that will likely push the stock further up.
Disclosure: I have no positions in any stocks mentioned, and no plans to initiate any positions within the next 72 hours.
Business relationship disclosure: The article has been written by Qineqt's Telecom Analyst. Qineqt is not receiving compensation for it (other than from Seeking Alpha). Qineqt has no business relationship with any company whose stock is mentioned in this article.