I have been covering Nvidia Corporation (NASDAQ:NVDA) for quite some time, and in the months since I have been covering the stock, it has always been a challenge to understand just why it makes the large moves that it does. In the 10/19 trading session, the stock lost a gut-wrenching 6% in a move that was an unmitigated display of selling pressure. What were the catalysts for the move? Is this an opportunity to buy or should investors consider throwing in the towel near 52-week lows?
Weak Nexus 7 Sales
While Nvidia derives a mere 17% of its revenues from its "Consumer Products" segment (smartphone/tablet chips), this is the big "growth" driver for the stock. Everybody's crazy about tablets, smartphones, and if you're not "in" these fast growing segments then you're "out" and assigned to the single-digit P/E ratio penalty box. Luckily, Nvidia's "in".
One of the highest profile design wins for the firm's "Tegra 3" products was the Google (NASDAQ:GOOG) Nexus 7 tablet. This is a $200, 7" tablet that has been quite well received, with Anandtech, a leading technology review site stating quite succinctly in its conclusion: The Nexus 7 isn't just a great Android tablet, it's a great tablet.
Unfortunately for Nvidia shareholders, Piper Jaffray Companies (NYSE:PJC) analyst Gene Munster noted that he believes Google has sold about 800K to 1 million of these devices. Since Nvidia charges between $15-$25 (with the CEO's comments indicating the high end of that scale), the company has likely recognized revenue of between $12M-$25M for this particular design win since June.
AMD's Graphics Results Are A Double-Edged Sword
Advanced Micro Devices (NYSE:AMD) reported earnings last night, further adding fuel to the fire that started when the company warned just over a week ago. An analysis of the company's results is both edifying and at the same time leaves a lot of questions open:
Click to enlarge

On one hand, there is obviously a problem here for AMD: GPU revenues were down 14% sequentially and down 15% year-over-year. Naturally, this could lead some to believe that there is simply broad weakness in the graphics chip space that will hit Nvidia, too. I am reasonably confident that this thesis does not hold water and that AMD's performance is company specific. Why?
Well, first of all, the first thing to note is that the majority of GPUs sold to OEMs are for notebook consumption rather than desktop consumption, since it is difficult/impossible to "add in" a graphics chip into a pre-existing laptop, but it is quite feasible (and in fact, the most common) for desktop computers, since adding in new PCIe graphics cards is how gamers tend to extend the lives of their PCs.
At the most recent ThinkEquity conference, Nvidia presented the following slide: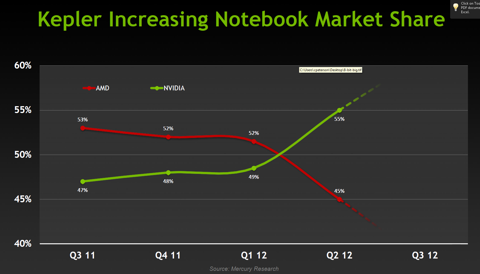 In the year-ago quarter, AMD's notebook discrete graphics share was 53%. This is explained quite simply: Nvidia's "Fermi" architecture was very power inefficient, so AMD had a very clear technological lead, hence the adoption by the OEM partners. However with the release of its "Kepler" family of 28nm GPUs, Nvidia very aggressively took the performance and performance per watt crown (to gamers, these are the only things that really matter). This has allowed Nvidia to score discrete GPU wins in thin and light ultrabooks as well as very high performance hardcore gamer oriented GPUs. To quote the review from Notebook Check:
The fact is that Nvidia have produced the overall better GPU with the GeForce GTX 680M. Its waste heat and energy consumption are both lower than the Radeon HD 7970M, leading to quieter system noise and longer battery life.
In short, the discrete graphics world is all about having the better mouse-trap, and Nvidia managed to build it. Hence it is likely that the firm continued to take share during the current quarter, leading me to believe that Nvidia's guidance of a year-over-year revenue increase in the current quarter is not unreasonable, even in light of the broad PC weakness.
A final note to emphasize on the macro PC slump: Hardcore PC gamers - the target audience for Nvidia's discrete graphics - will not flock to comparatively underpowered tablets. Further, desktop discrete graphics sales happen in the channel and are likely to be used to upgrade existing PCs, so the sales numbers of Dell (NASDAQ:DELL), Hewlett-Packard (NYSE:HPQ) and even Intel (NASDAQ:INTC) are certainly not a reliable indicator of GPU sales. Although given Nvidia's price-action, this is likely being baked in by the Street.
The Microsoft Surface
Another high profile tablet design win for Nvidia is the Microsoft (NASDAQ:MSFT) "Surface" tablet. The Windows RT version (the less featured/capable cousin of Windows 8 designed for ARM (NASDAQ:ARMH) based processors) will be powered by the Tegra 3. Initially viewed as a significant win, this is now being downplayed even as pre-orders for the device seem to indicate that the initial batch of devices has sold out.
Digging more deeply, an article from the Wall Street Journal noted that Microsoft has placed orders for 3M-5M "Surface" tablets for the fourth quarter. Going back to our $15-$25 per chip estimate, this should translate into $45M-$125M in sales for Nvidia's "Consumer Product Division" from this win. Taking the midpoints of each range gives us a fairly reasonable estimate of $80M from the win in the near term, likely recognized in Q3.
Analyst Downgrade
Sell-side analysts move stocks. Period. Nvidia shareholders were on the wrong end of a downgrade on 10/19. When analysts universally have low target prices, this creates a very low ceiling on the share price in the absence of any fundamental catalysts. Interestingly enough, while the downgrade today from FBR Capital also whacked Marvell Technology Group (NASDAQ:MRVL), these were fundamental reasons - the announcement of poor earnings. However, the reasons that FBR gave for the downgrade were the following:
For 3Q12 or 4Q12, NVIDIA's revenues could see a meaningful decline in at least one quarter with macro demand weakness, a Win8 production/consumption air pocket, and ongoing mobile cannibalization impacts
Okay, so this thesis actually has a lot of holes:
Mobile Cannibalization: Nvidia's graphics chips are aimed at gamers who require high performance GPUs in order to play the latest, graphics intensive games. Tablets will likely cannibalize the low end of the PC space, but this makes absolutely no sense for the high-end gamer oriented segment in which Nvidia plays. Further, Nvidia plays in the "mobile" segment with its Tegra 3! It is immune from the cannibalization of low-end laptops that don't use discrete graphics anyway and in fact benefits by supplying the mobile chips!
Macro Demand Weakness: Sure, this is a possibility. However, the nice thing about the higher-end gaming segment is that it is fundamentally different from the low end. It's easy to convince yourself to stick with an older laptop if all you do is surf Facebook (NASDAQ:FB) or watch kitten videos on YouTube, but when the latest titles from

Electronic Arts

(NASDAQ:EA) and

Activision Blizzard

(NASDAQ:ATVI) hit the shelves, low powered hardware isn't going to cut it. Gamers will scrape together the money to buy an add-in board for their desktops (or even laptops - some have replaceable graphics).
Timeline Is Speculative - The research firm is displaying an alarming amount of uncertainty in time frame by noting that the decline will be in either 3Q12 or 4Q12. If the weakness will be in the current quarter, then this would be helpful to know. However, by instilling fear into shareholders by speculating about Q4 - which no company really seems to have too much visibility into at this point due to the uncertainties of Windows 8 - is guesswork at best and fear mongering at worst.
Consumer Products Full Year Revenue Estimate
Nvidia had previously guided to $540M in revenues for the consumer products division for the current fiscal year. The results from the first half of the fiscal year total to $311M, leaving $229M left for FQ3 and FQ4 to pick up. This seems a fairly reasonable target to try to hit, although it would not be unreasonable for a $600M+ year as Adam Levine-Weinberg noted in his excellent piece.
Conclusion
There's a lot of fear, panic, and blood on the streets for all PC-levered names. Intel warned and then issued tepid guidance, AMD warned and then issued murky guidance, Marvell warned, and I'm sure that a nontrivial part of this downside move is that people now expect Nvidia to warn.
It is not unreasonable to expect this - some companies will wait until the very last minute to issue a warning (usually when the next quarter's guidance will be terrible, splitting the pain into two parts) - but Nvidia has been a resilient performer over the last several quarters. It has beaten analyst estimates, added to its cash reserves (which constitute over 40% of market cap), and has an aggressively competitive product lineup in both the mobile space, consumer GPU space, and the workstation/professional space.
The company reports on November 8. So barring a warning, the report should be fairly strong relative to peers even if it comes in at the low end of the guidance. What will really be important is the Q4 guidance.
Disclosure: I am long NVDA, INTC, AMD, MRVL. I wrote this article myself, and it expresses my own opinions. I am not receiving compensation for it (other than from Seeking Alpha). I have no business relationship with any company whose stock is mentioned in this article.