Oh, you could just see the intraday reversal setting up yesterday.  C'mon, strength on Tuesday morning after the Labor Day long weekend set up by the panic in the commodities markets due to the lack of damage from a hurricane?
Oil touched $105 yesterday morning, and the button-pushers predictably did their thing, covering/buying stocks before the open in the futures market, then pushing the Dow up 250 points in the first half-hour of trading.  Not surprisingly, the market sold off before stabilizing at 3 PM.  The swing top to bottom during the session was 320 points.
There is no way today can be painted as positive.  Given the violent moves in oil and gold, stocks should have been up strong and stayed strong.  About the only positive thing that can be said was the market stabilized in the last hour of trading and did not careen down even further into the close.  Volume was a bit heavier on the upside than the downside, but that is small consolation given the intraday gains that were lost.
Note that volume picked up over the past few weeks.  NYSE Composite volume was $4.63 billion, certainly not heavy but larger than last week's big up days and the heaviest volume day since mid-August. 
The market is in an interesting spot.  Small-caps – which I am short via my ownership of the ProShares UltraShort Russell 2000, (TWM) – are bumping up against resistance and are having trouble piercing through. The Dow and the S&P 500 may still be in a near-term uptrend but the uptrend is anemic at best.  The Naz appears to be headed lower once again. 
click to enlarge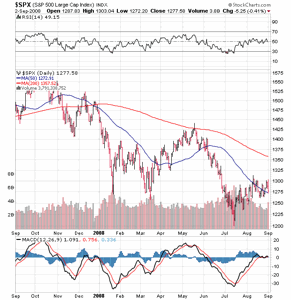 click to enlarge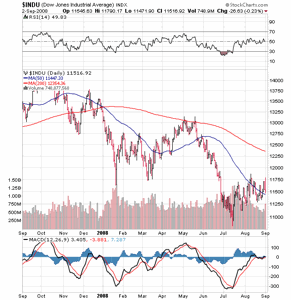 click to enlarge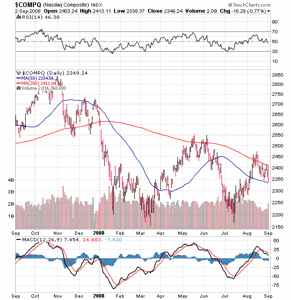 click to enlarge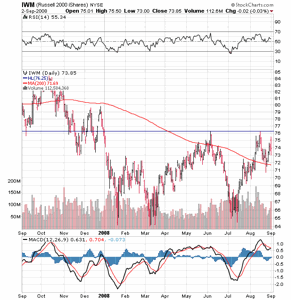 The New York Composite looks even worse.
click to enlarge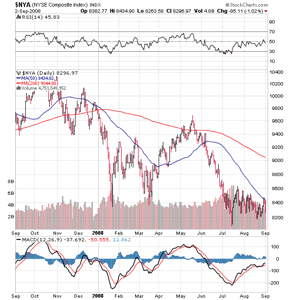 My guess – and I emphasize the word "guess" – is that the market is in the process of rolling over.  I intend to add to my short position over the next few days. 
Disclosure: The author is short TWM.