AnnTaylor Stores Corp. (NYSE:ANN) is trading around $36.75, close to its 52-week high of $39.78, up 40% in the last one year, and up 35% in just the last two months. It trades at a P/E multiple of 17 times versus a forward multiple of 14 times. AnnTaylor has finally achieved a forward multiple, which is in-line with its peer group range of 14-15 times.
On Friday, AnnTaylor was downgraded at Nomura from Buy to Neutral, purely on valuation as the stock is up 35% in the past two months.
In the company's peer group, TJX Companies Inc. (NYSE:TJX) is trading at a P/E multiple of 17 times, and a forward multiple of 15 times. The Gap, Inc. (NYSE:GPS) is trading at a P/E multiple of 17 times versus a forward multiple of 15 times. TJX is up 50% in the past one year, while Gap has been up 100% in the past one year.
AnnTaylor is expected to report Q3 2012 earnings on November 16, 2012.
Fundamentals reflected in current valuation
AnnTaylor has maintained a strong balance sheet. As of Q2 2012, the company had $133 million in cash & cash equivalents, and zero public debt. The company has a $250 million credit facility with Bank of America, which matures April 28, 2013. As of Q2 2012, there were no borrowings made under the credit facility. Also, the company is in compliance with all its covenants.
Gross Margins have improved 90 bps year-over-year, and was reported as 55.9% in Q2 2012. This improvement was a clear reflection of customer acceptance of better products in the past one year. This has also encouraged Ann Taylor to reduce its year/year promotions.
The restructuring effort that started January 2008 has lead to $125 million in cost savings, an aggressive stock buyback program, and record gross margins. All these factors have provided a move in the stock, which falls in-line with the peer group.
Conclusion
AnnTaylor has finally entered into positive fundamental territory since it started restructuring its business in 2008. We now have a leaner and more profitable AnnTaylor. This has resulted in a great performing stock. That said, an upside in the stock from here is limited due to the lack of short-term catalysts. Risks related to investing in the stock are a strong competitive environment, and fashion risks.
Click play to view the return of 9 of these companies since 2011:
Click to enlarge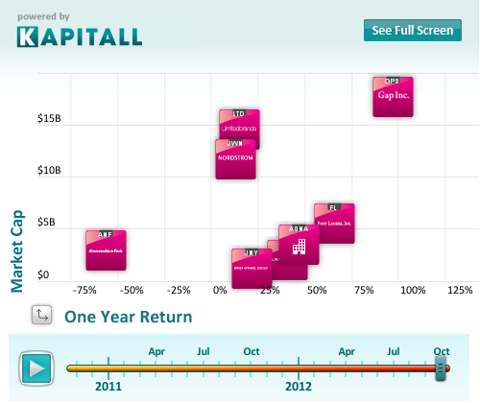 Written by Kapitall's Sabina Bhatia. Tool provided by Kapitall.
Disclosure: I have no positions in any stocks mentioned, and no plans to initiate any positions within the next 72 hours.
Business relationship disclosure: Business relationship disclosure: Kapitall is a team of analysts. This article was written by Sabina Bhatia, one of our writers. We did not receive compensation for this article (other than from Seeking Alpha), and we have no business relationship with any company whose stock is mentioned in this article.