After reporting earnings on Thursday night, Riverbed Technology, Inc. (NASDAQ:RVBD) closed 11% higher on Friday as investors continue to be surprised by the record revenues and earnings reported by the company.
The company continues to deliver on the concept of a data center without walls where customers continue to move to virtual data centers, hybrid cloud computing, and a software defined data center.
As some investors remember, Riverbed's stock got crushed by nearly 30% when it cratered to $20 back in April. At the time, the company was undergoing a major product transition that interrupted earnings during Q1. Investors panicked sending the stock down further to below $14 by July.
As Stone Fox Capital mentioned back in June (see here), the stock was an extreme buy at those levels. As a follow up in July after the Q2 2012 report (see article here), again the discussion urged investors to buy the stock under $20 and more importantly closer to the $18 and under price it traded at during that next week.
Q3 2012 Highlights
The company reported the following highlights for Q3 2012:
Total revenue increased 10% sequentially and 15% year-over-year to record $219 million
Product revenue increased 12% sequentially and 9% year-over-year to record $145 million
Record Non-GAAP gross margin of 79.6%, compared to 77.8% in Q2'12
Non-GAAP operating profit increased 26% sequentially and 10% year-over-year to record $63 million
Non-GAAP net income increased 23% sequentially and 15% year-over-year to record $46 million
Total cash and investments of $670 million at September 30, 2012, compared to $550 million at June 30, 2012, and $559 million at September 30, 2011
The company easily beat analyst estimates of $0.25 by reporting earnings of $0.28.
New Product Cycle
One huge key going for the company is the transition to the new products is virtually complete. The new Steelhead products and Cascade are producing strong gains.
Another positive development for the quarter was the Juniper Networks (NYSE:JNPR) license deal for the Stingray product delivered cash and revenue. Juniper paid a $65M up front payment and another $10M payment will be due next year. The deal accounted for $4M in Q3 revenue and leaves $61M in deferred revenue. One huge benefit of the deal was the substantial bump to cash. The company ended the quarter with a $120M increase in cash to $670M. Nothing better than a business that rakes in cash instead of having to borrow billions to build warehouses or networks.
Due to the new product cycle, investors need to be careful to not read too much into other networking stocks such as F5 Networks (NASDAQ:FFIV) and Juniper. While the Riverbed results suggest a resilient market, it might be as much as catch up as anything else.
Mark Share
With the new Steelhead product cycle, the company appears set to further consolidate the WAN optimization sector. Cisco Systems, Inc. (NASDAQ:CSCO) remains a formidable competitor at 22% though corporations are no long enamored with the name only. Silver Peak has around 11% and several other very small players account for another 11%.
If Riverbed can consolidate market share from 50% to 60%, revenue will grow by 20% on the consolidation alone. So not only does the company have the opportunity to keep growing with the expansion of the sector and the new product categories, but it can continue grabbing market share with the dominant position.
Stock Price
Closing above $23 on Friday, the stock remains considerably below the 52-week highs. A return to the $30s could easily be in the near future.
1 Year Chart - Riverbed Technology
click to enlarge image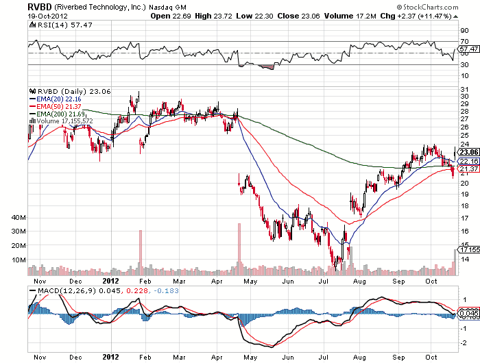 Click to enlarge
Conclusion
While investors appeared fascinated with the 11% jump on a huge down day in the market, Riverbed remains cheap. The stock has plenty of room to run back to yearly highs. New products such as the Granite, Cascade, and Stingray have huge potential to take up the slack for any slowing growth in the main Steelhead product.
Investors shouldn't be surprised if Riverbed again beats analyst estimates in Q4.
Disclosure: I am long RVBD. I wrote this article myself, and it expresses my own opinions. I am not receiving compensation for it (other than from Seeking Alpha). I have no business relationship with any company whose stock is mentioned in this article.
Disclaimer: Please consult your financial advisor before making any investment decisions.