Chipotle Mexican Grill (NYSE:CMG) was a strong stock for the past few years until it peaked out at $442 earlier this year. The stock has dropped down to $243 as the company's sales growth has slowed down. Chipotle is a great example of an overvalued stock that took a hit on negative news. The stock had a PE ratio of over 50 when the price was over $400. The PE has since dropped to 28.25, which is still twice as high as the S&P 500's average PE ratio of 14.
The company just reported Q3 2012 earnings that fell short of analyst's estimates. EPS for the quarter was $2.27 vs. analyst estimates of $2.30. Revenue for the third quarter was $700.5 million which was shy of analyst estimates of $703.7 million.
click to enlarge image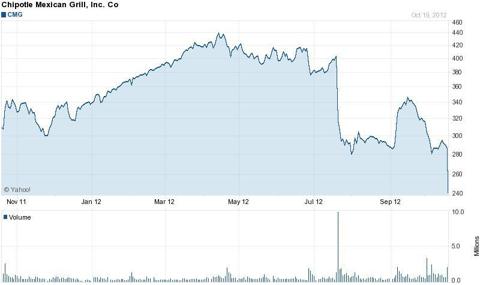 Chipotle is facing more competition from Taco Bell which is owned by Yum Brands (NYSE:YUM). Taco Bell has been selling lower priced burritos and bowls which are similar in quality to Chipotle's.
Chipotle also has to deal with the rising costs of dairy and meat which should be felt next year as a result of this year's U.S. drought. The company said in its Q3 earnings report that it has no specific plans to raise prices next year, but it is open to the possibility of price increases, given inflation expectations related to the drought. It remains to be seen how customers will react to more price increases if they are needed.
One of the primary concerns that investors have with Chipotle is the company's slowing same store sales growth. The company was previously growing same store sales over 10% every quarter, but this ended in Q1 2012. Same store sales growth was 8% for Q2 2012 and only 4.8% for Q3 2012. This new downtrend in growth has led to the downturn in the stock.
Chipotle Same Store Sales Growth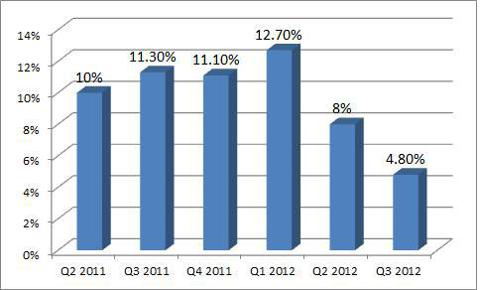 To answer the title's question, I do think that the stock will continue to fall further. Given that the company's PE ratio still remains twice as high as the average PE ratio of the S&P 500, I think that more selling pressure will be placed on the stock. Once the PE ratio falls to a more fair valued level, investors might start buying again. This should be around $200 or below.
This also depends on the Q4 2012 earnings report. Will the company continue the downtrend in same store sales growth, or is it just leveling off? The stock will also need a positive catalyst to entice buyers back into the company. Since not much new news will arise until the next earnings report, I think that more of the overvalued fluff in the stock price will be sold off.
This has created a shorting opportunity for investors in the near-term and will create a better entry point for the stock for the long-term. For Chipotle, the high-flying double-digit growth quarters may be over, but it may still present a good long-term opportunity down the road (at better stock prices).
Disclosure: I have no positions in any stocks mentioned, and no plans to initiate any positions within the next 72 hours. I wrote this article myself, and it expresses my own opinions. I am not receiving compensation for it (other than from Seeking Alpha). I have no business relationship with any company whose stock is mentioned in this article.