by John Nyaradi
The first three weeks of October provided us with an unrelenting barrage of warnings that something has been amiss in the tech sector. The Nasdaq 100 ($NDX) has been on a downhill run since September 19, when it was trading at 2,864. One month later, on October 19, $NDX closed at 2,678.
A look at the chart tells us that the Nasdaq 100 has been trapped below its 50-day moving average for more than one week and an attempt to break out on October 15 failed. Friday's action was particularly bearish as the index plunged 2.4% to approach its 200 day moving average. We have seen the Relative Strength Index sink to oversold levels in the 30s while MACD is well below the zero line, indicating that support has been broken with plenty of apparent downward momentum.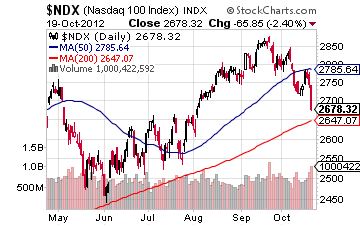 chart courtesy of StockCharts.com
To understand all of this bearish action, we need look at only five stocks. The recent history of the following five corporations helps explain the sluggish performance of the Nasdaq 100.
It all started last week with Apple Computer. One Bad Apple Can Spoil The Whole Bunch.
Apple (NASDAQ:AAPL) accounts for 13.9 percent of the total weight of the Nasdaq 100. Although the company's share value climbed from $600 to $700 during 2012, the stock has been sinking since mid-September. With the release of the iPhone 5, Apple faced criticism for the phone's flawed map application as well as a problem with the phone's camera performance, known as "purple haze".
On October 18, the stock declined 1.86 percent to $632 (below its 50-day moving average of 661.59) after announcing that it would acquire Color, an unsuccessful mobile photo-sharing startup. On that same day, the company received some bad news from Britain, where an appeals court refused to reverse the denial of an injunction against Samsung to ban sales of the Galaxy tablet. Judge Colin Birss concluded that there is no likelihood of confusion between the two products because the Galaxy is "not as cool" as the iPad. Apple serves as a constant reminder that success carries a high cost.
Microsoft (NASDAQ:MSFT) accounts for 5.40 percent of the weight of the Nasdaq 100. On October 18, the company reported quarterly revenue and earnings which fell short of estimates. The situation was complicated by the upcoming release of Windows 8 on October 26. Microsoft's deferral of revenue on Windows 8 brought earnings and revenue below consensus. Microsoft has been hard-hit by the declining market share of PCs. That factor reportedly caused a 9-percent decline in Microsoft's quarterly revenue. Although the company's PC-based tablet Surface will also be released on October 26, Microsoft has provided little information for analysts to wrap their heads around in order to make reasonable profit forecasts. After reaching $32.95 per share in March, the company has been struggling to stay above $30 per share. The closing price for MSFT on October 18 was $29.50 – significantly below its 50-day moving average of 30.33, which appears ready to make the "death cross" below the 200-day moving average of $30.13.
Google (NASDAQ:GOOG) shocked the world on Friday with an early release of poor earnings (Is Google Earnings Leak Our October Surprise?). Google accounts for 4.70 percent of the weight of the Nasdaq 100. A premature release of the company's quarterly earnings report on October 18 helped fuel a selloff which brought the share price down 8.01 percent on the day to $695. Trading had been halted at 12.30 after a 9-percent swoon. Trading on GOOG did not resume until 3:20.
Quarterly revenue fell $500 million short of the $11.8 billion estimate and profit was $9.03 per share compared with expectations of $10.65 per share. The event brought the Nasdaq 100 down to close at 1.13 percent in the red on a day when the S&P 500 finished only 0.24 percent in the red and the Dow lost a mere 0.06 percent. Google's nosedive brought its share price below the 50-day moving average of 711. Although the slowing global economy has hit the tech sector particularly hard, reports indicate that a review of Google's 8-K report revealed a 15-percent decline in "per click" charges on an annual basis and a 3-percent decline on a quarterly basis. Cheaper ad rates for mobile appear to be the reason as mobile use expands its market share.
Intel (NASDAQ:INTC) accounts for 2.50 percent of the weight of the Nasdaq 100. The smartphone revolution has been a huge setback for Intel, since its market share in that industry is less than one percent. On October 17, the company provided a weak fourth-quarter outlook, which sent its share price sinking 3.1 percent to $21.65. Intel had been relying on its more corporate-oriented server and data center business to make up for the declining PC sales. Nevertheless, the demand for servers has also fallen. The company has been running its factories at less than 50 percent of capacity. Intel's share value experienced a "death cross" moment on August 28 and at 21.58, it is well below its 50-day moving average of 23.74 and its 200-day moving average of 25.73.
Dell Computer (NASDAQ:DELL) accounts for just 0.70 percent of the weight of the Nasdaq 100. As the Number 3 PC seller, Dell has been attempting to adjust away from that slowing sector by targeting a greater share of the $110 billion market in corporate technology. Dell has invested over $12 billion in acquiring companies which service the enterprise sector. Dell's big challenge will concern its ability to make this transition. Dell's share value experienced a "death cross" moment on May 29 and at 9.69, it is well below its 50-day moving average of 10.54 and its 200-day moving average of 15.80.
So overall, earnings are slowing down and the big question now is, "Can Stocks Survive the Earnings Slowdown?" Apple, Microsoft, Google, Intel and Dell provide five reasons why the Nasdaq 100 has hit a resistance point as their earnings have faltered badly. The ability of these five companies to adapt to the rapidly changing demands of the technology market will determine the future performance of the Nasdaq 100.
For ETF investors, three options come to mind.
If you believe that this technology slowdown is just a bump in the road, PowerShares QQQ NASDAQ:(NYSEARCA:QQQ) is the ETF for you as it offers direct exposure to the Nasdaq 100. It's in a sharp downtrend, below its 50 day moving average, but still above the 200 day average and so this correction is within the context of an ongoing uptrend and so could be short lived.
If you're bearish on the future of tech, then ProShares Short QQQ Fund (NYSEARCA:PSQ) is the way to go. It's currently above its 50 day moving average and momentum is currently positive and points to the probability of higher prices ahead.
Aggressive traders and investors can express their opinions via 2X leveraged funds, ProShares UltraShort QQQ (NYSEARCA:QID) or ProShares Ultra QQQ (NYSEARCA:QLD) and, of course, you must understand how these tricky products work before venturing into these waters.
Bottom line: Wall Street Sector Selector went to an all cash position on October 19, 2012, closing "long" positions and now waiting for the market to reveal its next directional move. Technology is a great vehicle in which to trade or invest and typically is a market leader, both up and down, which is why "trouble in tech land" could be an ominous development for the entire equity universe as we navigate through the dangers and opportunities of October.
Disclosure: Wall Street Sector Selector actively trades a wide range of exchange traded funds and positions can change at any time.