Luby's (NYSE:LUB) is a company you most likely never have heard of, although it comprises the bulk of my portfolio. Luby's is a Texas-based cafeteria chain that serves Texas-style food in over 100 locations around the Lone Star state. It's not a particularly sexy company. It has been around for over 50 years, yet the stock's price is still lower than it was than in the 80's.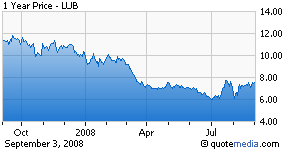 Why am I so enthralled with this perpetual laggard? For starters, I find the stock to be a compelling value right now. The stock is trading around its book value and I think its book value is grossly understated. The vast majority of Luby's cafeterias are at least ten to fifteen years old, and Luby's owns the land and buildings on 84 of its restaurants. Luby's quotes its land values at the price it acquired it on its book, so unless you think Texas land prices are the same now as they were in 1985, that value is understated.
Luby's has been consistently profitable; has a fair amount of cash on its balance sheet; and has almost no debt. Therefore, in my view, the downside is minimal. Luby's past few quarters have been disappointing, owing largely to the sluggish economy and rise in commodity prices. However, I see light on the end of the horizon.
Luby's has been building new-style cafeterias that have a much more modern feel to them and also serve some higher margin items, such as a coffee and ice cream bar. So far, the new style of restaurants has been a smashing success. They are showing to consistently perform better than the traditional, more depressing-style of Luby's restaurants.
The Pappas brothers, two of Texas's most successful restaurateurs, run Luby's. The pair own about a third of the company and have bought up even more shares lately (in late June/early July) when the stock price took a dip in the $5.80-$6.50 range.
I view Luby's as a long-term investment, and most of this article has so far been the case for a long-term holding. However, I see a potential short-term spike. About 1.7 million of Luby's shares are sold short right now, which is a little over 9% of the float. That certainly isn't much by any stretch of the imagination. However, Luby's daily volume is only around 100k shares a day, so its short interest ratio is a whopping 17. Good earnings from Luby's next week (or perhaps the next quarter) could spark a short covering rally. The lone analyst covering Luby's is throwing Luby's a softball for the next two quarters, projecting just $.01 a share this quarter and $.02 a share next quarter.
I personally don't plan on doing any buying or selling of Luby's shares anytime soon. If the earnings are in fact good and the shorts are squeezed, I'll be tempted to sell some shares to decrease the overall size of my holding.
Disclaimer: The author is long Luby's.