It doesn't take much to trigger an avalanche these days. This was the proven case when it came to rapidly growing fast food chain Chipotle Mexican Grill (NYSE:CMG). From April 2009 to April 2012, the company's stock had grown from $80 to $440. Yet while the company's future remained bright, the inherent truth was that the valuation had far exceeded reasonable expectations. On Friday, October 19, the company trended downward yet another 15% to the current level of $243. What was the catalyst? Chipotle had issued a sluggish 2013 outlook for growth throughout its established restaurant sites.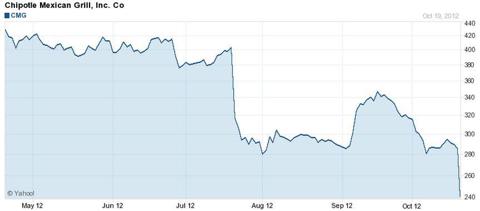 Click to enlarge
Ultimately, the underlying root cause of the volatile session inherently rested in the high expectations set by the investment community. For the year end 2009 to the year end of 2011, Chipotle had only grown its net income from $126.8 million to $214.9 million. Considering the more than 400% increase in valuation in a similar time frame, clearly the rate of growth between the earnings and the stock had been diverging in a very stark manner.
Identifying popular exuberance in companies who have failed to perform accordingly can often be a precursor to predicting their eventual demise. When the valuation of companies begin to trek significantly higher than their performance justifies, investors should beware. The following companies appear to be exhibiting similar situations that suggest an intrinsic overvaluation despite recently strong market performance.
Amazon.com Inc.
Amazon's (NASDAQ:AMZN) disruptive market potential remains well known. The online retailer's revenue growth has been astounding as the company threatens to place big box stores like Best Buy (NYSE:BBY) out of business. As a key player in bringing commerce to the internet revolution, Amazon has grown into an online shopping experience capable of addressing almost all of a person's needs from the comfort of his home.
Despite the company's proven track record for growth, the question of valuation is put to the test. The company is now priced at $108.5 billion at its current $240 share price, despite only having total shareholder equity of $7.76 billion and $16.60 in book value per share. More alarming, the company carries a trailing price-to-earnings ratio of 292.33 and a forward price-to-earnings ratio of 100.84 based on analyst earnings estimates of $2.38 in the coming year. With a PEG ratio of 9.37 accounting for an extraordinarily high amount of earnings growth, it's clear that Amazon has to learn how to convert revenues into tangible earnings in order to meet the expectations now placed upon it.
AutoZone Inc.
AutoZone (NYSE:AZO) engages in the retail and distribution of replacement auto parts and accessories. The company stands as one of the largest operators in the space, but has recently found increasing competition from unlikely sources such as Wal-Mart (NYSE:WMT), Costco (NASDAQ:COST), Amazon, and a flurry of internet start-ups. The company has a long tradition of buying back its shares in order to keep the stock prices high as seen in my other article. Ironically, this has come as insiders exercise their options and sell into the rising share price.
While seemingly good for the share price, the stock buybacks have failed to make sense for some time. The company's long-term debt has been quickly increasing even as assets meagerly grow. As of May 2012, the company carried a negative book value of $41.81 per share as the company's total liabilities of $7.57 billion exceeded the company's total assets of $6.15 billion. The growth of long-term debt continues to outpace the growth in property plant and equipment in a less than positive sign. Nevertheless, from October 2009 to the present date, the company's stock price has more than doubled even as AutoZone's books continue to degrade.
Salesforce.com, Inc.
As a content relationship management provider offering online solutions in the age of social media, Salesforce.com (NYSE:CRM) has helped play a key role in ushering in the age of cloud computing to businesses. The company markets its online management applications which allow businesses to more effectively collaborate and engage their customers. Revenue growth has remained exceedingly strong, prompting investors to place ever higher valuations upon the company.
The company now carries a market capitalization of $20.71 billion. While revenues have grown from $1.3 billion in 2009 to $2.27 billion in 2011, Salesforce.com now carries a very high price-to-book ratio of 11.03 and only $1.89 billion in shareholder equity. Just as alarming, the company supports a forward price-to-earnings ratio of 74.88 and is priced against its sales by a multiple of 7.89. Like Amazon, Salesforce.com appears to have very high expectations built into the company's current valuation. More importantly, it is going to need to eventually prove its ability to convert its revenue growth into strong earnings growth.
Disclosure: I am short AMZN, AZO, CRM. I wrote this article myself, and it expresses my own opinions. I am not receiving compensation for it (other than from Seeking Alpha). I have no business relationship with any company whose stock is mentioned in this article.