Shares of Nike (NYSE:NKE) have returned only 5.65% over the past 12 months primarily attributable to the plunge in June due to the lackluster Q4 earnings release. Since then, the stock has recovered by 13% and currently trades at $96.45. Despite the drop in Q4 profits, NKE remains my core holding given its reasonable valuations and solid financials. In this article, I will walk you through the analysis that supports my opinion.
NKE appears to be reasonably priced relative to the company's financial performance (see table below). Comparing to a peer group consisting of NKE's primary competitors, including Lululemon Athletica (NASDAQ:LULU) and Under Armour (NYSE:UA), growth potential appears to be the firm's primary weakness. Analysts in average predict NKE's revenue, EBITDA, and EPS to rise by 2-year CAGRs of 6.2%, 8.9%, and 12.2% over the current and next fiscal years. The growth estimates are significantly below the peer averages of 10.6%, 12.9%, and 17.8%, respectively. However, NKE's EBITDA margin is forecasted to expand by 0.7% over the same period, compared to the peer average at only 0.1%. On the profit side, NKE has done a much better job. Except for the trailing gross margin, which is slightly below the peer average, all of NKE's other profitability margins and capital return measures are largely above the group averages. In terms of leverage and liquidity, NKE assumes a lower debt level as reflected by the firm's below-average debt to capitalization and debt to EBITDA ratios. In addition, NKE's solid 5.7% trailing free cash flow appears to be the company's another bright spot as the peers in average had not even been able to generate a positive free cash flow. Due to the higher profitability and lower leverage, NKE has the highest interest coverage ratio in the group. Both the firm's current and quick ratios are above the peer averages, reflecting a very healthy corporate balance sheet.
click to enlarge images

In summary of the financial comparisons, NKE's main issue is with its growth prospects, but its superior profitability and liquidity position should offer the company ample financial capacity and flexibility to tackle the current issues. As such, I believe NKE's reasonable value should be at a small discount to that of the peers (i.e. 5% to 10%). The current stock valuations at 12.1x trailing EV/EBITDA, 21.0x trailing P/E, and 1.38x forward PEG represent an average valuation discount of 12% to the peer-average trading multiples (see table above), suggesting that the firm's weakness has already been factored in the stock price.
Comparing NKE's current valuations to their historical levels, the trailing EV/EBITDA and P/E multiples are currently trading at 17% and 9%, respectively, above their 10-year historical averages (see chart below). The higher valuations appear to be justified by the company's long-term financial and operating stability.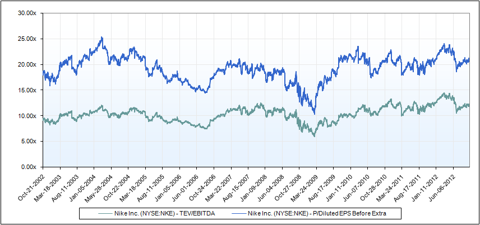 NKE's ROA, ROIC, and ROE had experienced a fairly stable trend over the past decade, and those figures had increased from 11%, 14%, and 18% in FY2002 to 12%, 18%, and 22% in FY2012, respectively (see chart below).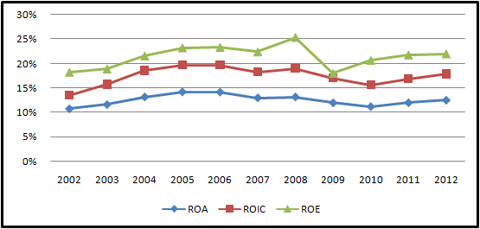 NKE's also enjoys a steady profitability. The company's gross margin, EBITDA margin, and net income margin had improved in a relatively smooth trend from 39%, 13%, and 7% in FY2002 to 43%, 14%, and 9% in FY2012 (see chart below).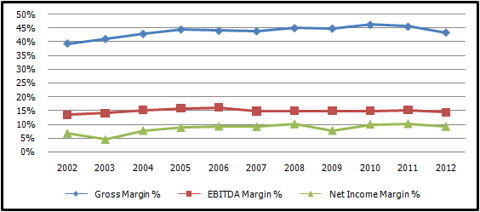 On the liquidity side, NKE's current and quick ratios had expanded from 2.3x and 1.3x in FY2002 to 3.0x to 1.8x in FY2012, implying a more liquid balance sheet (see chart below). In terms of operating performance, NKE was able to maintain stable asset and inventory turnover as the metrics only fluctuated within a very narrow range in the past decade (see chart below).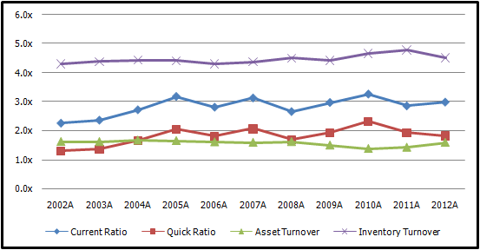 NKE's revenue, EBITDA, and EPS growth rates were the most volatile financial metrics in the past decade (see chart below). Despite the lackluster growth estimates for FY2013, analysts in average are expecting the growth to stabilize and improve in FY2014 and FY2015. As such, the future growth estimations are fairly comparable to the historical growth in a decade ago.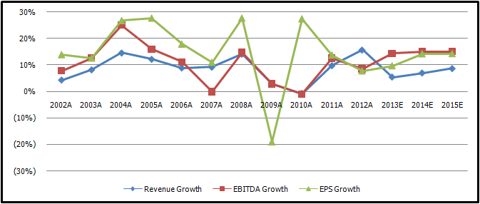 Moreover, NKE's above-historical-average valuations is also supported by the increasing dividend per share and dividend yield as well as the company's ample cash flow which tends to sustain the current pace of dividend growth (see charts below). The dividend per share had been raised steadily by a 10-year CAGR of 19% from $0.24 in FY2002 to $1.39 in FY2012, and that had helped lift the stock's dividend yield from around 1.0 % to 1.5% over the same period despite the fact that the share price had appreciated by approximately 420%. Additionally, NKE's annual dividend paid historically represented only a small portion of the annual free cash flow, indicating that there remains ample cash resource for further dividend hikes down the road.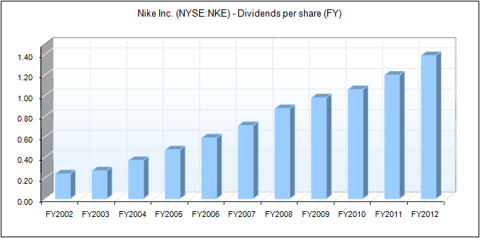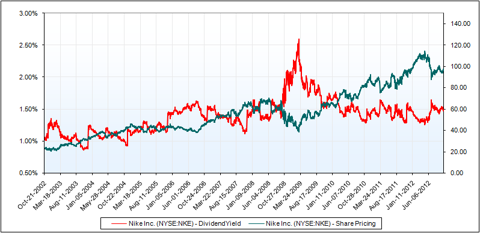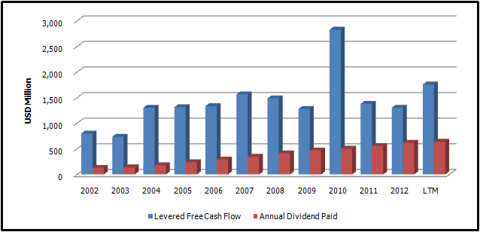 Bottom line, as NKE is trading at a reasonable value and the company's healthy operations continue to generate robust free cash flow to support the dividend growth, I believe the investment is protected by a fair margin of safety. Let's take a different perspective to measure the stock's margin of safety. According to the 3-year dividend yield chart shown below, NKE seems to be a highly-demanded dividend stock. There appears to be a repetitive pattern that as long as NKE's dividend yield reached the 1.5% and 1.6% range, the strong demand from income investors drove up the stock price and the yield then declined to the 1.3% and 1.4% range. As the yield became lower and less attractive, the demand faded and the yield went back up to the higher level. Assuming the next quarterly dividend per share would be raised by 10% (I am being conservative as the assumption is significantly below the historical dividend growth rate), which brings up the annualized dividend per share from the current level at $1.44 to $1.58, and further supposing the likely significant demand from income investor would drive down the dividend yield to 1.4% (the high end of the aforementioned range), the conservative scenario thus implies a stock price of $113, representing an 18% upside from the current market price. As such, I recommend acquiring the shares before the potential dividend hike.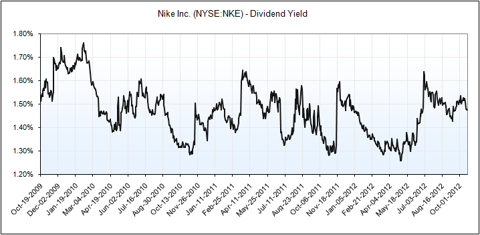 Comparable analysis table is created by author, all other charts are sourced from Capital IQ, and all financial data is sourced from Capital IQ and Morningstar.
Disclosure: I am long NKE. I wrote this article myself, and it expresses my own opinions. I am not receiving compensation for it (other than from Seeking Alpha). I have no business relationship with any company whose stock is mentioned in this article.