Three weeks ago, on the first day of the new quarter, I titled my weekly article "Let's Hope Q3 Earnings are Better than Guidance and Economic Data." The optimist in me suspected corporate executives might have been doing a little sand bagging, lowering expectations in order to give the market upside surprises. Early in earnings season, it was becoming evident that there wasn't a lot of sand bagging going on after all, and last weekend's article was titled "Be Ready to Take Some Money off the Table." By this point we have seen a string of high profile revenue and earnings misses, and more cautious outlooks. Investors have responded by selling. However all is not uniformly gloomy, as some areas are still working. Let's dig into the details.
Perspective
Stocks: U.S. equities began the week with a positive tone on the release of better than expected economic data. The S&P 500 and Dow Industrials bounced off their 50 day moving averages, while the Russell 2000 and NASDAQ broke came up to those levels from below. However a string of high profile earnings disappointments snapped the bounce and drove share prices back down on accelerating volume. By Friday's close, all four indexes were under the 50 day. The S&P and Dow actually finished the week with fractional gains, the Russell 2000 with a fractional loss, and the NASDAQ brought up the rear with a 1.26% drop on the big selloff in tech shares.
S&P sector action also was a mixed bag. Only two of the nine major sectors were in the red for the week: the techs, with a loss of nearly 2.5%, and consumer staples, which dropped .65%. Basic materials gained better than 2%, with the financials, utilities, and energy stocks not far behind. Several blue chips posted notable weekly moves: Travelers (NYSE:TRV) up nearly 7%, Johnson & Johnson (NYSE:JNJ) up nearly 6%, IBM down nearly 7%, McDonald's (NYSE:MCD) down over 4%.
Turning to global markets, the tone was considerably stronger than in the U.S. Eleven of the twelve foreign indexes we follow posted weekly gains, and the sole loser - Brazil - was off only .41%. Japan's Nikkei was a big winner, gaining better than 5% as a steep drop in the Yen favors the prospects for Japanese exporters.
Bonds: U.S. Treasury yields were uniformly higher for maturities longer than one year. However they pulled back from the weekly highs on Friday as risk assets sold off. The benchmark ten year note yield once again peeked above its 200 day moving average, and once again failed to hold it - the third failed test of the 200 day in the last two months. The long bond, which has been exhibiting similar behavior, closed exactly at the 200 day to close under 3%. Corporate bonds once again extended their long rally, the Dow Jones broad index again going to a new high for the fourth consecutive week. TIPS and munis on the other hand were sold off over the week.
Commodities: Commodities continued to show weakness nearly across the board. Oil remains in the $90-92 range, but pulled back to the low end of the range Friday on increased volume. Natural gas appears to have run into resistance at $3.60. Gold came back to test the 50 day at $1,725, while silver broke its own 50 day and briefly traded under $32. Copper traded down sharply Friday. On the positive side, the grains remained steady, trading mostly sideways, and the softs did see buyers come in at week's end.
Currencies: The U.S. dollar index, back into the 78 - 80 range, was again clearly correlated (inversely) with risk assets. Early in the week, it pulled back from the upper bound of 80 as equities advanced. Later in the week, following the release of the disappointing unemployment numbers, the dollar began moving up again as equities and commodities pulled back. The euro crossed above $1.31 but made a lower high than in September, and pulled back to close at $1.3022. Sterling pulled back sharply to the 50 day, while the Canadian dollar broke below the 50 day. The big mover of the week among the majors was the yen, which dropped more than 1% against the greenback, coming back to its 200 day MA.
Outlook
It was a general positive week for economic data. Retail sales, industrial production, housing starts and building permits all beat expectations. Consumer prices were in line, and quite tame. First time unemployment claim were the big disappointment. The data support the broad outlook for a slowly growing economy, a housing market coming off the bottom, and tame inflation. It is when we turn to corporate earnings, however, that concerns arise. The tech sector in particular cast a gloomy shadow.
Stocks: The U.S. equity market is beginning to show some definite separation, with different groups and sectors going in different directions. We are seeing small caps and high beta stocks encounter significant selling, which is fairly typical when the market is under pressure. Value is outperforming growth on a relative basis, but still taking losses on an absolute basis. Many of the tech stocks are getting hammered, including a number of the big blue chips.
While some of these names are extended to the downside, I would resist the temptation to do any bargain hunting now. My sense is that the selling of beta and tech has not yet run its course; remember the old adage that a stock is never too high to buy or too low to sell. We may see short term bounces in some of these names, but I would look at them as opportunities to trim positions. The technical damage is considerable, and the current trend is lower.
My expectation is for lower prices ahead for the likes of IBM, Microsoft (NASDAQ:MSFT), and Qualcomm (NASDAQ:QCOM), while others like Cisco (NASDAQ:CSCO) and Intel (NASDAQ:INTC) could be dead money for a while. Tech is, along with energy, my favorite sector, and eventually will be a happy bargain hunting ground, but as I always remind readers, timing matters. Be patient, let the stocks you like form solid bases and watch for them to come off those bases before committing capital
Turning to what is working, the three areas identified in last week's article still look sound: selected financials, defensive areas like health care, consumer staples, and utilities, and foreign markets. The latter in particular have caught my interest. We have seen an extended period where U.S. equities have outperformed. We may be moving into a period where they underperform. U.S. listed ADRs I am watching include Petrochina (NASDAQ:PTC), China Life (NYSE:LFC), Novartis (NYSE:NVS), Barclay's (NYSE:BCS), Telefonica (NYSE:TEF), Credit Suisse (NYSE:CS), Nestle (OTCPK:NSRGY). If selloff in the U.S. gains momentum, however, it will pull global markets down with it and we will have to reduce equity exposure across the board. The next few weeks will be significant.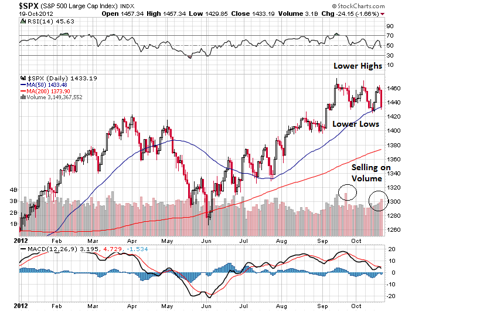 Bonds: We are seeing significant volatility in U.S. treasury yields as they bounce around in mostly indecisive trading. The ten year note, as described above, seems unable to stay above its 200 day MA, while making a series of higher lows. The long bond is trading in a similar pattern. We are likely approaching an inflection point. Whether the yields break decisively through the 200 day, or down through the 50 day, should give us a pretty good indication of the overall direction of the financial markets heading into year end. Breaking the September lows would be bullish for the bond market, but may be a negative signal for risk assets.
Our income portfolio remains allocated primarily to various grades of corporates and to municipals. We're still comfortable with the corporates, even though they have run up a long way, but the munis, which have enjoyed a big run of their own, are showing signs of coming under pressure. For now we are on hold, as we look for some directional signal from the Treasury rates.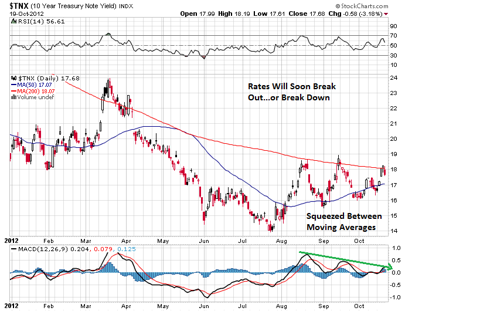 Commodities: My outlook has been consistently skeptical on commodities, apart from gold and to a limited extent, natural gas. Many areas appear to remain under downside pressure. WTI crude, which was bumping into steady resistance at the 200 day MA from mid-August into early September, has been hitting resistance at the 50 day over the last four weeks. Both moving averages are about to roll over, $90 is unlikely to hold, and I think prices in the $70s are very possible before year end. I would not be long oil, and might even go short for a swing trade if that were my style.
The metals are also under pressure, and need to make a stand quickly. If we see the dollar index move above 80, there could be more downside ahead. We have a position in gold that is on a very short leash. A test of the 200 day, currently in the $1,660s, is a pretty good possibility in the coming weeks.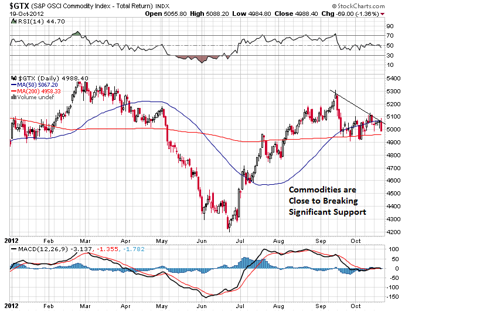 Currencies: The market sold the greenback ahead of QE3, but the selling ended with the policy announcement. As noted above, it has come off a short term bottom as equity and commodity markets have begun to roll over. With the euro and pound sterling pulling back from recent highs, and the yen and loonie breaking near term support, it appears more dollar upside is possible.
Quite a bit of uncertainty remains with the upcoming election and "fiscal cliff," and it is difficult at this point to project either the outcomes, or the market's reaction to them. All we can do is watch what the market actually does from day to day. I continue to see a move above 80 on the dollar index, and a break of the 200 day MA on the euro/dollar cross, as bearish signals for risk asset markets.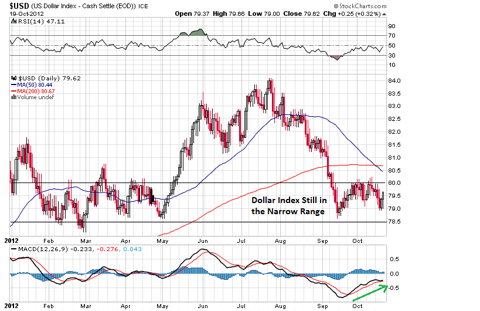 Disclosure: I have no positions in any stocks mentioned, and no plans to initiate any positions within the next 72 hours. I wrote this article myself, and it expresses my own opinions. I am not receiving compensation for it (other than from Seeking Alpha). I have no business relationship with any company whose stock is mentioned in this article.