I continue to watch my limit order for Thoratec (NASDAQ:THOR) down in the $23s continue to mock me on a daily basis, so I'm going to "capitulate" and get at least a starter position going in this name here in the mid $27s. I wrote a detailed piece on the name in early August [Aug 4: One for the Radar - Thoratec] so I won't rehash it. It is hard to find charts like this so I'm going to jump on board here and hope for a pullback in stock price to increase the exposure.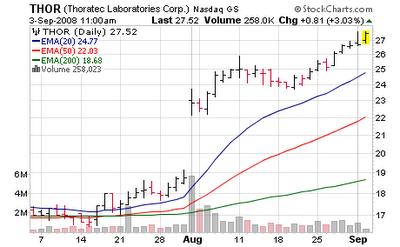 For now we start with a 1.1% stake, and I'd love to see this fall back to the $23s but I've been saying that to myself for nearly 3 weeks now. The company beat the analyst estimates of .09 by .11 last quarter, and analysts still have .09 once again for this coming quarter so we should see another significant beat.

I continue to like healthcare growth stocks as this is where the money flow seems to be going. To that end I added back to Exactech (EXAC) which of course is the one healthcare stock that faltered the minute we added it to the portfolio [Jul 31: Bookkeeping: Beginning Exactech Position] - Wednesdsay it fell to the 200 day moving average so we added down in the $24s range. We cut back on this name just a week ago when it broke below its 50 day moving average of $27s - how quickly they fall. It is back up from a 0.2% position to 1.0%. Since the chart is "broken" my plan for now is to sell this position back in the $27s, assuming it will fail to break above resistance. Buy the breakdowns, and sell the rebounds.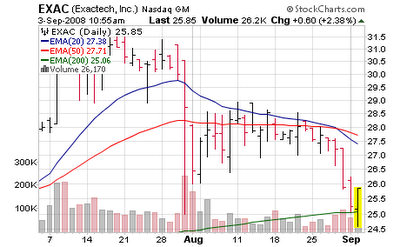 Last, I continue to build up the contract research organization names in bits and pieces [Aug 13: Creating a CRO Basket] - today we added to Life Sciences Research (LSR) and took it from a 1.0% stake to 1.4%. It's a slow mover of late but at least it's moving in the right direction and it is a very steady hand in a market that is volatile and directionless. Just the antidote. Yes they are not as exciting as those money losing housing or airline stocks but at this point it is tiring to watch the rotational battle between oil and anti oil trades every 3-5 days.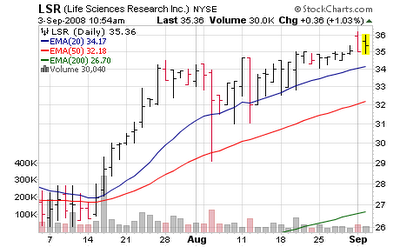 There are a few other smaller medical equipment/technology companies I've been looking to add for the past month but they simply refuse to sell off and give me a nice entry point. So I might need to just begin stakes in those as well at the current prices.

Disclosure: Long all names mentioned in fund; long none in personal account.