In my last earning preview piece, "Fusion-io's Upcoming Earnings Report: What You Should Know", I gave two possible scenarios for Fusion-io's (NYSE:FIO) report: an earnings miss that would heavily fuel the short sellers (as the stock is highly shorted) or an earnings beat that would lead to a sizable short squeeze. The company managed to post a very significant upside surprise, posting non-GAAP EPS of $0.09, more than double the sell-side estimates of $0.04, and guiding for 40-50% revenue growth for the current year.
As a result, shares of the company underwent a fairly sizable short squeeze following the report:

Click to enlarge
Now, as we head into the next earnings report, the natural question to ask, then, is "will lightning strike twice?"
Short Interest - After The Squeeze, Sellers More Tepid
Following what appeared to be a very notable round of short covering, it is always prudent to take a look at the trend in the short interest following the report. Short sellers usually have strong conviction, so a continuing decrease in short interest should be a telling sign of whether it is believed that the last earnings report was a fundamental shift or not.
A look at the data shows that short interest has declined significantly from its pre-earnings July highs, indicating that the shorts have begun to lose conviction: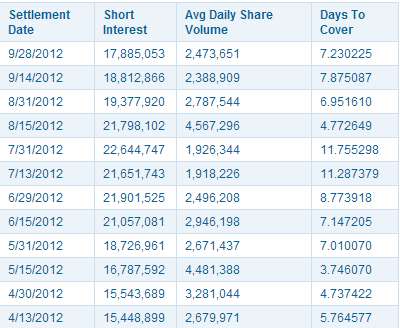 The short interest has decreased significantly, but still remains 18.4% of the float. From this data, it is difficult to ascertain whether simply the "me too" momentum-shorts are the only ones that have exited or if the fundamental shorts have been starting to head towards the exits. In any case, this is still a very heavily shorted stock, and as a result will continue to be highly volatile in the face of any material news.
Should the company once again "blow away" estimates, then I believe that short covering will lead to yet another oversized move to the upside. In the reverse, should growth slow or the forecast for the next quarter be muted, then the stock could very quickly find a home back in the low twenty/high teen ranges due to aggressive shorting. I don't really see sideways movement following the report.
Insider Transactions - No Buying, Lots Of Selling
Prior to the previous report, there was a fair amount of insider selling. During the month of July, insiders sold 96,391 shares of common stock and purchased no shares. Interestingly, though, during the month of August, just following the report, insiders made it clear that they were going to be taking advantage of this selling opportunity.
Insiders wasted no time and managed to sell 531,848 shares during the month of August, and more alarmingly sold a whopping 1,207,802 shares (note that only 373,208 shares were exercised via options). During the current month, 271,041 shares have been sold.
The only time insiders have ever purchased shares was during 06/2011 and the total number of shares purchased was a meager 8,500 compared to that months' sales of 1,544,393 shares and the following month's sales of 16,227,330.
In short, the insiders -- most notably, the CEO -- have been taking every opportunity to sell into rallies. That being said, many insiders sold in the $18-$21 range right before the last report, albeit in much lower overall volumes.
Earnings Estimates
Turning to the estimates and expectations for the current quarter, the company gave a vague guidance and expects to see a "modest increase" in revenues from FQ4 on non-GAAP gross margins of 56% - 58%. The company further expects non-GAAP operating margin to be "approximately 10%".
Of the 20 analysts covering the stock, 10 rate it a "buy", 1 rates it "overweight", 7 rate it a "hold", 1 rates it an "underweight", and 1 rates it a "sell". The consensus EPS estimate, on a non-GAAP basis, is $0.07/share on "modestly increased" revenues (I cannot find a consensus revenue estimate, but last quarter's revenues were $106.6M).
Conclusion
Fusion-io is expensive. Extremely expensive. With a market capitalization of $2.62B and trailing twelve month revenues of $359M, it is already priced to perfection. The company expects a revenue increase of 40-50% for FY2013 or roughly $531M, which is very strong growth. If the company can keep up this growth trajectory and consistently execute, then it will not be in any danger of losing its lofty valuation. However, if it shows any signs of weakness in either the current quarter or in its forecast (ala Mellanox (NASDAQ:MLNX)), then shares of the company will likely very quickly fill the upside gap from August 10th.
Disclosure: I have no positions in any stocks mentioned, and no plans to initiate any positions within the next 72 hours. I wrote this article myself, and it expresses my own opinions. I am not receiving compensation for it (other than from Seeking Alpha). I have no business relationship with any company whose stock is mentioned in this article.