Marvell (NASDAQ:MRVL) negatively pre-announced after market close on 10/18, citing lower demand from their storage hard-disk drive customers. As a result of this, coupled with the concurrent announcement that the CFO would resign, shares of the company dropped a whopping 15% during the next trading day, hitting a fresh 52-week and multi-year low of $7.57.
Surprisingly enough, rival LSI Corporation (NASDAQ:LSI-OLD) only dropped 1.67% during the following trading day, dropping less than the broader semiconductor sector as measured by the iShares Semiconductor Index Fund (SOXX) which lost 2.96% during the trading session.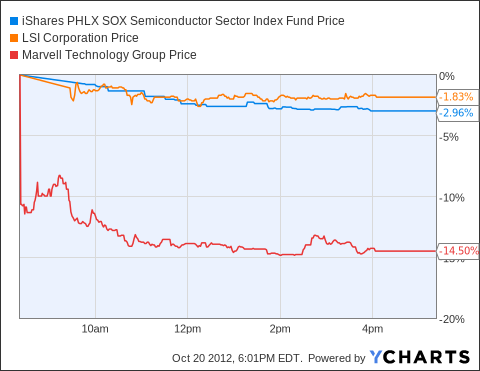 While it is clear that a good portion of Marvell's drop was due to the departure of the CFO rather than the revenue warning itself, LSI is not immune to the pressures that Marvell is facing in the storage side, especially as LSI is also very highly levered to the hard disk drive business.
How Levered To Storage?
While storage semiconductors make up roughly 47% of competitor Marvell's revenue, in 2011 these products made up a whopping 72.7% of LSI's revenue, which means that the company is even more susceptible to weakness in the storage space than its competitor.
Further, 25% of LSI's revenues during 2011 came from a single customer: Seagate (NASDAQ:STX), which primarily designs and sells hard-disk drives, which means that a significant portion of the storage revenue is directly tied to hard disk drives which are in turn, levered to the weak PC environment.
However, the twist here is that while LSI is more levered to storage than Marvell is, LSI's storage portfolio consists of a greater number of server/enterprise oriented solutions, rather than the mostly consumer based solutions that Marvell offers. While LSI does not break down these sub-segments of its storage, it is clear that since at least 25% of total revenues are from Seagate, at least 34% of the company's storage segment is tied to hard disk controllers (this figure most assuredly greater as Western Digital (NYSE:WDC) uses LSI's products as a second source to Marvell)
Networking - Should Be On Track
As of the latest 10-K, 22.2% of revenues came from networking, proportionally similar to its competitor in the storage space. In Marvell's pre-announcement, the company noted that networking was "on track with prior expectations", so I would suspect that LSI's business here is probably also tracking to expectations.
Earnings Estimates
At the most recent earnings report, LSI issued guidance that called for $620M - $660M in revenue, which at the midpoint represents a 3% sequential decline from the previous quarter's $660M figure. Marvell's estimate had been relatively aggressive in modeling a 1% sequential increase, but with the revised guidance, the firm is expecting a 5% sequential decline, slightly weaker than LSI's midpoint expectation
Non-GAAP earnings estimate issued for 3Q12 are $0.14 - $0.20 per share, and gross margin estimate is expected to be 52% - 54% on a non-GAAP basis.
The average analyst earnings estimate for the current quarter is $0.17/share on revenues of $638M, so below the midpoint on revenues and just at the midpoint on earnings per share.
Conclusion
In short, Marvell's warning was somewhat expected, but it confirmed weakness in the hard disk drive space. As LSI is also levered quite heavily in the space, I would not expect any miracles on the revenue side. Encouragingly though, LSI has not warned and given the proximity of the report (24th of October), it is unlikely to do so.
The stock is trading near the bottom of its 52-week range, so the low expectations are likely already factored in. However, should the company come in below the analyst estimates or should guidance be particularly tepid, there could be more downside ahead. A positive surprise - and in this case, it really would be a surprise - could likely mean that the company's products took share from its competitors. Should that be the case, I would expect that this was at the expense of Marvell and the reason that the company missed its already tepid expectations.
Check back for an earnings analysis on the 24th.
Disclosure: I am long MRVL. I wrote this article myself, and it expresses my own opinions. I am not receiving compensation for it (other than from Seeking Alpha). I have no business relationship with any company whose stock is mentioned in this article.
Additional disclosure: I may enter into a long position in LSI by selling OTM puts.