Coach (NYSE:COH) reports Q1 results on October 23th.
The Street expects
Revenue: $1.16 billion
EPS: $0.76
Q2 revenue guide: $1.61 billion
Heading into the earnings, comps sales will be the key focus. In addition, investors will also look for additional color on the ramp up of men's and legacy sales.
Coach has been suffering from decelerating comps due to the soft macro environment, decline of couponing and rising competitive pressure from other accessible luxury retailers such as Michael Kors (NYSE:KORS) and Kate Spade in the US, which is responsible for 70% of the company's sales and 60% of the operating profit.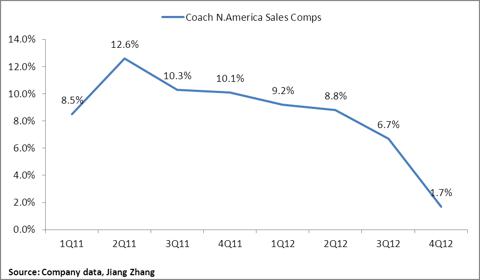 To drive store traffic and increase conversion, management has reinstated the couponing strategy in its factory locations. While such a strategy can boost sales comps in the short-term, Coach could continue to face margin headwinds. The key is for Coach to showcase that it has the ability to grow sales comps without sacrificing long-term margins.
Aside from the soft macro and decline in promotions, Coach is facing rising competition from Michael Kors, which saw resilient North American comps sale and expects accelerating comps in the upcoming fiscal Q2.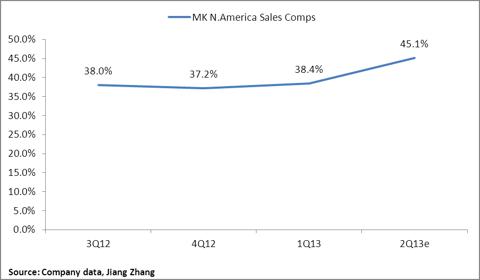 Despite strong results from KORS, I believe that the accessible luxury retail market is big enough for both to do well because each company's product is catered to a unique consumer base (Michael Kors is more fashion-oriented whereas Coach is known for its simplicity). I would also like to note that the $10.5 billion North American women's premium handbag/accessories market is expected to grow at the high single-digit, which is enough room for both companies to capitalize on the opportunity.
China will be another critical revenue driver after achieving 60% growth in FY12. The company expects China to achieve 35% growth in FY13 and adds another $100 million in sales this year as China's emerging upper-middle class starts to appreciate Coach's quality and affordability compared with the European brands.
Finally, men's and legacy should continue to contribute nicely to Coach's growth this quarter as both categories have seen increasing productivity in the full-priced stores.
Disclosure: I have no positions in any stocks mentioned, and no plans to initiate any positions within the next 72 hours. I wrote this article myself, and it expresses my own opinions. I am not receiving compensation for it (other than from Seeking Alpha). I have no business relationship with any company whose stock is mentioned in this article.