For quite some time now, Seadrill Ltd. (NYSE:SDRL) has been discussing the possibility of carving out some of its rig assets into an MLP structure. The company has now gone from the planning stage to the execution stage of this carve out by filing for an IPO of this new MLP. The company announced on October 15 that it will be commencing an IPO of common units of the MLP on the New York Stock Exchange. Hype Zero posted an article on Seeking Alpha last week urging investors to avoid this IPO. While I do not agree with all of the opinions expressed in that piece, I do agree with the overall conclusion that, for the average retail investor, Seadrill Partners (NYSE:SDLP) is an investment that does not make a lot of sense.
Hype Zero did an excellent job of explaining the overall structure of the MLP. Essentially, Seadrill Partners is being structured as a Master Limited Partnership that has an ownership stake in Seadrill Operating L.P. and Seadrill Capricorn Holdings LLC. Seadrill retains the other stake in these two operating units. Here is a diagram borrowed from Hype Zero's article that outlines the various stakes held by the two entities: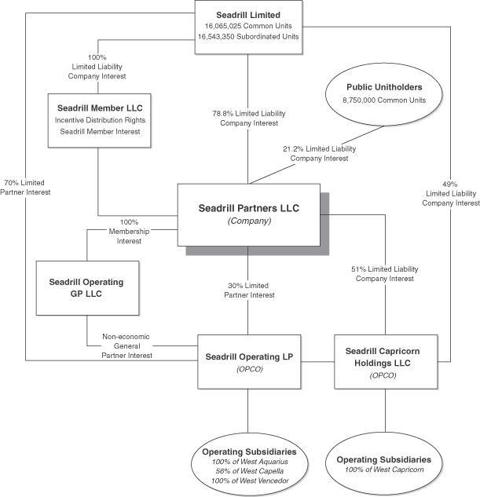 Source: Hype Zero
Through its stakes in the two operating units, Seadrill Partners will have partial ownership of four rigs:

Source: International Hedges
As is immediately apparent, there is a significant amount of diversity of rig types and geographic diversification here. However, there are also no apparent efficiencies or synergies. This is different from another equity carve-out that Seadrill performed last year when it created North Atlantic Drilling (OTCPK:NATDF). In that case, all of the rigs were in the same general region so there was an obvious relationship there. In the case of Seadrill Partners, the company may have slightly higher proportional costs due to the need to manage a small number of rigs deployed all over the world.
This MLP does have some beneficial effects for Seadrill. The first of these is liquidity and the freeing up of capital. The IPO is expected to raise $192.5 million. This cash will go to Seadrill. An additional $28.9 million could be raised if the underwriters' over-allotment option is exercised. This is cash that Seadrill can immediately use to strengthen its balance sheet or for other purposes. Additionally, Seadrill will also own approximately 16 million common units and 16.5 million subordinate units of the partnership. These units represent liquid assets that Seadrill could easily sell onto the market should it need money quickly. The company could never sell off a rig as rapidly as it could these partnership units.
Seadrill will also reduce its liability risk with respect to the rigs that are owned by the two operating units of the partnership. However, it is not particularly clear what the company is reducing its risk from. For example, there is wide speculation that one of the main reasons for the formation of Seabras, Seadrill's Brazilian subsidiary, is to protect Seadrill itself from liability risks arising out of Brazil. As the rigs owned by Seadrill Partners are located throughout the world, there is no obvious protection from regime risk here. The formation of this MLP will offer Seadrill some protection against liability (for example, if an accident occurs involving one of these four rigs) due to the new ownership structure which is ultimately beneficial to Seadrill shareholders. It is not apparent what risk the company is trying to protect against, though.
Hype Zero did an excellent job of explaining the MLP's dividend structure. Essentially, dividend payments will be made first to the holders of the common units up to $0.3875 per quarter plus any arrearages from previous quarters. The holders of the common units include anyone that buys the publicly traded units as well as Seadrill itself. After this payment is made, Seadrill Partners will make a payment to the holders of the subordinated units (initially only Seadrill itself) of up to $0.3875 per share. If any money is left over after that, then Seadrill Partners will make equal payments to the holders of both the common and subordinate units until all unit holders have received a total distribution of $0.4456 per unit. Any payments in excess of that amount will result in the holders of the incentive distribution rights (initially a subsidiary wholly owned by Seadrill) will receive increasing percentages, up to 50%, of the excess cash. This structure ensures that Seadrill will receive most of the cash generated by Seadrill Partners.
Seadrill Partners expects to pay total distributions of $1.62 in 2013, corresponding to a 7.4% yield at the IPO price. Since Seadrill itself yields 8.1%, the MLP has no yield advantage. At first, I had some concerns regarding the tax implications of Seadrill Partners' MLP structure. As long-time MLP investors are no doubt aware, MLPs pay no tax at the corporate level. Instead, MLP distributions are taxed at the individual tax rate. There is a caveat here, however. Due to depreciation allowances, a large percentage of the income received may be tax deferred and considered return of capital. While this does have some advantages, there are also some disadvantages including the increased reporting requirements and the fact that MLPs do not always play well in vehicles such as 401k's and IRAs. Seadrill Partners took a different route, however. Philip Trinder, president of MLP Protocol, posted a comment to Hype Zero's article that said that Seadrill Partners has elected to be taxed as a C-corp. This effectively removes the problem with putting the investment into a tax advantaged account. However, there are still MLP aspects here. For starters, a portion of the distributions received will be return of capital for tax purposes and thus non-taxable. The remaining portion will be taxed as dividends. Seadrill Partners estimates though that the majority of the company's distributions will be considered return of capital. An article by IPOdesktop discusses the tax details in more detail. Seadrill Partners does, therefore, enjoy some tax efficiency compared to Seadrill although its yield is lower.
The article by IPOdesktop discusses some of the growth opportunities that Seadrill Partners has. These opportunities include the possible acquisition of new rigs from either Seadrill's or a third-party's fleet and increasing the partnership's interest in the operating units. However, since Seadrill is by far the largest unit holder in Seadrill Partners, then shareholders of that company will also benefit, albeit indirectly, from positive developments at the partnership.
Overall, Seadrill Partners appears to be a fairly decent pass-through vehicle for investors interested in a tax-deferred way to invest in the rapidly growing offshore drilling industry. Seadrill itself appears to be the better investment unless the advantages of the MLP structure are critical. Shareholders in Seadrill will benefit, albeit indirectly, from any positive developments at Seadrill Partners. Seadrill also carries a higher dividend yield than Seadrill Partners, although without the tax-deferral feature, and offers much more potential for dividend growth.
Disclosure: I am long SDRL. I wrote this article myself, and it expresses my own opinions. I am not receiving compensation for it (other than from Seeking Alpha). I have no business relationship with any company whose stock is mentioned in this article.