What was it that made Ben Graham's investment ideas stand out? Not the mere notion of buying low and selling high. More the notion of buying cheap assets and selling expensive assets, or looking for large gaps between a stock's worth and its price - Graham's so-called MARGIN OF SAFETY.
Benjamin Graham always tried to buy stocks that were trading at a discount to their Net Current Asset Value. In other words, he would buy stocks that were undervalued and hold them until they became fully valued. As Graham wrote (in The Intelligent Investor):
The determining trait of the enterprising investor is his willingness to devote time and care to the selection of securities that are both sound and more attractive than the average. Over many decades, an enterprising investor of this sort could expect a worthwhile reward for his extra skill and effort in the form of a better average return than that realized by the passive investor.
Whitestone REIT: A Buy Low, Sell High Model
In the commercial real estate market, most people have been taught from an early age that to make money, they must buy low and sell high. While that is a simple concept, it is very difficult to know exactly what is low and what is high because the marketplace is always changing. In addition, making good investments also requires being able to hold onto those investments during both good and bad times.
In my quest to find a REIT with that so-called "buy low, sell high" value proposition, I decided to check out this "Grahamian-like" company based in Houston by the name of Whitestone REIT (NYSEMKT:WSR). Whitestone, with a market cap of around $218 million, was a non-listed REIT for around ten years (founded in 1998) and the company listed its shares in August 2010. The small-cap REIT has a primary business objective "to increase shareholder value by acquiring, owning and operating Community Centered Properties™."

The company's trademark Community Centered Properties™ brand has a unique and attractive element in that the company's value proposition is to "turn around" properties and seek to add value through renovating and re-tenanting properties to create Whitestone-branded Community Centered Properties™. The company seeks to accomplish this goal by (1) stabilizing occupancy, with per property occupancy goals of 90 percent or higher; (2) adding leasable square footage to existing structures; (3) developing and building on excess land; (4) upgrading and renovating existing structures; and (5) investing significant effort in recruiting tenants whose goods and services meet the needs of the surrounding neighborhood. (source: Whitestone REIT website).
In addition, Whitestone seeks to expand its geographic diversification by strategically acquiring commercial properties in high-growth markets. The company's acquisition targets are located in densely populated, culturally diverse neighborhoods, primarily in and around Phoenix, Chicago, Dallas, San Antonio and Houston, five of the top 15 markets in the U.S. in terms of population growth.
The U.S. Shopping Center sector is a very large and broad market with a high level of fragmented ownership. According to ICSC, there are over 102,000 shopping centers in the U.S. representing over 7.3 billion square feet of gross leasable area, or 47% of total retail GLA in the U.S.
Whitestone stands to increase its insignificant market share by being a consolidator (in a highly fragmented industry) of financially distressed properties and to broaden its competitive strengths of turning around troubled shopping centers. Although buying value-add shopping centers is somewhat of a niche investment strategy, the model is scalable and produces exceptionally high returns.
Whitestone has around 44 properties (as of Q2-12) in three states; and with assets of $256 million (Q2-12) and a market cap of $218 million, the REIT is one of the smallest shopping center REITs in the retail sub-sector.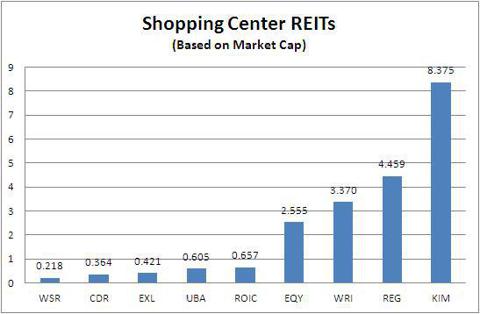 Recently Whitestone announced the acquisition of Village Square at Dana Park, a 71 percent leased 310,979 square-foot community center in Mesa, Arizona. This $50.5 million purchase increased the company's assets by around 20 percent and the highly opportunistic transaction includes six developed pad sites and 4.7 acres of expansion land to accommodate around 200,000 square feet of leasable space. The purchase price for the Center, which has in-place cash flow, was an all-cash, all-inclusive transaction, and represents a 45 percent discount to estimated replacement cost.
Spanning 61 acres, the 71 percent leased center comprises 292,714 square feet of open-air retail and service shopping space, with a second-story office space venue of 18,265 square feet. Tenants at the center include AJ's Fine Foods, Barnes & Noble (NYSE:BKS), Z Gallerie, Anthropologie, Coldwater Creek, Jared Galleria of Jewelers, Chico's, California Pizza Kitchen, White House Black Market, Bath & Body Works, Talbots, AnnTaylor Loft (NYSE:ANN), Five Guys Burgers and Fries, RA Sushi, Sauce and Pei Wei.
Following the deal, Whitestone now owns more than 1 million square feet of lease space in Greater Phoenix in 12 community centers. The recently announced Village Square transactions was a core addition to Whitestone's portfolio, as explained by the company's Chairman and CEO, James C. Mastandrea:
Because Village Square is in close proximity to out other Mesa/Gilbert are Community Center, Gilbert Tuscany Village, we expect to benefit from some economies of scale through our in-house management and leasing team. Because of the internal strength and experience of Whitestone's team of associates, the acquisition of Village Square at Dana Park was accomplished at an accelerated pace from contract to execution, through due diligence to closing in 30 days.
Whitestone also recently announced another "buy low, sell high" deal with the acquisition of Fountain Square, a 118,209 square foot Community Center in Scottsdale. This was an all-cash deal for $15.4 million ($130 per square foot), representing a 49 percent discount to the estimated replacement cost. Much like Village Square (in Mesa), Fountain Square is value-add opportunity with current occupancy at 76 percent. As Mastandrea explains in a September 24, 2012 press release:
The vacancies since '08-'09 recession are primarily due to restricted and limited funds from the court appointed receiver to pay tenant improvements and leasing commissions. The upside opportunity in this property is filling the vacant space and creating a Whitestone feature of a primary Community Gathering Place, as the approximately 12 acre property already has an inviting Southwestern Spanish style architecture and design that simply needs some fresh paint and tender love and care.
Whitestone: Building a Powerful Platform of Occupancy
Whitestone has almost 1,000 tenants that occupy over 4 million square feet of retail space. The company's diverse tenant base is concentrated on a variety of categories such as medical, educational, and casual dining. The Whitestone tenants tend to occupy smaller spaces (less than 3,000 square feet) and, as of June 30, 2012, provided a 60 percent premium rental rate compared to the larger space tenants. The largest of Whitestone's tenants comprise less than 2 percent of the company's revenue: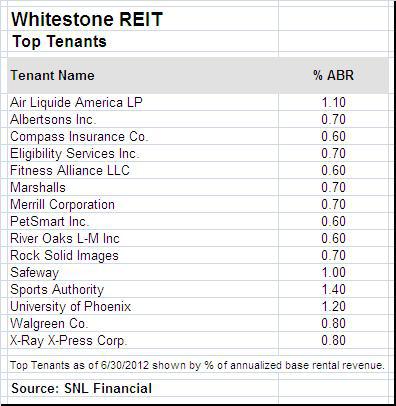 One of the biggest attractions to Whitestone is the opportunity for the company to grow occupancy by acquiring partially vacate centers and then growing revenue by re-developing, re-positioning, or re-leasing. That multi-tiered strategy has been working well for Whitestone as the company announced (Q2-12) that its occupancy increased 6 percent to 87 percent, the highest it has been since the company's IPO.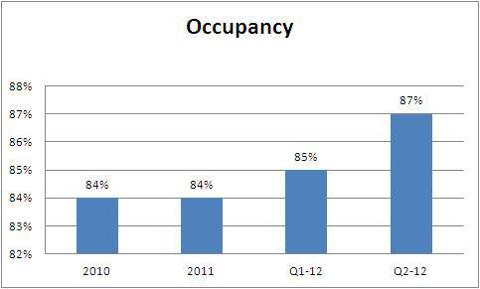 Whitestone REIT: Small Cap, Powerful Dividend
Whitestone currently has 15 properties that are not mortgaged. The company may seek to add mortgage indebtedness to existing and newly acquired unencumbered properties to provide additional capital for acquisitions. As a general policy, Whitestone intends to maintain a ratio of total indebtedness to undepreciated book value of real estate assets that is less than 60 percent.
As of the last reporting period (Q2-12), Whitestone had $140 million in total debt that consists of $24 million unsecured and $116 million in secured (mortgaged) debt. With a debt to market cap of around 44 percent, Whitestone has a moderate amount of debt and that allows the REIT to utilize higher leverage and produce higher returns (than the peer group).
By acquiring properties at higher cap rates (8 to 10 percent) and by utilizing moderate debt, Whitestone has been able to generate considerable cash flow (FFO) resulting in exceptionally high dividend yields. Whitestone has a current dividend yield of 8.8 percent - over two times the NAREIT all equity index of 3.35 percent and the shopping center weighted average of 3.55 percent.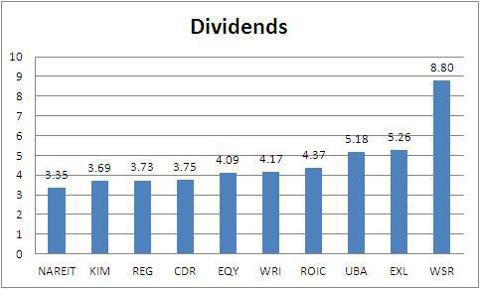 Whitestone REIT: Trading at a Discount to NAV
Much like Whitestone scouts the universe looking for undervalued shopping centers with potential, investors are also seeking undervalued companies with similar growth. Coincidentally, REIT investors should take interest in Whitestone as the small-cap REIT is trading at a discount of around 12 percent to NAV. That equates to a target price per share of $15.00 and a recent closing price of $12.95. BMO Capital Markets has an outperform rating on Whitestone shares and the company considers $14.71 to be an attractive pricing point.
Whitestone REIT: Consider the Risk and Return
In summary, I believe Whitestone REIT offers a compelling value proposition with an above average dividend yield (8.8 percent) and shares that are discounted to NAV. However, investors must also consider the fact that Whitestone is a fairly new public REIT (IPO in 2010) and the company has not maintained a long track record of dividend performance. Here is a snapshot of the dividends paid to date (since the IPO):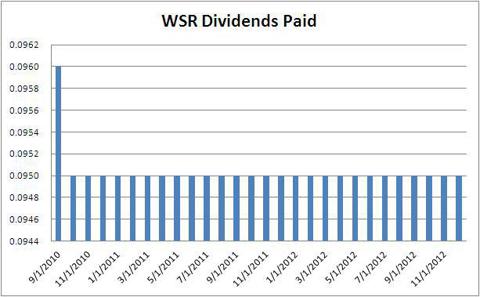 The revenue model is highly susceptible to risks as the shopping centers that Whitestone acquires are often distressed and in need of considerable amounts of capital. Just because the company buys assets substantially below replacement cost does not guarantee consistency in performance. Also, many of the Whitestone tenants are non-investment grade and the leases are generally shorter than ten years (excluding extensions). So there is a risk premium to consider whereby some of the larger peers have a considerably higher level of investment grade tenants with longer-term leases. Most importantly, Whitestone does not have a long track record for paying, maintaining, and increasing dividends.
At the end of the day, I like Whitestone and I would recommend a smaller allocation in the form of a yield-enhanced income strategy. In fact, I intend to update my Salsa portfolio in a few days, and I intend to swap out my position in American Realty Capital Trust (NASDAQ:ARCT), yielding 6.08 percent, for Whitestone yielding 8.80 percent (it appears that ARCT will be merging with Realty Income (NYSE:O)). Note that Whitestone REIT dividends are paid monthly so there is an added opportunity to compound monthly (vs. quarterly) and redeploy the dividend income into other stocks or the Whitestone DRIP plan.
Peer Shopping Center REITs mentioned in this article: (NYSE:KIM), (NYSE:REG), (NYSE:CDR), (NYSE:EQY), (NYSE:WRI), (NASDAQ:ROIC), (NYSE:UBA), and (NYSE:EXL).
Source: SNL Financial and NAREIT
Disclosure: I have no positions in any stocks mentioned, and no plans to initiate any positions within the next 72 hours. I wrote this article myself, and it expresses my own opinions. I am not receiving compensation for it (other than from Seeking Alpha). I have no business relationship with any company whose stock is mentioned in this article.