Shares of Colgate-Palmolive (NYSE:CL) are trading up, gaining slightly more than 10% since our last look at the company in mid-June. This is in-line with the S&P 500 performance during the same period (see graph). While the company continues to gain share in the toothpaste market and benefit from its exposure to emerging markets, its margins growth have worsened slightly.
In addition, Colgate-Palmolive issued net $400 million in debt, which the company would likely keep to repurchase more shares or use for another acquisition. With any new acquisition, there are risks, as well as with over-leveraging a balance sheet.
Finally, Colgate-Palmolive entered into a partnership with Japan-based Omron Healthcare to develop and sell electric toothbrushes among other oral care products. The electric toothbrush market is extremely competitive and already dominated by Philips' (NYSE:PHG) Sonicare and Procter & Gamble's (NYSE:PG) Oral-B (aka Braun). This new venture is risky, as Omron has limited experience in dental healthcare and potential benefits are likely to be realized in a few years. The article will discuss why these recent developments could mean caution for investors in Colgate-Palmolive shares.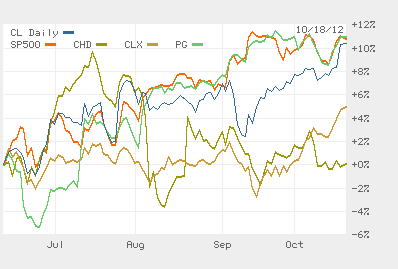 Fundamentals
Colgate-Palmolive reported strong revenues of $4.3 billion in the second quarter ended June 30, 2012, a rise of 2% from the same quarter last year. Organic sales grew by 8%, but the sales increase figure was lower due to negative currency effect and divested businesses. Operating profit increased by 1%. Importantly, organic sales in emerging markets grew by 13% compared to 2.5% in developed ones. For comparison, Clorox (NYSE:CLX), Church & Dwight (NYSE:CHD), and Procter & Gamble reported, for their quarters ending June 30, 2012, year-over-year sales increases of 4%, 3.2%, and -1%, respectively. At the same time, their operating profits, compared to the same period last year, rose by 3.5%, 3.9%, and 4% for Clorox, Church & Dwight, and P&G, respectively. It appears that Colgate-Palmolive is not able to translate its top line growth into bottom line growth as successfully as some of its competitors did in the latest quarter.
In terms of size, Colgate-Palmolive has a market capitalization of about $51 billion, placing it after P&G ($189 billion) but ahead of Clorox ($9.7 billion) and Church & Dwight ($7.3 billion). Colgate maintains a worldwide leading position in toothpaste (45%) and manual toothbrushes (32.8%) sales. It could become increasingly difficult for Colgate to gain market share and, as discussed above, even if its sales increase, the company may not be able to improve its margins.
While Colgate-Palmolive will likely continue to grow sales, this growth is already factored in the share price. The company, according to Capital IQ, has a price to earnings to growth ratio (PEG ratio) of 2.5. This is more expensive compared to PEG ratios of 2.1, 2.1, 2.0, and 2.1 for Clorox, P&G, and Church & Dwight, respectively. Also, Colgate-Palmolive has one of the highest PE ratio (20.6) based on current fiscal estimated earnings compared to 17.6, 22.2, and 17.8 for Clorox, Church & Dwight, and P&G, respectively. The PE ratio of the average member of the S&P 500 index is 14.
Debt
Colgate-Palmolive issued net debt of $400 million in the most recent quarter, which does not seem to have a clear corporate goal except to leverage the balance sheet and take advantage of negative real interest rates. Colgate-Palmolive is able to issue 10-year bonds at a cost of about 2%, which is in line with CPI increase in the United States. No matter the economic situation, people will continue to use toothpaste and Colgate-Palmolive should not have a problem adjusting its price for inflation. However, as shown earlier, the company's ability to grow sales and margins may be reaching a peak. A continued global slowdown, stagflation, and/or an increase in competition could have an opposite effect by increasing interest expenses without generating higher sales and profits. Colgate-Palmolive may be intending to use the additional debt for acquisitions, but this also bears significant risks.
Omron Partnership
Colgate-Palmolive has grown in the past by expanding internationally and through acquisitions and has never launched a completely new product on its own. The latest partnership with Omron to develop and sell electric toothbrushes marks a change in this strategy. The outcome of this partnerships as well as its terms are not clear, and investors do not like uncertainties.
Power toothbrushes are gaining popularity as dentists continue to recommend them and a number of studies show that power toothbrushes with a rotation oscillation reduce plaques and gingivitis more effectively than manual toothbrushes. In addition, electric toothbrushes are more convenient as they require less effort and most have a timer.
However, entering the electric toothbrush market could prove a mistake for Colgate-Palmolive. This may also have an unintended consequence of increasing the competition in the dental care market by other toothpaste manufacturers entering the electric toothbrush market and vice versa. For example, Arm & Hammer, which is sold by Church & Dwight, may enter into a partnership with General Electric (NYSE:GE), which was one of the first manufacturers of electric toothbrushes when they were first introduced. Similarly, Aquafresh may decide to enter the electric toothbrush market with an electronics company. And Philips could decide to enter the toothpaste market alone or with neighboring Unilever (NYSE:UL). In fact, Philips already entered the professional tooth whitening space with its acquisition of Discus Holdings in late 2010. Colgate-Palmolive's attempt to enter a market, part of which it already dominates, could have negative effects on the company despite its established brand.
Conclusion
Dental hygiene is on the rise. Also, brushing twice a day from as young as a few months is now the norm in many markets. Without a doubt, Colgate-Palmolive is benefiting from these trends, and its strong grip on the domestic and emerging markets will likely continue for the foreseeable future. However, its share price increase could take a pause. Three main reasons are an erosion of profit margin growth, issuance of additional debt without a clear necessity, and a new partnership to enter the electric toothbrush market with Omron of Japan. Investors looking for stable and dividend paying stocks should exercise caution with Colgate-Palmolive.
Disclosure: I have no positions in any stocks mentioned, and no plans to initiate any positions within the next 72 hours. I wrote this article myself, and it expresses my own opinions. I am not receiving compensation for it (other than from Seeking Alpha). I have no business relationship with any company whose stock is mentioned in this article.