The Story:
To investors like me who were hard at work playing video games in the 1990s, Sonic the Hedgehog reminds us of a feisty blue hedgehog who ran at supersonic speeds and curled up into a spiky ball to attack enemies. To scientists working at Genentech/Roche (RHHBY.PK) and Curis (CRIS), who at the same time were hard at work in labs finding potential treatments and cures for cancer, the name "Sonic Hedgehog" conjures up an entirely different image.
In the world of biotech science, "Hedgehog" is referred to as a cellular communication "signaling" pathway that plays a vital role in the growth and differentiation of new cells. (The Sonic Hedgehog happens to be one of the 3 proteins in the Hedgehog pathway, but that is not much related to the topic of this article). Scientists at a company named Genentech, now owned by large Swiss pharmaceutical company Roche (OTCQX:RHHBY), realized in 1996 that hedgehog pathway signaling has the potential to be inhibited and even reversed, not only in healing wounded cells, but also in cancer cells.
This realization led to a $250 million dollar deal known as "the Hedgehog deal" between Genentech and a very small biotech firm, Curis, which was also working on cutting edge molecules to disrupt signaling in the hedgehog pathway (See BioWorld Today, June 12, 2003). Genentech, now Roche, had at that point licensed from Curis, its novel small molecule and antibody inhibitors of the Hedgehog signaling pathway.
Activation of the hedgehog pathway has been implicated in the development of cancers in various organs, some of which include pancreatic, small-cell lung, and skin among others. Basal cell carcinoma, the most common form of cancerous malignancy, has the closest association with hedgehog signaling.
In January 2012, after nearly fifteen years of clinical studies and proof of efficacy, Genentech was granted FDA approval to market Erivedge as the first ever hedgehog inhibitor to treat advanced basal cell carcinoma.
The Stock:
Curis is a small cap biotech stock with tremendous near term upside potential. In many analysts' opinions, the market has not yet realized the earnings potential and scope of the new drug Erivedge. In coming months, Curis has a ready set stage to benefit from a long string of international approvals, large phase II study results, multimillion dollar milestone payments from Roche, and rapidly growing royalty payments that may immediately propel CRIS to prices exponentially higher than where it sits today. Earlier this week, Roche reported that YTD sales figures for Erivedge in the US had already reached $19.5M, and have demonstrated a 44% weekly growth in prescriptions from Q2 to Q3. Keep in mind that thus far the only approved indication for Erivedge is advanced non-operable basal cell carcinoma (NYSE:BCC) which accounts for less than 2% of the total market for BCC.
Later this year or in early 2013 Roche is expected to have the results of an ongoing large phase II study for Erivedge in treating operable less advanced BCC which affects a significantly larger patient population. Executives at Curis and outside analysts believe there is a very low risk that the phase II study will not yield positive results thus making Erivedge an attractive option for immediate use upon positive phase II results in an "off label" setting and in various cases of boarder line advanced, but still operable, BCC.
In April of this year, one segment of the operable BCC Phase II study was completed and had demonstrated very positive results. According to preliminary results of the study, clinical responses were seen in 96% of patients on Erivedge. 42% of these patients received complete histological clearance after undergoing an independent pathological review. Curis and Roche are both highly optimistic about the effectiveness of Erivedge in operable BCC because preliminary results overwhelmingly support the theory that Erivedge can drastically reduce the burden and size of a BCC tumor prior to surgery. Therefore, patients may have the benefit of a less invasive surgery with drastically reduced scarring and disfigurement.
Below is a chart that clearly demonstrates the scope and magnitude of growth potential for Erivedge in the coming 12 months. Keep in mind that for every new foreign approval and/or positive result from an ongoing study, Curis receives a large milestone payment from Roche. The milestone payment received in January of this year was $10M for the FDA approval of Erivedge in the US. Expect future milestones to each vary from $4M - $10M.
*When observing the chart below, consider what direction Curis' stock price will be heading in as each of those zeros become substantial dollar amounts - dollar amounts that will continue to grow from quarter to quarter at a rapid clip for many years to come. Roche is a pharmaceutical powerhouse with vast worldwide distribution networks that can quickly and effectively get newly approved drugs like Erivedge into the hands of healthcare providers. Again, Curis and Roche are the first biotech companies to bring an effective FDA approved "hedgehog pathway inhibitor" and treatment for non-operable BCC to the market.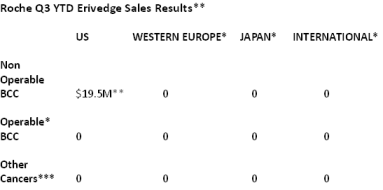 *Pending Approval by FDA or other foreign agency
**Revenue is received by Roche. Curis is paid 5-10% royalty of Roche numbers i.e Q3 YTD Curis Royalty = $.975MIL.
***Other cancers currently in phase II studies are pancreatic, small-cell lung, chondrosarcoma and gastroesophageal. In each of these, cancer growth is strong associated with the hedgehog pathway.
The Cherry on Top:
Adding to the allure of this currently undervalued stock is the promising pipeline of more first in class treatments that also target pathway signaling in cancer. Among the most exciting is CUDC-101, a molecule still wholly owned by Curis that has already shown promising results in phase I studies to treat large head and neck tumors. Adding to that is Debio 0932, a molecule licensed out to Debiopharm which will continue to generate milestone payments for Curis among positive clinical results. CUDC-907 is yet another pipeline drug developed by Curis that is showing hope in the treatment of leukemia and lymphoma. Curis has already received a $4M payment from the The Leukemia & Lymphoma Society in an agreement to continue developing CUDC-907 for the potential treatment of blood cancers with a high unmet medical need.
From the standpoint of financial health, Curis is sitting on about $44.7M in cash with less than $4M in short term liabilities. Considering the quarterly burn rate of approximately $7M spent primarily on R&D, management is confident they have enough funding to comfortably make it through 2014 without having to cut funding for ongoing R&D. Barring any major letdowns in clinical data or regulatory approvals, Curis is likely to become a major magnet for institutional investors far before they run out of cash.
As with any small cap biotech stock, there are substantial risks involved and most of the statements in this article are best-case scenario projections. Considering Curis has already assisted in the development of one product that has received FDA approval and has the full backing of pharmaceutical behemoth Roche, I consider this stock a speculative investment risk that's worth taking.
Disclosure: I am long CRIS. I wrote this article myself, and it expresses my own opinions. I am not receiving compensation for it (other than from Seeking Alpha). I have no business relationship with any company whose stock is mentioned in this article.