Last week was a tumultuous one for earnings news. My prime focus rested on Google (NASDAQ:GOOG) and Chipotle Mexican Grill (NYSE:CMG). I used different methods to trade each one and learned different lessons for each one that can be applied for future earnings trades.
Google
GOOG was a stock that had a lot of momentum off the summer lows although it still trailed the NASDAQ (NASDAQ:QQQ) year-to-date. Ironically, GOOG finally caught up to the NASDAQ just as it peaked at its last all-time high on October 4th.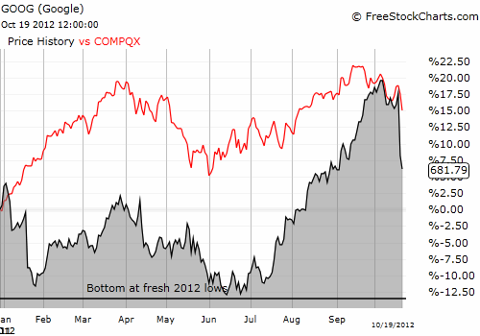 Google raced to catch up to the NASDAQ year-to-date from summer lows, only to drop near flatline post-earnings
GOOG hit all-time highs for the first time since 2007 on September 24th. Over the next two days, open interest in the October $800 calls surged. As I pointed out before GOOG reported earnings, this indicated either traders trying to chase GOOG on momentum (the "buy high, sell higher" crowd) and/or a rush of major GOOG holders to sell premium while the getting was good. Either way, it presented the intriguing possibility of a pivot around $800 for earnings. I opened a strangle position as GOOG sold-off to support at the 20DMA with that pivot in mind: an Oct $785 call and an Oct $705 put promised profit assuming the market was going to drive GOOG to a minimum of $800. I also assumed that if GOOG disappointed, the stock would easily fall to $700 or lower and at least minimize my losses.
I also figured I would get the added bonus of an "early exit" option with profit from an increase in implied volatility. As I described in "Google's Pre-Earnings Mystery At $800", implied volatility (IV) plunged instead. I belatedly examined that actual data and discovered that IV does not always increase ahead of GOOG's earnings.
From there, I had only the potential $800 pivot and quick trades shorting options against the strangle. The rest is history as GOOG plunged as low as $676 when earning were released early before the close. Relieved, I closed out the put side of the strangle (I tweeted the trade, using my #120trade hashtag, since I had just written about the strangle several hours earlier).
As much as I try to rely on data for formulating earnings trades, I learned that it is still easy to act on assumptions ahead of the evidence. I also learned once again the importance of context. Under normal circumstances, that surge in open interest at the Oct $800 call could have been interpreted as bullish. However, the context of coming at an all-time high on the heels of a 30%+ run nearly straight up from the year's lows turned out to be a red flag, a lasting top. Instead of a confirming signal, it was quite a contrarian one, a sign that excitement about GOOG's mysterious run-up had reach a climax.
GOOG's earnings delivered a lot of disappointment over slowing momentum, lower than expected revenues and earnings, etc… but one thing I found very interesting from the numbers is that GOOG managed to sharply increase its revenue per employee in the quarter. This ratio understandably plunged after Google acquired Motorola Mobility. If GOOG continues to drive these kinds of productivity gains, there is plenty of hope for a GOOG rebound in the near future.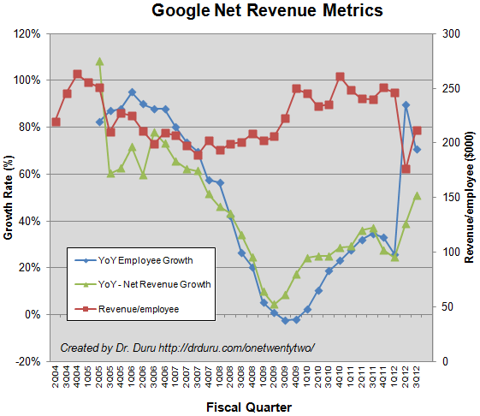 Google Net Revenue Metrics
Source: Google earnings reports
Chipotle Mexican Grill
With CMG, I applied my typical earnings trade template. The data were not as conclusive as I like for initiating a trade. However, I felt like CMG had a lot of potential for another big post-earnings move, so I strained to find some rationale for a trade. Given the higher than desired uncertainty, I set a high bar for making a trade: a +/- 1.5% close ahead of earnings. The strategy was to trade opposite the direction of the close. CMG closed down 1.4%, saving me the loss of making a bullish trade ahead of what turned out to be a 15.0% collapse. At least my more conservative strategy for following the post-earnings momentum worked out fine with CMG opening down about 12%.
The lesson from CMG was quite clear: do not make a trade when the data do not ring loud and clear. All the successes I have had with the earnings trade template have come with the clarity of corroborating evidence. CMG was my first attempt at pushing the envelope and even establishing rules on the fly. The most resounding success was the first time I applied the template back in April with Apple. Going forward, that kind of clarity will remain the standard for deciding when to actually pull the trigger.
In the meantime, CMG remains an intriguing trade. CMG's board approved a whopping $100M in additional firepower for repurchasing shares on top of the $34.7M that remains available. While this purchasing power is not nearly enough to ignite a short squeeze, the announcement at least indicates the possibility of imminent support for the stock. Until that support arrives, shorts will remain vindicated and in control. I will be looking for the first signs that shorts are finally closing out of positions.
Be careful out there!
Disclosure: I have no positions in any stocks mentioned, and no plans to initiate any positions within the next 72 hours. I wrote this article myself, and it expresses my own opinions. I am not receiving compensation for it (other than from Seeking Alpha). I have no business relationship with any company whose stock is mentioned in this article.