The Coca-Cola Company (NYSE:KO) (可口可乐, hopefully "Coca-Cola" in Chinese) made headlines Wednesday as they announced intent to acquire Chinese juice maker China Huiyuan Juice Group Ltd. for approximately $2.5 billion. This would be the second largest acquisition in Coke's long and storied history. Coke's largest acquisition was for the non-carbonated beverage lines of Energy Brands, aka Glaceau, makers of Vitamin Water. Even more noteworthy, if it passes Chinese regulators, it would be the largest purchase of control of a Chinese company by a foreign company. This is clearly further evidence that Coke is trying to diversify away from carbonated soda drinks for healthier non-carbonated drinks. Chief among the reason for this shifting focus is that soda simply does not demonstrate the same growth potential as the non-carbonated drink market. (For more on this strategy, look at our Feb 13th post Coke's Strategy Moves Away From the Fizz).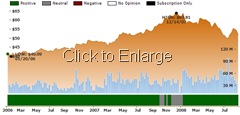 Coke is also trying to capitalize on the buzz generated by heavily marketing Coca-Cola during the Beijing Olympic Games. Coke has for many years been a huge advertising presence in the Olympics, but they outdid themselves with this marketing effort. Already a successful global band—perhaps the global brand with more than 60% of sales from overseas— Coke appeared to be successful in gaining traction in the Chinese market through ads, sampling stations, and even signing hugely popular Yao Ming to an endorsement deal. Coke has not released spending on the games yet, but some estimates are as high as $400 million. We think it's a smart strategy tying your brand to the Olympics, in the world's most populous country with an almost unanimous sense of pride over hosting the games. This deal for Huiyuan Juice Group—industry leader in Chinese fruit juices with nearly 11% of China market share—further reveals how important China is to Coke's global growth strategy.
We think this deal makes strategic sense, and the wildcard now is will Chinese regulators allow the deal to do through. Coke is trying to incentivize the shareholders with an offered price of 12.20 Hong Kong dollars, nearly 300% of the previous day's closing price. Furthermore, Coca-Cola has agreed to pay all convertible bonds and options. The shareholders have already secured the 66% needed to approve the purchase.
As you will notice from our ratings history chart, we have been positive on Coca-Cola for quite a while now. Some have said that Coke was late on the bandwagon for healthier drinks domestically, but they are not making that mistake internationally. Coke will remain a dominant player in the soft drink space, but they are now diversifying their product mix appropriately. So, the story sounds good, but the valuation is just as compelling. For instance, Coke has rapidly increased revenues, as sales have grown 47% since 2004. However, the market has yet to price in this growth as KO price-to-sales has traditionally ranged between 4.3x and 5.8x, but the current level is only 3.7x. Price-to-cash flow has normally ranged between 17.8x and 24.2x with the current metric slumping at 14.3x. We see the long term price appreciation potential to be in the range of $63-$74 to bring KO back into more normal valuations.
For more on Coke, see our pick for Forbes.com Stock of the Week from 7/2/08.