With the upcoming releases of the upcoming ARM (NASDAQ:ARMH) compatible Windows RT, there will be an expansion of the TAM for system-on-chip solutions that are compatible with the ARM instruction set. While there have been non-x86 compatible versions of Windows available in the past, Microsoft (NASDAQ:MSFT) had not traditionally marketed these devices at anything but niche markets.
Now, the ARM based chips do not formally compete with the higher end Intel (NASDAQ:INTC) "Core" processors but are worthy adversaries to the chip-giant's "Atom" line of low end solutions as Intel has not yet aggressively applied its technological advantages to this line of processors. Until Intel aligns its process technology roadmap as well as its microarchitectural prowess to offer a more obvious competitive advantage in the tablet space, the following ARM system-on-chip designers (and their partners) should score some nice design wins in the Windows tablet space over the next year.
1. Qualcomm (NASDAQ:QCOM)
Qualcomm is the leading developer of semiconductors for communication products, including smartphones and tablets. In 1H 2012, Qualcomm captured 48% of the smartphone applications processor market, taking the top spot: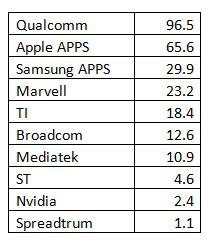 With the upcoming release of the Windows Phone 8 phone ecosystem (all of which are powered by Qualcomm), as well as a very competitive tablet oriented system-on-chip with its Snapdragon S4 Pro, the company should see continued strong performance after the Windows 8 launch.
2. Nvidia (NASDAQ:NVDA)
Taking a look at the above smartphone apps processor market share in the above, it would seem that Nvidia's "Tegra 3" lags in that smartphone space. While I believe that Nvidia's competitive position in the smartphone space is poised to improve significantly with the release of its "Grey" smartphone platform, which combines an LTE, next generation graphics, and the ARM Cortex A15, the real focus in the near term will be on Nvidia's tablet strategy.
The "Tegra 3" has seen fairly strong adoption in the Android tablet space. It currently powers the ASUS Transformer, the Google (NASDAQ:GOOG) Nexus 7, and a number of others. More importantly, though, in the Windows RT ecosystem, the Tegra 3 has the high profile "Surface RT" win with Microsoft, the Lenovo Yoga 11, the ASUS Vivo Tab RT, and others.
3. Taiwan Semiconductor (NYSE:TSM)
While the former two semiconductors are fabless design houses, someone needs to actually build these chips. That's where Taiwan Semiconductor comes in. Now, this company has a pretty interesting problem: it simply can't build enough 28nm wafers to satiate demand! Qualcomm and Nvidia both continually report supply shortages for its 28nm product lines, and have both reportedly signed on with Samsung as a second source as a result of the supply constraints.
The company will continue to make investments in future process nodes as well as expand its capacity to meet ever-increasing demand for foundry contracts, which means that even in a bad macro-economic environment for a number of chip makers, TSMC will still hit its revenue targets quarter after quarter as it simply is supply constrained.
More interestingly, reports suggest that Apple (NASDAQ:AAPL), due to its very strained relationship with Samsung as a foundry partner, is looking to move away from its rival for the next generation of its SoCs. This would suggest that either Taiwan Semiconductor or Intel will get Apple's business. While Intel is a direct competitor to Apple in the SoC space, Taiwan Semiconductor is a neutral party and therefore the most logical choice. Further, until Intel gets its SoC-optimized process technology on pace with its CPU-optimized process technology (currently Intel ships 22nm CPU and 32nm SoC), it offers not tangible advantage over Taiwan Semiconductor as an SoC manufacturing partner.
Disclosure: I am long INTC, NVDA, QCOM. I wrote this article myself, and it expresses my own opinions. I am not receiving compensation for it (other than from Seeking Alpha). I have no business relationship with any company whose stock is mentioned in this article.