As Scott Adams' Dilbert once pointed out, "shift happens." And that's what we're seeing in the ETF choices investors have for gaining exposure to the emerging markets sector. One new iShares fund will be launching this week, and one of the world's largest ETFs, the Vanguard Emerging Markets ETF (NYSEARCA:VWO), will be changing its benchmark index.
That's some major shift because according to xtf.com, VWO is the market's third largest ETF - ranking just ahead of the iShares MSCI Emerging Markets ETF (NYSEARCA:EEM).
VWO and EEM each track the same benchmark index, the MSCI Emerging Markets Index, so recent performance is essentially identical, but VWO is a lot cheaper - with an expense ratio of only 0.20% compared to 0.67% for EEM.
VWO's lower expense ratio appears to be attractive to investors because while EEM's volume has been declining over the past few years, VWO's volume has been surging as you can see on this chart: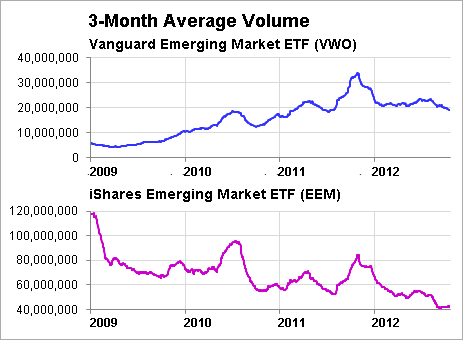 But over the next few months, VWO won't be an identical match for EEM anymore because Vanguard is making a significant change to its benchmark index.
From MCSI to FTSE: Vanguard changing its benchmark
In a move that will take several months to complete, VWO will be tracking a different index. Instead of tracking the MCSI Emerging Markets Index, VWO will begin tracking the FTSE Emerging Index.
Why the change? Cost appears to be the issue. Licensing an index costs money, so it will be easier for Vanguard to maintain its lower pricing - maybe even reduce fees - by making this change.
In an article by Index Universe, Vanguard spokesperson Linda Wolohan said, "this was a situation where we could line up some cost savings down the road for investors and still have a great benchmark provider."
But be advised, the FTSE index is not an exact replica of the MCSI version. The major difference is that the MSCI Emerging Markets index tracked by EEM includes South Korea, while that country is absent from the FTSE version.
You see, there's really no official definition of an emerging market. How far does a country have to "emerge" before it's "developed"? Both MCSI and FTSE look at such issues as a nation's economy, the liquidity of its publicly traded assets, market accessibility, etc., but in the end, it's a matter of opinion. Each committee decides on its own just which countries qualify as "emerging."
And the Korea difference could be significant according that Index Universe article:
The Korea difference is substantial and relates to how FTSE views the emerging markets investment universe.

"We classify South Korea as a developed country," said Jill Mathers, a FTSE spokeswoman in New York.

"Obviously not having companies like Hyundai, Kia and Samsung is a big difference," she added, referring to three South Korean companies that are at the center of the country's modern, high-tech economy.
There will be other differences, but they appear to be slight.
While their country exposures are also similar, FTSE's is broader, as it includes allocations to Pakistan and the United Arab Emirates-at 0.12 percent and 0.34 percent weightings-two countries not found in the MSCI Emerging Markets Index.

Still, both indexes hold China as their single largest country allocation at about 17 percent of the total basket. Their second largest country allocation is Brazil, but in FTSE it represents 16 percent of the total compared with 13 percent in MSCI's Emerging Markets Index.
Timing the VWO change: Meet the "transition index"
If you're thinking about trading between these two ETFs, consider that while "shift happens," it doesn't always happen immediately. In what I think is a pretty smart move considering that VWO is a $71 billion fund, the FTSE team is smoothing out any potential market disruption by creating a special FTSE Emerging Transition Index. This will provide Vanguard with some time to move VWO over to its new index:
The index will operate for approximately a six-month period, during which time all Korean companies will gradually be removed and the index constituents and weightings will be aligned with the official FTSE Emerging Index. The transition index will be made available a few weeks in advance of Vanguard beginning the transition.
If you want the nitty-gritty details, here's a PDF with a detailed overview of the process.
There's even a schedule of how the process will take place over a period that ends in March 2013. This chart shows how the index's exposure to Korea will decrease over the period: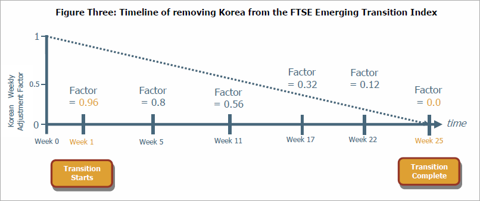 A few weeks ago, Barron's columnist Brendan Conway suggested that this index shift could offer a "Korean buying opportunity" as VWO is forced to sell shares of Korean equities during the transition period. This would impact Samsung most of all, considering that this company represents VWO's largest holding.
All told, Brendan says that Vanguard might need to "unload as much as $9 billion in exposure to South Korea's stocks sometime over the next several months" and that investors could take advantage of "rule-based selling that has nothing to do with company or country fundamentals."
Say hello to iShares' newest emerging markets ETF
The iShares team has been busy, too. It's launching its own new emerging market ETF, the iShares Core MSCI Emerging Markets ETF (NYSEARCA:IEMG), which begins trading this week.
Why do we need yet another emerging markets ETF from iShares?
Well, it appears as if IEMG is part of a new "core series" of funds, which according to this press release is designed "specifically with long-term buy-and-hold investors in mind" and to provide investors "access to some of broadest exposure available in the global equity universe today."
This fund has an expense ratio of only 0.18% (this includes a 0.06% fee waiver, which will extend to at least October, 2013) compared to 0.67% for the "regular" EEM fund iShares now offers.
Except for the substantial fee difference, I'm not sure how this "core series" ETF would be much more appealing to the "buy and hold" crowd than a fund like EEM. But there's another difference worth noting: While EEM tracks the MSCI Emerging Markets Index, the new IEMG fund tracks the MSCI Emerging Markets Investable Market Index (emphasis mine).
This version of the index does include Korea, but there are other differences. The new IEMG ETF will offer deeper exposure to smaller cap stocks than you get with EEM. While EEM tracks approximately 820 holdings, the new IEMG fund will track more than 2,600 emerging market companies, the additional stocks representing the smaller cap companies.
This graphic provided to me by iShares shows how the MSCI Investable Markets Index [IMI] compares to the so-called "standard" Emerging Markets Index tracked by EEM: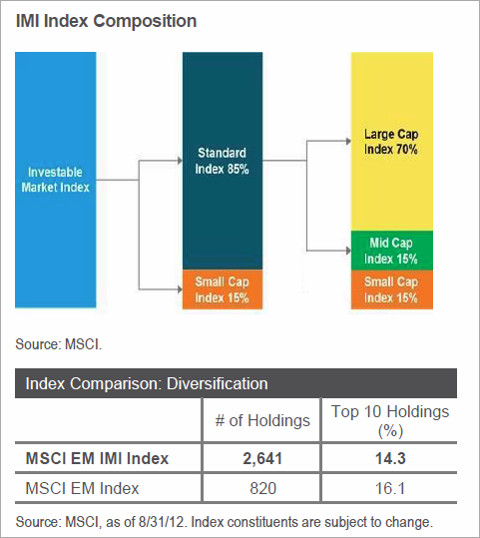 It's unclear, however, whether this will impact performance very much. As Barron's columnist Brendan Conway noted:
In theory, a broader fund should get a charge from more high-risk, high-reward growth companies. But investors who compare the deeper MSCI emerging-markets benchmark with its plain-vanilla cousin will find remarkably similar returns over time. In August (through the 30th), the standard index lost 0.85% while the broader benchmark lost 0.55%-a distinction that may be important to traders, but not long-term investors. Over three years, however, the difference shrinks to an annualized gain of 3.51% versus 3.67%.
Confused yet? Don't worry. It all gets even more confusing. Vanguard is shifting benchmark indexes not just for VWO, but for 22 of its funds (you can find the full list here) - obviously a move to help it win over investors who naturally want the lowest possible fees.
As for iShares, its new "Core Series" (PDF file) includes 10 ETFs, six that already exist plus four new ones. These funds will be relatively cheap with expense ratios ranging from 0.07% to 0.18% - all quite inexpensive compared to some of the firm's other offerings.
Bottom line?
If you own Vanguard's VWO, but want Korean exposure, you might consider holding your VWO and adding a Korea-specific ETF like the iShares South Korea ETF (NYSEARCA:EWY) as VWO's transition to the new FTSE benchmark index gets under way.
If you own the iShares EEM fund, you might consider switching over to the company's new "Core Series" IEMG ETF to save on fund expenses, but remember that the benchmark index is not the same in that it broadens its exposure to small caps.
And if you own South Korean stocks or the EWY Korea ETF, be aware that there could be more sellers than usual in the market over the months ahead as VWO divests its Korean holdings. But as Barron's Brendan Conway points out, that could represent a buying opportunity.
Brendan may be right, because when shift happens, sometimes you can actually profit from it.
Disclosure: I have no positions in any stocks mentioned, and no plans to initiate any positions within the next 72 hours. I wrote this article myself, and it expresses my own opinions. I am not receiving compensation for it (other than from Seeking Alpha). I have no business relationship with any company whose stock is mentioned in this article.