International Business Machines (NYSE:IBM) reported earnings on October 17th that managed to disappoint Wall Street. IBM is on track to grow its earnings by "only" 10% this year ($15.10), which led to a roughly 8% drop for the week.
In light of what I perceive to be a gift from the short sighted investing community I decided to take a fundamental look at the company and evaluate its prospects going forward. The article will consist of three main parts. The first part will discuss the four main drivers of its growth over the last decade, followed by a discussion on its outlook going forward. The article will conclude with a discussion of its defensive characteristics along with its "wide and defensible moat".
Year

2003

2004

2005

2006

2007

2008

2009

2010

2011

Operating margin

8.4%

11.3%

11.4%

10.3%

13.7%

15.4%

17.8%

18.2%

19%

Dividend per share

0.63

0.7

0.78

1.10

1.5

1.9

2.15

2.5

2.9

Shares outstanding

1,756

In mill

1709

1628

1554

1451

1382

1341

1287

1214

Earnings per share

4.32

4.93

4.87

6.11

7.18

8.93

10.01

11.52

13.06
Info provided by IBM.
The first criterion that I used to evaluate the company was its operating margin. As we can see from the table above IBM has managed to more than double its operating margin since 2003. IBM has successfully branched out from hardware to higher margin areas such as service and software which accounts for the significant increase in margins. I expect margins to grow over the coming years as more of the business mix switched to higher value items. I don't believe that margins will double again but will be in the 20s over the next 5 years.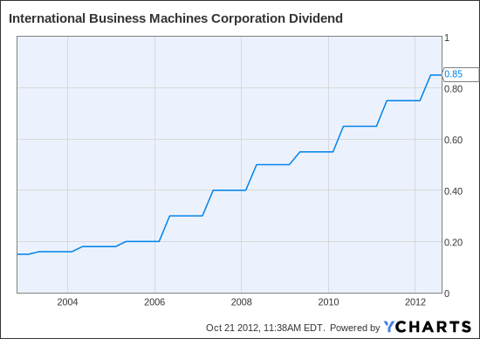 IBM Dividend data by YCharts
The second and third criterion that was used is shareholder friendliness. IBM scores very highly in this regard as witnessed by its consistently rising dividend and aggressive buybacks. IBM has managed to buy back over 30% of shares outstanding since 2003 while tripling its dividend. I am encouraged to invest in companies whose management doesn't consistently dilute current shareholders by issuing new shares and options. IBM has been much disciplined in this area, unlike its rival Cisco Systems (NASDAQ:CSCO). The one qualm I do have with management is that I would like to see a higher dividend payout. The amount of free cash flow that the company generates could easily support a higher payout (say a 2.5% yield).
The fourth criterion that was used is earnings not as an absolute number, but with regards to its consistency. As we can see from the above table, management has been able to grow earnings every year including the recession of 2008. This speaks well to the consistency of its sales and durability of the products it offers. Buybacks certainly help in this regard, as with fewer shares outstanding the earnings have to be divided over a shrinking base. The consistency of these earnings allows for the dividends and buybacks to continue on an uninterrupted basis, allowing them to compound year in and out.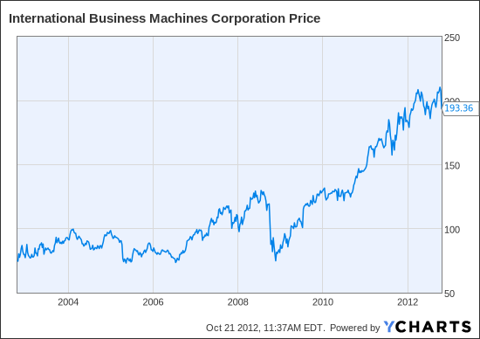 My long term outlook for the shares is to expect more of the same. On this quarter's recent conference call, sales in the United States were weak due to customers delaying purchases into the fourth quarter. Weak third quarter sales seem to be a reoccurring them from many companies in different fields. I believe this to be customers and businesses holding back spending a bit until after the results of the November elections. I believe that once the elections are over the cloud of uncertainty will be lifted, allowing business to return to normal.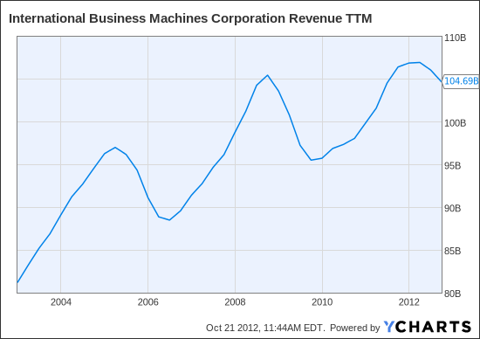 IBM Revenue TTM data by YCharts
I have dubbed IBM a wide moat company due to its consistency of sales and earnings along with its consistently rising operating margin. As we can see from the above table, IBM has been able to consistently grow its margin along with its sales due to the demand in the marketplace for its products. While IBM certainly doesn't lack competitors, I find its consistency along with its size (222 billion market cap) a tremendous competitive advantage that won't be overcome any time soon.
IBM's wide moat characteristic, along with its shareholder friendly policy is in my opinion the main reason why Warren Buffett began buying last year and currently holds a substantial portion of the shares outstanding. I believe he views IBM in a similar vein to Coca-Cola (NYSE:KO), another long time holding. Both exhibit dominance in their field, along with consistent earnings and revenue along with share buybacks and dividend boosts.
In conclusion, I view the recent sell-off as an excellent opportunity for a long term investor to establish a position in IBM. The shares will never be a high flyer, instead they will be a slow and steady producer that will allow a shareholder to compound wealth over a period of time.
Thank you for reading and I look forward to your comments.
Disclosure: I have no positions in any stocks mentioned, but may initiate a long position in IBM over the next 72 hours. I wrote this article myself, and it expresses my own opinions. I am not receiving compensation for it (other than from Seeking Alpha). I have no business relationship with any company whose stock is mentioned in this article.
Additional disclosure: Thank you for reading my article. The above article is for informational purposes only and not actual investment advise.