JPMorgan Chase (NYSE:JPM) and Wells Fargo (NYSE:WFC) reported record profits in their third quarter earnings from increased volumes of lending. As the housing market has slowly recovered, these two nation-wide mortgage lenders have "banked" in on the opportunity. With interest rates at ground level, individuals have turned to refinance their old mortgages with new record low rates. JPMorgan and Wells Fargo are responsible for 44% of mortgage lending according to Inside Mortgage Finance. This led to a 34% increase in profit at JPM during the quarter to $1.40 a share, and a 22% increase at Wells Fargo to 88 cents. These banks continue to experience high costs from poor lending during the crisis but exhibit a positive long term outlook.
The recent announcement of QE3 from the Federal Reserve has forced interest rates to hit record low interest rates near zero, where they are expected to remain until mid-2015 according to Chairman Ben Bernanke. These low rates will keep profit margins minimal for bank lending, forcing them to depend on transaction fees to raise revenue. Low interest rates have caused a plethora of refinancing on individual mortgages, resulting in large profits from origination fees. The biggest fear for investors and bank executives is - what will happen in the future when refinancing stops, possibly cutting down into both banks' profits. Though lending was up 57% at JPMorgan during the third quarter, 75% of mortgages originated were refinanced rather than new mortgages.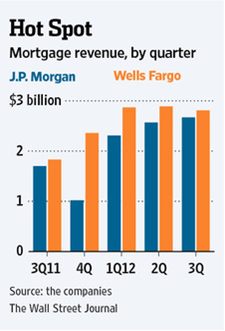 Improving conditions in the housing market will cause an increasing amount of mortgages being originated rather than refinanced as the economy continues to progress.
Recent increases in housing prices have led to a decreasing amount of foreclosures in recent quarters; however, many individuals still owe more on their mortgages than their houses are actually worth. Housing prices remain 20% lower than their peak during 2006, meaning banks likely still hold a magnitude of troubled assets on their balance sheets. JPMorgan and Wells Fargo continue to be forced to re-purchase poor performing mortgage securities they issued leading up to the recent crisis, on claims of fraudulent distributions.
They are also facing increased pressure from government sanctions Freddie and Fannie Mae to re-purchase troubled mortgages on claims of fraudulent lending that did not meet requirements to receive government backing. Since 2008, these two banks have spent billions of dollars on these poorly distributed mortgages and other litigation resulting from fraudulent lending. JPMorgan has spent the second most of any bank nationwide on these costs, totaling $21.6 billion. Wells Fargo is third on the list with $9.3 billion. These costs continued to show up in third quarter and are likely to remain in future quarters as more lawsuits are sure to come.
The negatives do remain as JPMorgan and Wells Fargo continue to face troubled assets on their balance sheets, but the feeling on Wall Street is that the housing market looks primed for a continuing recovery in the future. As JPMorgan CEO Jamie Dimon stated, "The housing market has turned the corner." This brightens the long term position for the nation's two leading lenders, who depend on lending for their main source of revenue. As interest rates have now hit rock bottom, the only way to go is up. QE3 will further improve mortgage market conditions and increase volumes of both individuals and business borrowing.
JPMorgan and Wells Fargo distribute high annual dividends, of 3.46% and 2.72% in 2012. Both are higher than the 10 year Treasury bond yield of around 1.7%. With a positive outlook in the long term future, these banks could provide favorable fixed income and capital gains.
Click to enlarge
The third quarter earnings announcements from JPMorgan and Wells Fargo raise some questions about sustainability of short term profits, but improving conditions in the housing market create an optimistic outlook for future revenues. Both banks continue to suffer costs from poor lending during the financial crisis but an end seems to be on the horizon. With interest rates now at rock bottom and an improving outlook of growth in the economy, JPMorgan and Wells Fargo look to provide favorable returns to investors in the long term.
Disclosure: I have no positions in any stocks mentioned, and no plans to initiate any positions within the next 72 hours. I wrote this article myself, and it expresses my own opinions. I am not receiving compensation for it (other than from Seeking Alpha). I have no business relationship with any company whose stock is mentioned in this article.
Additional disclosure: This article was written by an analyst at Saibus Research. Saibus Research has not received compensation directly or indirectly for expressing the recommendation in this article. We have no business relationship with any company whose stock is mentioned in this article. Under no circumstances must this report be considered an offer to buy, sell, subscribe for or trade securities or other instruments.