High oil prices are responsible for yet another gold miner announcing increased cash costs.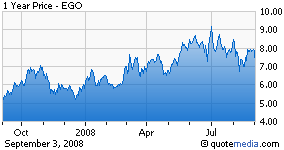 Eldorado Gold Corp. (NYSE:EGO) released on Friday updated estimates for its Efemcukuru project in Turkey and as widely expected, increased its average life of mine [LOM] cash operating costs by 25.5% from $285 per ounce, due to input and consumable costs, including a revised oil price of $116 per barrel from $60 per barrel previously.
Eldorado also said it was pushing back the mine start-up by a quarter and now expects a Q1 2010 start date.
Shares in Eldorado fell 2% or C$0.20 on Tuesday. The stock continued to fall Wednesday morning, when it dropped another 2% or C$0.16 to C$8.07  
Scotia Capital analyst David Christie stayed pat with his Efemcukuru estimates, noting his cost forecasts already anticipated higher input and consumable costs.
In a note to clients, he said:
Higher capital costs were expected and therefore any weakness in the share price could present a buying opportunity in our view.
He maintained his "sector perform" rating on the stock and left unchanged his $10 one-year target.
Blackmont analyst Richard Gray also anticipated the cost escalation and only slightly raised his net asset value from C$6 to C$6.10.
Based on the company's "relatively high political risk profile" and his target price, left unchanged at C$8.75, that provides limited potential return, Mr. Gray maintained his "hold" rating on the stock.